RoofSnap, an all-in-one roofing software, has launched a rush order option for roof measurement reports. With rush delivery, contractors can now get their roof measurement reports in 60 minutes or less. RoofSnap was founded by a former roof worker whose main goal was to leverage technology to help roofing professionals save time and money during the measurement process. Using high-definition aerial imagery, RoofSnap provides accurate measurements without anyone from the roofing company even having to be on site. All that's required is a property address in the United States or Canada, rural areas included.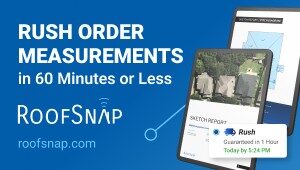 The ability to capture roof measurements remotely means roofing business owners can maximize both their time and their employees' time. With RoofSnap, they can operate their business with more efficiency than ever, streamline the sales process, and even improve their customer's experience. RoofSnap's standard turnaround time for roof measurements is 2-4 hours. The rush option offers the quickest option yet at one hour or less.
The ability to order such swift roof measurements can have a real impact on roofing businesses in a variety of situations. For example, take the busy spring and summer seasons. RoofSnap's easy remote measurements mean roof workers don't have to drive all over the place to gather measurements manually to prepare an estimate. This flexibility can be a real timesaver during the chaotic roofing season, where quicker measurements turn into quicker sales.
Aside from the busy season, rush order reports come in handy all year long. After a severe weather event, roofing contractors are often in high demand. With RoofSnap's quick and easy measurements, they can prepare and begin new roofing jobs quickly, helping their communities recover as soon as possible.
Fast reports are also useful at times when the state of the economy is uncertain or unpredictable. Property owners may put off roofing projects while things are in flux, and there may be fewer total jobs to go around. Having the fastest reporting option means roof workers are more competitive for the jobs that are out there and can be the first to provide measurements and estimates. Being the quickest to respond and offer an estimate can be the difference between winning a job or not.
RoofSnap's quick measurements help simplify the roofing sales process. The option for reports in 60 minutes or less speeds up the process even further, opening opportunities for roofing professionals to get to their appointments quicker with full measurements in hand and make sales in less time.
www.roofsnap.com/solutions/on-demand-roof-measurements