Channellock®, Inc., has introduced its newest and most innovative hand tools, including 10WCB 10" CODE BLUE® WIDEAZZ® Adjustable Wrench, Pro Drivers and Pry Bars, SpeedGrip™ Tongue and Groove Pliers, 968 Forged Wire Stripper, and 10WCB CODE BLUE WIDEAZZ Adjustable Wrench.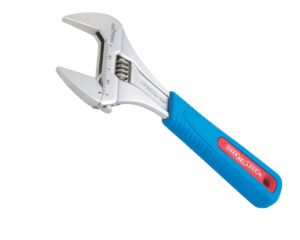 Inspired by the ever-changing needs of America's trades professionals, the Channellock 10WCB CODE BLUE WIDEAZZ Adjustable Wrench combines the same legendary strength and durability of the two original WIDEAZZ adjustable wrenches, but with an extra-wide, 2" jaw capacity, up to 72% wider than a standard 10" wrench, to support larger nuts and bolts, and longer, non-protruding jaws for greater access in tight spaces.
Channellock Pro Drivers are built with high-grade United States steel and feature vacuum heat-treated blades, reinforced three-sided high-performance handles, comfortable contoured grips, and magnetic tips. The new product line includes the following types of drivers: Phillips, specialty, square recess, slotted, multi-bit, TORX®, metric and standard nut drivers, and more.
Additionally, the new Pro Drivers product line includes 100% American-made Channellock Pry Bars, available in seven different sizes as well as a three-piece set of the most commonly used sizes. All Channellock Pry Bars feature a four-sided high-performance handle, steel cap, and go-through blade for added strength and control, and a curved head for increased leverage.
SpeedGrip Tongue and Groove Pliers combine the same legendary strength and durability of the original Channellock Tongue and Groove Pliers with a new push button that quickly locks into place for fast and easy adjustments. The laser heat-treated, cross-hatched teeth are made to stabilize, tighten, and loosen nuts and bolts, while the Channellock BLUE non-slip grips provide ultimate control and comfort on the job.
Channellock, Inc., is a worldwide leader in the manufacturing of high-quality pliers and assorted hand tools, including its iconic, American-made Channellock Tongue and Groove Pliers. Founded by George B. DeArment in 1886, the Meadville, Pennsylvania, company is now in its fifth generation of family ownership and operation.