SafePro® Safety Products is helping building owners create compliant rooftop access by introducing its updated Roof Hatch Safety Rail. SafePro's flagship product is a leading passive fall protection solution that has reduced packaging dimensions and made one-worker installation possible. Featuring a four-sided design and self-closing gate, the Roof Hatch Safety Rail has patented geometry that incorporates a two-rung ladder extension. With one product, building owners achieve compliance with fall protection and fixed ladder standards. The Roof Hatch Safety Rail is available in universal and common sizes online, and for custom configurations SafePro's website offers a Roof Hatch Rail quoting guide.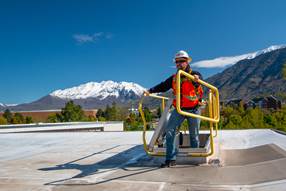 When selecting a passive safety solution, many contractors default to a simple guardrail system. In doing so, they often overlook the need for a self-closing gate that meets load requirements. Additionally, fixed ladder standards require a 42" extension to aid worker access and egress. The SafePro Roof Hatch Safety Rail was designed to address all these concerns with a one-product solution.
In recent years, SafePro has enlisted roofing contractors in the fight for worker safety. In partnership with its corporate parent, the company has trained many roofing teams on hazard assessment and equipment installation that can be completed while on-site for other work. Roofing contractors have benefitted greatly from offering this value-add service. The team behind the new Hatch Rail had this in mind, too.
SafePro Safety Products is a Diversified Fall Protection (DFP) brand, a national provider of fall protection systems and services. In addition to being an industry-wide integrator of engineered systems, DFP fabricates many products at their five regional locations across the United States. These include passive guardrail systems; overhead triangular truss systems for fall arrest; and anchors, davits, and outriggers for window cleaning and exterior building maintenance. DFP also provides inspection, certification, and training services to provide employers and construction industry professionals with fall protection partnership for life.