The votes are in, and Beacon Building Products is excited to announce the 2022 Female Roofing Professional of the Year Grand Prize Winner of $10,000, as well as the four finalists each receiving $1,000 that can be used to further their professional careers. This year's grand prize winner is Michelle Mulder, owner, Nailed It Roofing, Bonfield, Ontario. Since first taking shop classes in high school, she has always enjoyed hands-on work and she looked forward to a career in the trades. She enrolled and became a graduate of Renovation Techniques Construction Carpentry Program at Canadore College in 2005 and was hired as a carpenter, and there she grew a passion for roofing.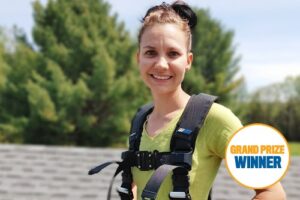 Mulder's dreams continued to grow and soon she determined it was time to break out on her own and start her own business. She began taking weekend business classes to learn the ins and outs of owning her own business while at the same time raising her young family with her husband. In 2015, Nailed It Roofing was introduced to the industry and has been one of the top roofing companies in the North Bay over the past seven years. Nailed it Roofing was nominated for New Business of the year in 2015 and 2016 and Small Business of the Year in 2020 by the North Bay District Chamber of Commerce and Mulder has been recognized individually, nominated for The Northern Ontario Business Young Entrepreneur of the Year Award in 2018.
As a hands-on owner, she is present on the roof all day, removing and replacing shingles. It is not unusual to see her replying to emails late into the night after a long day of roofing. Her hard work and dedication have shifted perspectives on roofing professionals and women in trades. As a mother of three, she has found a balance between work and raising her boys. Mulder's commitment extends from her business to the community, and she gives back when and where she can. Nailed It Roofing has been involved with many community parades and events such as Canada Day and Christmas festivals. She is involved with the community and sponsors local sports teams yearly.
Mulder is a proud mentor for young women at her local college. She speaks at events for women in trades hosted by Skills Ontario and encourages these young females to pursue a career in the trades. She is passionate that women belong and should be represented in all levels of construction. She has recently been appointed a member of the Construction Program Advisory Committee at Canadore College for a three-year term.