The International Safety Equipment Association (ISEA) released the ANSI/ISEA 138 standard in 2019 to establish the minimum performance, classification, and labeling requirements for impact gloves. PPE manufacturers such as Magid® began to include impact level testing in their manufacturing process to measure how much impact force travels through the glove to a worker's hand and assign the appropriate ANSI/ISEA level one, level two, or level three rating.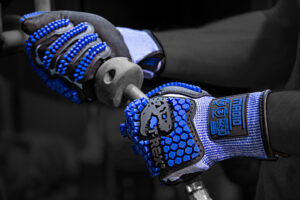 Level one indicates the minimum amount of impact protection and level three indicates the maximum amount of impact protection. While many impact gloves on the market were able to achieve level one and level two ratings, it was difficult to achieve level three impact protection without sacrificing comfort, and most level three offerings remained heavy, stiff, and uncomfortable. In response, safety experts at Magid designed a special formulation of TPR along with a unique ventilated honeycomb design to achieve level three impact protection, without sacrificing comfort or breathability.
Magid has introduced its new TRX883, the premiere glove featuring this revolutionary new TPR design and delivering an unbeatable combination of protection, comfort, and grip. What makes the TRX883 one of a kind?
Magid's M-Power Deense System™ is a groundbreaking TPR formulation and design that delivers the highest level of impact protection while also allowing nine times more airflow than a standard impact glove. The ANSI A8 Cut-Level AeroDex® Shell is one of Magid's most innovative shells that delivers extreme cut resistance and is 50% lighter than a traditional HPPE of the same cut level. VersaTek™ Adaptive Coating is Magid's latest coating technology that delivers over 50% more abrasion resistance than other coatings and enhances worker grip by adapting to almost any environment such as wet, dry, and oily environments.
Since 1946, fourth-generation and family-owned, Magid leads the safety industry with revolutionary innovations in PPE, a team of safety experts, skilled in-house manufacturing, and a worldwide network of suppliers. When it comes to safety, Magid provides the whole package.