Starting a new project oftentimes means beginning with a clean, smooth surface. Getting that surface level is now easier than ever with new Rock Patch™ filler, leveler, and resurfacer from Daich Coatings.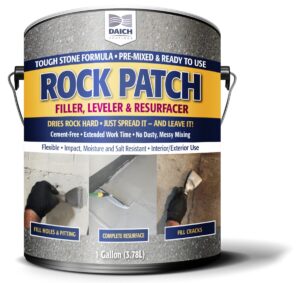 Made with a tough polymer/stone formula, the pre-mixed compound comes out of the container ready to use. The cement-free product requires no messy mixing and can be used as a prep work step on both interior and exterior surfaces. Simply pop the lid, stir, and apply.
Rock Patch completely resurfaces the area needed, forming a firm bond to the underlayment. The dry Rock Patch finish is impact, salt, and moisture resistant. Suitable for both DIY home projects and large-scale industrial projects, Rock Patch is the ideal starting solution for cracked, broken surfaces before beginning covering projects with other Daich Coatings products. In addition to spot fixes, Rock Patch can be used as a full surface base for floor paints, decorative coatings, linoleum, and more. It can also be used as a flooring and be left as is once sealed with TracSafe® Anti-Slip Sealer or Garage and Driveway Concrete Sealer from Daich Coatings to protect the surface from year-round weather and stains.
Normal cure time is 24 hours for Rock Patch. Dry times should be increased when the product is applied thick or in damp, cool conditions. Available in both one-gallon and three-gallon containers, Rock Patch can now be purchased online in the United States and in Canada.