Equipment Notes: Mixing & Matching
Why It's Not a Good Idea to Use Various Pieces of Equipment
by Pat Amicucci, Northern California territory sales manager, Roofmaster Products Company
(Pat Amicucci has been with Roofmaster in his current position for 25 years as the Northern California territory sales manager. He is a certified Leister technician and has extensive experience and knowledge in all aspects of the construction industry, specializing in roofing equipment, tools, accessories, sales, and service. He can be reached at pat@roofmaster.com or (916) 296-6714.)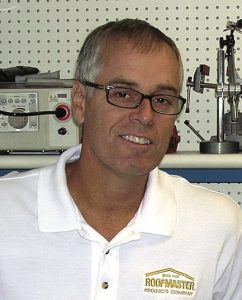 If you've been roofing long enough, you probably have a portion of your yard, warehouse, or building that is currently housing a hodgepodge of old equipment, tools, and accessories. In the equipment business, we call this the graveyard and we on occasion can assemble a working Frankenstein and put this unit into service as a rental.
When it comes to safety, however, there are several reasons why this probably isn't a good idea. Safety equipment is always tested as whole components. A guard rail is tested with the manufacturer's bases and pins. Parapet clamps, likewise, are tested as whole units to make sure they meet safety regulations.
But, what if Brand X guard rail fits in Brand Y's base? Just because it does, doesn't mean you should. Not using equipment as per the manufacturer's instructions may void any warranty and could lead to gaps in liability. If you have questions or concerns, your roof consultant may be able to shine a light on why mixing and matching equipment isn't a good idea.
With soft goods, fall protection kits, which include a harness, rope, and rope grab, are tested as whole products. So are self-retracting lifelines. Where you can safely, in most instances, tie-in to other manufacturers' products, is with roof anchors. This is because a standard roof anchor is rated to a 5,000 lb. test in any direction. Also, this is why so many homeowners and building owners alike are opting to have roof anchors installed.
It's easy for roof workers to install a roof anchor on a peak and then roof over it, leaving only the D-ring exposed. This is also true with commercial roof anchors. The beauty of these systems is that they are then available for the next time you are on the roof, or when the next trade needs to tie-off on the roof. It's also why selling roof anchors as part of a whole safety envelope is such a win-win.
Next time you're walking around your company's graveyard, resist the urge to create your own Frankenstein and instead rely on the safety of a whole unit. Your crew and your client will thank you.