Western Roofing Expo 2021 Recap
Las Vegas Hosts 47th Annual WSRCA Expo
by Marcus Dodson, publisher
The Western States Roofing Contractors Association (WSRCA) hosted its 47th Annual Western Roofing Expo in Las Vegas, Nevada, September 21-23, 2021. The Mirage® Hotel and Casino was the dazzling venue for the trade show that the roofing industry looks forward to all year long. Once again, the industry's finest came out to the entertainment capital of the world to network, learn, and have some fun. According to the WSRCA, more than 2,100 attendees came together for the Western Roofing Expo 2021, and everyone was excited to connect face-to-face and hear from leading experts, educators, and colleagues. Popular highlights once again were the golf and sporting clays tournaments, lively-silent auction, and two days of seminars and demonstrations. It was wonderful to have contractors, sales reps, manufacturers, and more come together for a fantastic expo.
Scholarship & Fundraisers
Before the Western Roofing Expo 2021 seminars and demonstrations began on the trade show floor, the Davis Memorial Foundation hosted their annual golf and sporting clays tournaments. On Tuesday, September 21, 124 golfers attended the golf tournament, which was held at Bear's Best Las Vegas, a wonderful course that provides breathtaking views of Nevada's beautiful desert landscape. The Pro Gun Club hosted 52 shooters at the sporting clays tournament that same morning, which was once again an exhilarating start to the Western Roofing Expo 2021.
Bill Baley and Chuck Chapman served as the auctioneers for the President's Reception on Tuesday night, and once again had the audience rolling with laughter as they kicked off the Western Roofing Expo 2021. The night was a huge success full of fantastic donated items, such as hunting trips, vacations, electronics, jewelry, and roofing-related products. The lively-silent auction was sponsored by GAF. National Women in Roofing hosted a seminar earlier in the afternoon on Tuesday, which was followed by their networking reception.
The Davis Memorial Foundation celebrated another astounding year of fundraising and was able to award ten $5,000 scholarships to the following deserving recipients: Brycen Tambone, Yavapai College; Maria Vielma, University of New Mexico; Joshua Wilmerding, Rose Hullman Institute; Jesus Velasquez Caro, Proctor Hug High School; Travis Cole Chapman, Texas A&M University; Oscar Encarnacion, College of Southern Nevada; Jelyn Betinafaye Davis, Billings Senior High School; Jordan Holland, Denali Peak High School; Andrea Sahagun, Northern Arizona University; and Marshall Henry Watson, North Forney High School.
Trade Show
Attendees were invited to walk the trade show floor on Wednesday and Thursday. Roofing professionals moved from booth to booth as they watched demonstrations, listened to seminars, and tested out products from some of the leading industry manufacturers, distributers, and suppliers of roof-related products, materials, equipment, and services, many only available in the Western market.
Seminars
Wednesday and Thursday were also filled with a diverse and exciting selection of seminars. The educational programs at the Western Roofing Expo 2021 were designed by WSRCA members contractors to help members be better roofing contractors and business people. This year, the Western Roofing Expo 2021 focused on a variety of topics that covered a broad spectrum of interests including: How an Appropriately Designed Roof System Can Accommodate Interior Moisture; ASCE 7-2016: How Does the Update Affect Installation, A Critical Analysis; Navigating Legal Issues of COVID-19; Killer Contract Clauses; Empowering Your Field Leaders; Industry Impact of ASCE 7-16 and 2020 FM PLPDS 1-28 and 1-29; Lessons Learned from More Roof Jobs Gone Wrong; Fastener Thermal Bridging in Low Slope Roofs Energy, Economics, Codes, and Verification; Real Live Wins and Losses: Lessons Learned from Actual Employment-Related Claims; How to Build a Resilient Contracting Business; The History of Roofing; Low Slope Roofing Wind Design; The Science of Rooftop Safety: What Companies Need to Know; OSHA Inspection and Citation Process; Identifying the Biggest Threat to Your Business and How To Overcome It; WSRCA Young Roofing Professional Panel Discussion; Fall Protection Awareness: The ABCs of Fall Protection; Real World Waterproofing Challenges; Sustainable Building Envelopes; Legal Issues When Using Subcontractors on Projects; and Intentional Training: Train Your Workers to the Front of the Pack.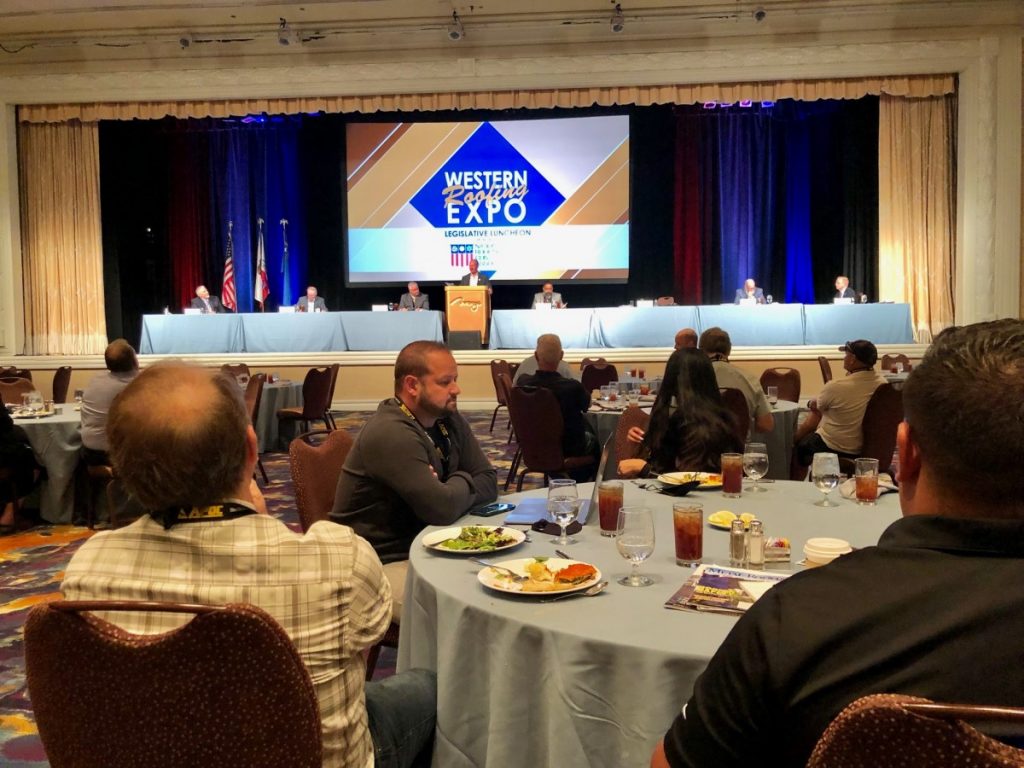 Annual Luncheons
The Legislative Luncheon was held on Wednesday with keynote speakers Craig Brightup and Reid Ribble. As a Washington insider, Brightup provided his views and information on how new legislation is affecting the roofing and waterproofing industries. Ribble, CEO of the National Roofing Contractors Association and a former United States Congressman, shared his invaluable insight into the future of the roofing industry.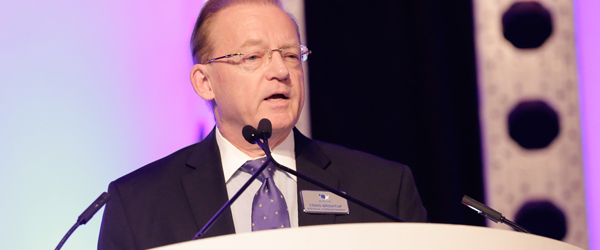 Comedian Ian Bagg was the entertainment at Thursday's luncheon. A talented comic, the hilarious comedian had everyone rolling with laughter during the luncheon.
Awards
For his outstanding efforts in recruiting potential members to join the WSRCA, Greg Hayne of Hayne Coaching Group won the 2021 Wrangler of the Year Award. A custom-made belt buckle commemorated his win. The WSRCA presented the Board Member of the Year Award to Jackson Johns of National Roofing Company, Albuquerque, New Mexico. The award recognizes Johns' efforts the last year to improve the association. Also, in recognition of outstanding service to the roofing industry and the WSRCA, Chuck Chapman of Tecta America Arizona in Phoenix, Arizona, was named the 2021 Hall of Fame Inductee.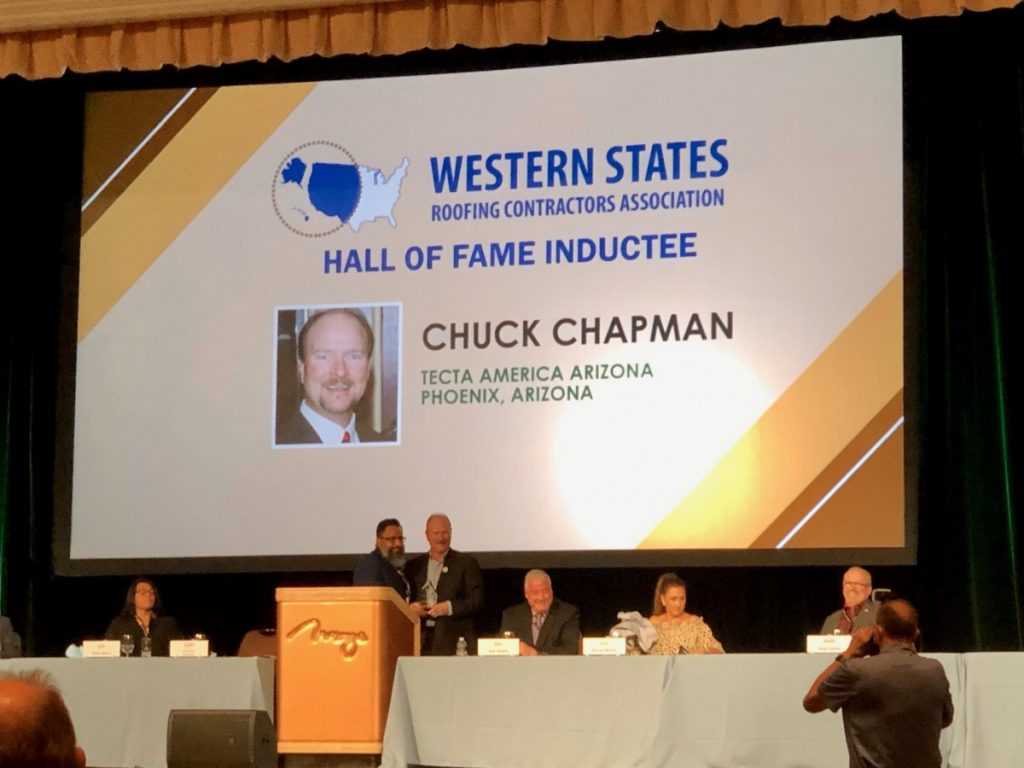 New Officers
The newly elected officers this year are as follows: president, Rob Winkle; senior vice president, Andy Clarke; vice president, Mike Trotter; vice president, Mike Wakerling; vice president, Valorie Miller; vice president, Jackson Johns; immediate former president, Leo Ibarra; and secretary, Joel Viera.
Western Roofing Expo 2022
Next year, the Western Roofing Expo Convention and Trade Show returns to the Paris Las Vegas Hotel and Casino in Las Vegas, September 24-26, 2022. For more information, contact the WSRCA at (800) 725-0333.