Kelly Green Board™ has perfected a patented process that uses plastic-coated food containers and plastic bags to make low-sloped roofing cover boards to replace fiberboard, high-density ISO, gypsum-based Securock®/DensDeck®, and similar cover boards. Kelly Green Board, when used in low-sloped roofing, can also be used as a sound barrier, fire barrier, air barrier, radiant barrier, vapor barrier, and hail and impact resistant barrier.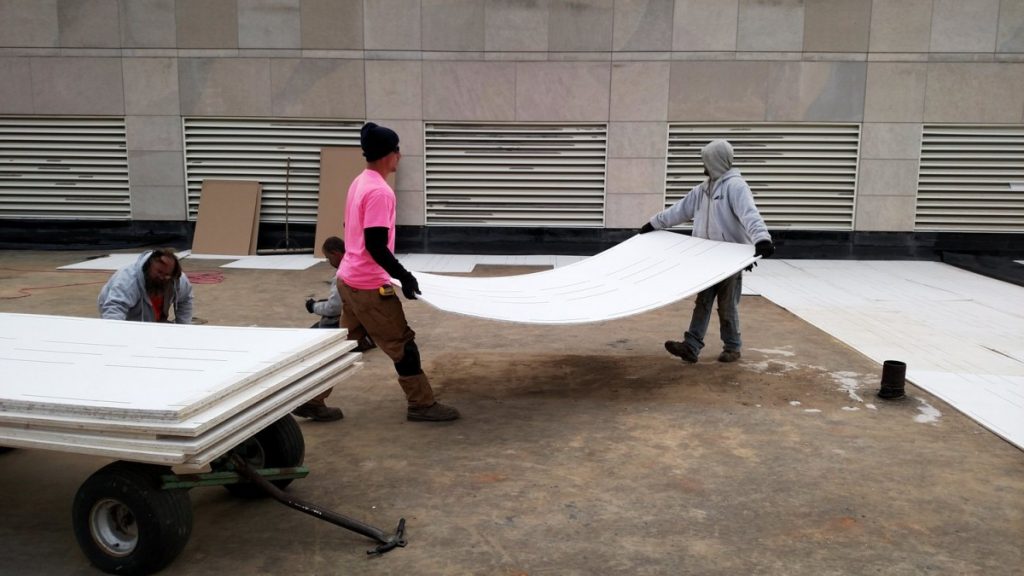 Kelly Green Board is able to resist water absorption and provide UL Class A fire resistance for low-sloped roof membrane systems. It does not absorb water and provides long-term resistance to rot, mold, and organic decomposition. It is made from 100% recycled plastic bags and aseptic food cartons, such as milk, juice, and ice cream cartons, sorted in municipal recycling facilities. These recycled plastic bags and sealed food containers are shredded and heat pressed into roofing cover boards and fire barrier boards for use in low-sloped commercial roofing.
In reroofing with a complete tear-off down to the existing roof deck, Kelly Green Board used as a fire barrier is a temporary roof once the joints are sealed with silicone adhesive. This waterproof structural board allows a contractor to continuously tear-off a large building roof day after day on an occupied building and cart old roof debris over the Kelly Green Board temporary roof without jeopardizing the interior of the building to rain water.
A Kelly Green Board patented application technique uses the board as a composite roof deck over an existing roof deck, fastened into the structural joists, rafters, and purlins to increase the shear, diaphragm, and racking resistance of the building's structure against wind forces, snow and ponding water weight loading, and seismic racking movements.