How a Canadian Contractor Tackled an Epic Reroof in Calgary, Alberta
by Angie Grosjean, marketing manager, Owens Corning
The hailstorm striking Calgary, Alberta, in June 2020 was the fourth largest natural disaster and the most expensive hailstorm in the country's history, exceeding $1B in damages. More than 70,000 home damage reports were filed.
With a storm of such epic proportions, it seems only natural that a company named Epic Roofing, Calgary, was called in to reroof the Arrive condominium community. The condominium's board was seeking a company that could minimize disruptions to the 250 residents, as well as a shingle that could weather the storm. The condo had been reroofed in 2016 following another storm and the previous shingles did not hold up. Like any project, the reroofing project delivered some insights that apply to both storm repair and routine roof replacements.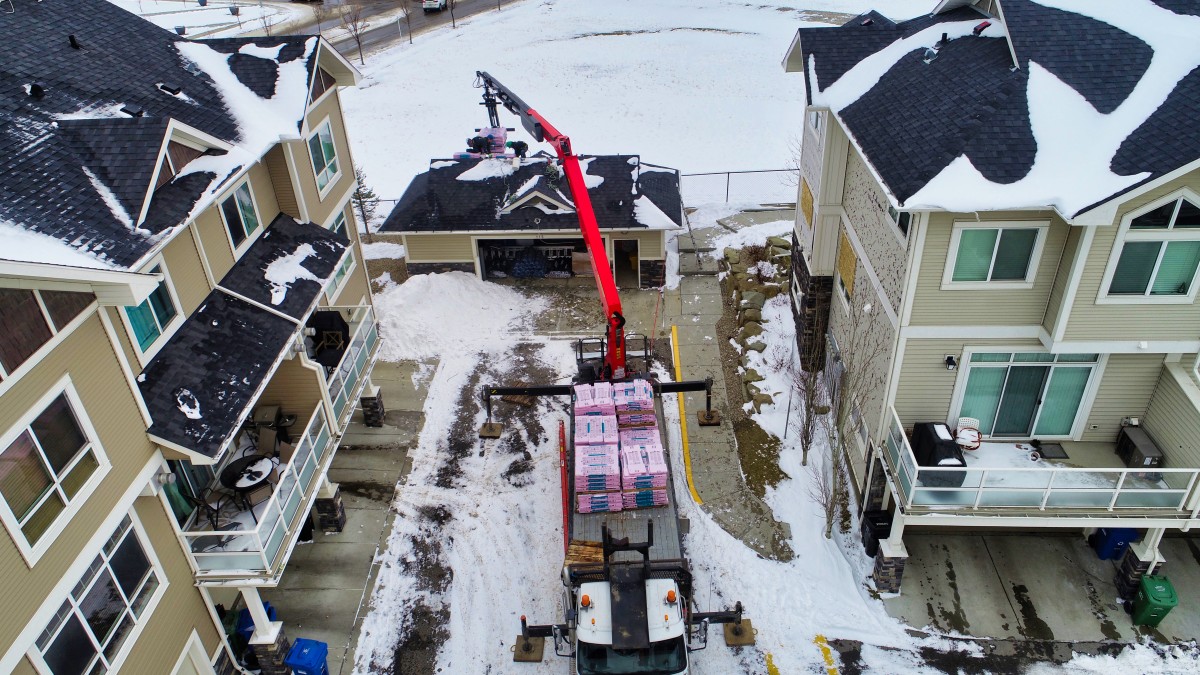 Specify a Vetted Product
Expecting more extreme weather, Epic Roofing evaluated the Owens Corning® TruDefinition® Duration FLEX® shingle following its introduction in early 2020, and felt comfortable recommending it for the Arrive reroofing project. "The TruDefinition Duration FLEX shingle withstood wind events quite well on other projects, which was a vote of confidence that it could manage the challenge," said Merlin Bartel, CEO of Epic Roofing. The SBS modified technology is designed to be more pliable than standard shingles, and it offers a Class 4 impact resistance.
Communicate Regularly
Bi-weekly video calls with the condominium board answered residents' questions and provided status updates throughout the project. "Everyone had the same goal, which was to keep residents happy throughout the project," said Lance Merrifield, commercial general manager of Epic Roofing.
Consider Logistics
Pre-planning helped minimize residents' disruptions. Narrow roads limited vehicular movement. A plan approved by the condominium board allowed residents to park in their garages overnight, then use street parking during the day, facilitating project efficiency. At one point, 30 crew members were working onsite. "Housekeeping is all day, not just at the end of the day," said Merrifield. Approximately 16,000 nails on each roof meant a team member was picking up throughout the day. A final daily sweep ensured debris was removed and the site was watertight.
Build Trust
"Building relational equity with stakeholders is critical with long-term projects and helps assure everyone is pulling in the same direction," Merrifield said. The Epic team reviewed field reports with the board, noted issues as they arose, and documented what was corrected with before-and-after photos.
Consider Capacity
"We are careful about doing projects that are more than 20% larger than what we've done in the past," said Bartel. He advises contractors to slowly evolve into bigger jobs. "There was a legacy of trust we'd developed with the board that helped facilitate a smooth project," he said.
Such trust is rooted in the company's culture, which prioritizes what's best for protecting customers and one of their largest investments. Bartel says this customer-first mindset pays dividends down the road. The best-for-the-customer approach also informed the TruDefinition Duration FLEX shingle recommendation. Keeping these five takeaways in mind can help roofing contractors manage extreme weather and the expectations of customers, even following epic storms.