OMG® Roofing Products has promoted Patrick Hanley to the position of key account manager. In his new role, Hanley will be responsible for managing several strategic accounts with a high level of responsiveness and customer service. Hanley started with OMG in 2020 as the solar sales manager and has been instrumental in the growth of the solar product line. He reports to Monte Horst, vice president of sales and marketing.
"Hanley is a dedicated and talented manager, who has demonstrated a commitment to helping the company grow by providing outstanding customer support and a high degree of focus on the details," said Horst. "I'm confident that he will continue to thrive in his new role as a key account manager."
Eric Frazier has joined OMG Roofing Products as the market manager for its growing line of roofing adhesives. In his newly created position, Frazier is responsible for developing marketing strategies and sales execution plans for the adhesive product category, including OMG's popular line of OlyBond500® Adhesives. In this capacity, he will work closely with product management, marketing communications, as well as the field sales team to deliver superior adhesive solutions to OMG customers. He reports to Adam Cincotta, vice president of the Adhesives and Solar Business Unit.
Frazier has extensive experience in brand and product line commercialization as a product marketing manager. He comes to OMG from Techtronic Industries of Anderson, South Carolina, where he spent more than six years, most recently as group product manager responsible for leading product development and marketing efforts within its Ryobi and Hart brands.
"We are very pleased to have Frazier on the OMG team," said Cincotta. "He is a talented marketing manager, and he will play a critical role in helping us to strategically drive our adhesives business on a global scale." Frazier holds a master's degree in marketing from Southern New Hampshire University, and a bachelor's degree in business administration from Bryant University in Smithfield, Rhode Island.
OMG Roofing Products has expanded its customer service department with the addition of Jaren Makuch as a customer service representative. In his new position, Makuch is responsible for assisting customers placing orders and in funneling product and technical questions to the organization. He is initially responsible for working on national key accounts as well as supporting the company's Midwest sales region. He reports to Karen Young, customer service manager. Makuch brings more than ten years of customer service experience to OMG. He holds a bachelor's degree from Westfield State University.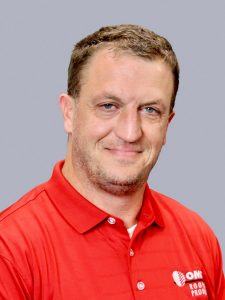 OMG Roofing Products has promoted Stephen Childs to the position of technical services manager. In his new role, Childs will lead the team that manages all technical services for the Roofing Division, including codes and approvals, pull tests, application reviews, warranty support, and technical training. In addition, he will serve as OMG's technical representative to various industry associations and groups. Childs holds a Bachelor of Science Degree in mechanical engineering from the University of Massachusetts Amherst.