With new Shur-Gard Roof Wrap from Mule-Hide Products Co., contractors can put away the tarps, ropes, and sandbags and instead install a temporary roof that can protect the roofing structure and the building's interior for a full year. The 12 mil-thick polyethylene film is heated to shrink to the roof, securely wrapping it to create a fully functioning, leak-free roof that can stay in place for up to 12 months, resisting water and wind and preventing further damage. Designed for use on steep-slope roofing systems, it can be used to cover an entire roof or to protect only damaged areas, such as around whirlybirds, over a few broken tiles, or over a broken skylight.
Shur-Gard Roof Wrap is exceptionally strong and resistant to tears and punctures. The white film is highly reflective and resists damage from the sun's ultraviolet radiation for up to a year. Additionally, when its job is done, the film is 100% recyclable.
Mule-Hide Products Co. has also introduced the next generation of its Helix® Max Low-Rise Adhesive Dual Tank. The two-component, construction-grade polyurethane foam roofing adhesive, packaged in two-tank sets, now features a hydrofluoroolefin (HFO) blowing agent, making it significantly better for the environment while also enhancing its performance.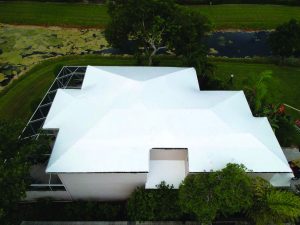 The adhesive still provides the strong adhesion, the exceptional elongation and tensile strength, and the quick, volatile organic compound-free application that Helix Max Low-Rise Adhesive Dual Tank has become known for. Like the previous formulation, it is designed to bond approved roof insulations, thermal barriers, cover boards, and fleece-back membranes to a variety of roofing substrates.
The new formula complies with new regulations requiring the use of HFO blowing agents in pressurized two-part urethane foams and adhesives. The policies were implemented recently in several states in the United States and all ten Canadian provinces, and similar rules are expected to be enacted across most of the United States in the coming years.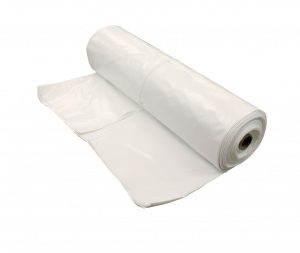 The switch to an HFO blowing agent also improves the adhesive's performance in significant ways. The coverage rate is greater than other canister-based insulation and membrane adhesives. The string time has been increased and is more obvious, giving contractors a longer open window for installation. The gun tip has been redesigned to provide a more consistent splatter application. The new formula also can be used at higher elevations.
The new HFO formula continues to provide the familiar high-performance, crew-friendly attributes of Helix Max Low-Rise Adhesive, including a VOC-free, self-contained system; quick application; superior wind uplift performance; exceptional puncture-resistance; and elongation of up to 150%. The change in blowing agent does not affect Helix Max Low-Rise Adhesive packaged in cartridges, five-gallon jugs, and 15-gallon and 50-gallon drums, as those package types do not utilize a blowing agent.