Homeowner in Reno, Nevada, Relies on Durable & Beautiful Asphalt Shingles
by Marcus Dodson, publisher
Roofs in Northern Nevada take a perpetual beating. With year-round high winds, extreme summer heat and sunshine, and heavy winter snowfall, homes in this Western region need protection from the elements from top to bottom. For one homeowner in Reno, Nevada, replacing his aging roof was turning out to be quite challenging. He knew he needed something durable, but he also wanted a product that would add to the beauty of his home. Thankfully, he found exactly what he needed with GAF Timberline® HDZ™ Shingles.
Scott Roofing, LLC, Sparks, Nevada, is a GAF Factory-Certified Contractor, meaning that its employees have been trained and tested on the appropriate ways to install GAF products, allowing them to offer one of the best warranties in the industry. R&S Supply, Reno, provided the wholesale materials for this residential project.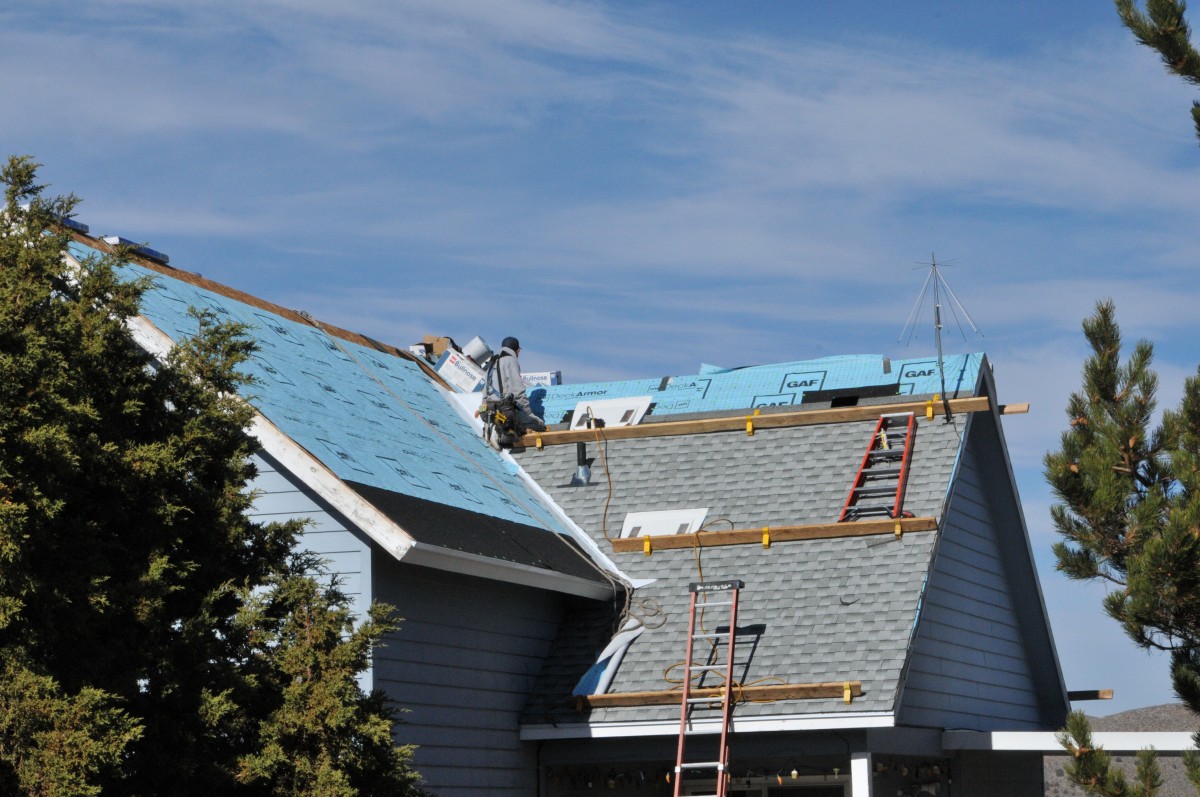 The reroof process began with a complete tear off, exposing the bare sheathing. Scott Roofing installed new 2"x2" pre-painted sheet metal nosing to protect the edge of the roofing system. Then, an ice and water shield was installed at eaves in valleys and around penetrations.
GAF Deck-Armor™ synthetic underlayment was applied next. Deck-Armor is a premium, breathable, UV-stabilized underlayment that is ideal for harsh climates such as Northern Nevada's. It is also a key part of the GAF Lifetime Roofing System. GAF WeatherBlocker™ Premium Eave/Rake Starter Strip Shingles were used to help tightly lock the shingles in place. Preventing blow-off on roofs in this area is vital, and WeatherBlocker is an easy-to-use product, since it doesn't require cutting on the roof.
GAF Timberline HDZ Shingles in the color birchwood were installed, as well as GAF Timbercrest® High Profile Hip and Ridge Shingles. Timberline HDZ Shingles fuse beauty, performance, and reliability into one dynamic product. They're architecturally stylish while providing excellent protection for the home, and the proprietary color blends and enhanced shadow effect create a genuine wood-shake look. They're compliant with strict energy ratings, which help to keep energy costs down, and they have a wind rating of up to 130 mph. Also, with Northern Nevada being privy to seasonal wildfires, the high fire rating of Timberline HDZ make them a wise choice.
The distinct bullnose of Timbercrest Hip and Ridge Shingles adds excellent dimension, effectively enhancing the beauty of the roof. Plus, for homes that are susceptible to high stress, this product can help protect the roof.
"We love installing full GAF Roofing systems on steep-slope projects because of the reliability in waterproofing as well as the beauty of the shingles," said Juan Gonzalez, estimator, Scott Roofing. "GAF shingle granule blends tend to be the most vivid of the major manufacturers, and when a steep roof makes up a significant portion of the home's aesthetic, it is very important that we install a beautiful product."
Choosing the right roof for a home can be challenging. When you take into account the desired aesthetics, while also trying to find products that will stand the test of time, the list becomes quite small. GAF has provided the roofing industry with outstanding products that are architecturally stylish, yet simultaneously at the top of their game when it comes to performance. For this particular homeowner in Northern Nevada, he can rest assured that his new roof will withstand fire, wind, and snow.