Roof Protects Fireplace Facility from Heavy Rains in Mukilteo, Washington
by Melissa Lee, marketing communications manager, JRB Enterprises & Duro-Last Roofing, Inc.
With operations spread out over five separate facilities, Travis Industries, a manufacturer of custom-made fireplaces and woodstoves, was in need of a location where they could consolidate into one space while having enough room to grow and meet customer demands. After looking at numerous properties, they purchased an 11-acre building in Mukilteo, Washington, where the company would be able to continue production of its award-winning fireplaces. The massive facility, named House of Fire, employs upwards of 600 staff and houses 11 assembly lines, 50 welding stations, 300 active fiber-optic computer stations, state-of-the-art lasers, one million amps of power, a training center that certifies over 1,000 students per year, and a substantial inventory of finished stoves and fireplaces. The facility is also home to the company's top executives, as well as the sales, marketing, accounting, and research teams.
"The building was previously used to manufacture aircraft parts," said Travis Industries chief financial officer Leo Trask. "We manufacture up to 2,000 stoves per week, so the size of the space was exactly what we needed to accommodate all of our operations."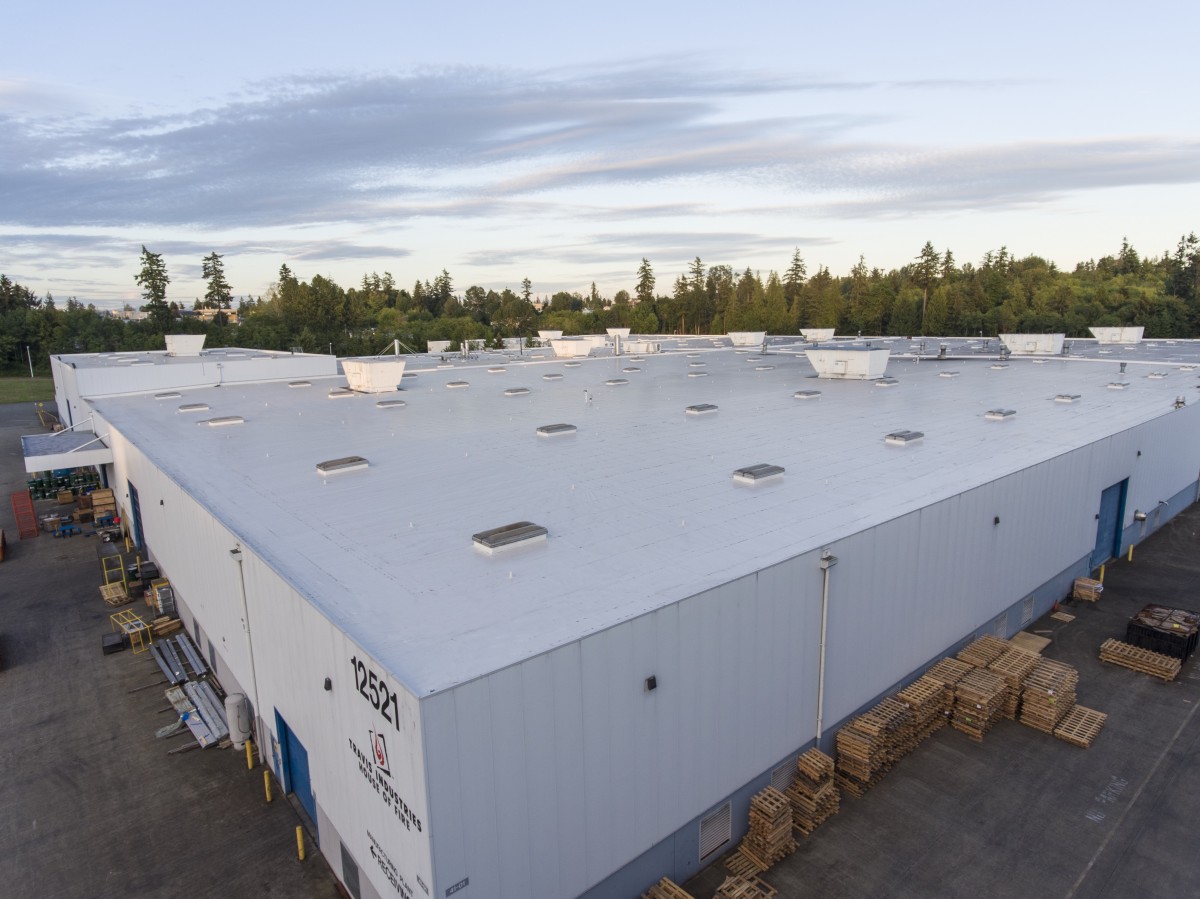 After a short time of full-scale production in the new facility, staff began noticing signs of leaks in the aged rubber roofing system. "By my best estimation, the roof was at least 20 years old," explained Trask. "We started noticing puddles of water forming on the floor in different areas of the building and we knew we had to do something about it before it got any worse. Not only were the puddles a safety issue for our staff, but the dripping water posed a serious threat to our machinery and inventory."
As Trask and his team began researching options for a new roofing system, they were referred to longtime Duro-Last®, Inc., elite contractor, Alternative Roofing Systems, Inc., in Snohomish, Washington. Duro-Last's unique elite contractor program rewards authorized contractors who have a strong record of Duro-Last sales and consistently install the company's roofing systems with exceptional attention to quality. Rewards include pre-inspection warranties, discounted Duro-Last warranties, and more. The Alternative Roofing Systems team, led by owner Chris Romei, is no stranger to complex roofing projects and was quickly able to provide a thorough evaluation.
"After assessing the state of the current roof and the size of the facility, we knew right away that a Duro-Last roofing system was the best solution," said Romei. "There were a variety of factors that had to be incorporated including budget, installation and labor logistics, long-term waterproofing and performance, superior fire resistance, and minimal disruptions to facility operations. A custom-fabricated roofing system from Duro-Last met each of those needs and we were able to provide them with a comprehensive proposal."
As construction got underway, the Alternative Roofing team discovered that despite the leaks in the current roofing system, much of the ISO insulation boards were still in good working order. By placing a layer of Duro-Weave™ slip sheet on top of the existing rubber roof, they were able to mechanically attach the Duro-Last membrane directly over the existing system, eliminating the need for a time consuming and costly tear off.
Alternative Roofing utilized over 510,000 sq.ft. of custom-fabricated 50 mil white Duro-Last membrane for the job. By providing detailed measurements of the facility's rooftop, Duro-Last was able to manufacture custom deck sheets that fit the dimensions precisely. Not only did this eliminate excess material waste, it improved efficiencies for the crew. "We had the membranes fabricated with 5' tabs and double reverses from the center," said Romei. "Two teams were able to pull from the edge and attach the deck sheet simultaneously. This allowed them to install up to 15 deck sheets per day."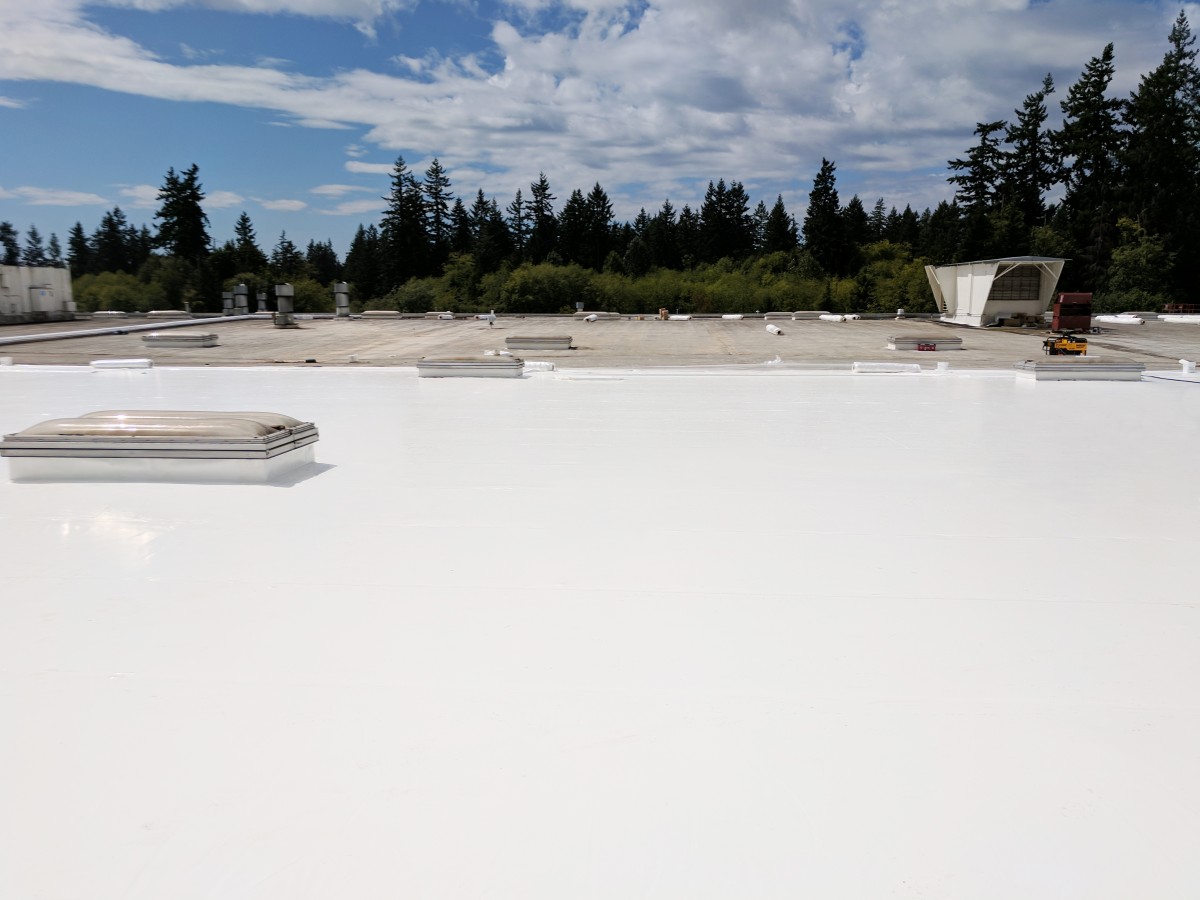 Additionally, the custom-fabricated deck sheets eliminated much of the rooftop seaming typically required with standard membrane roll goods. This was an important factor in keeping a project of this magnitude within budget and on time, as was the careful coordination of product deliveries.  Alternative Roofing mapped out the entire rooftop into five detailed sections, allowing them to stagger their material orders for each individual section as they were working on it. By doing so, they were able to limit crane use to strategic loading zones and stage the materials on the rooftop more effectively.
While the scope of the project alone was formidable enough, the most challenging element actually came from inside the structure. The complex electrical wiring for the massive facility was housed entirely within metal conduits fastened directly to the roof pan. This meant that any miscalculations in the fastening of the new membrane could result in substantial electrical outages and operational disruptions.
The Alternative Roofing team dedicated two crew members to mapping out the exact location of the wiring system for the entirety of the project. Working as a team, one person stood inside the building and communicated to the other on the rooftop through two-way radios. "These guys had to drill holes through the roof and send LED sensors through so the person down below could communicate with them where they were in relation to the nearest conduit," Romei explained. "Then, they painted on the rooftop the location of the conduit underneath so the crew attaching the membrane knew where they couldn't place a fastener. It was definitely an intensive process that we had to accommodate into the timeline."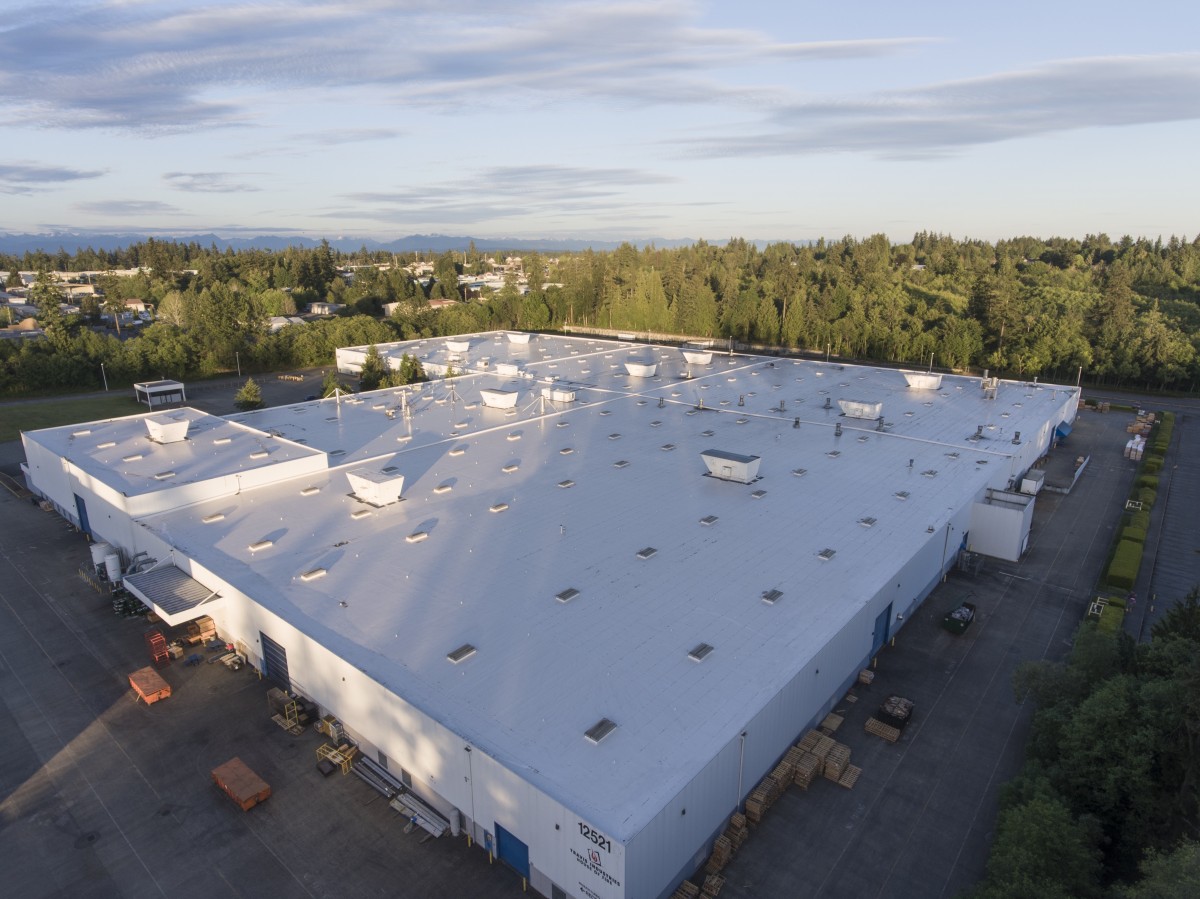 Overall, the project took five months to complete and the House of Fire is now operating with no fear of water infiltration. "Working with Alternative Roofing Systems was a great experience all around," said Trask. "They were respectful of our operations and responsive to all of our needs. To top it off, our rainy Washington weather is no match for our new Duro-Last system."
"This was one of the largest Duro-Last installations on a single facility and we were honored to take this project on with Travis Industries," said Romei. "Their staff made sure we had ready access to the rooftop at all times through external lifts and were always willing to assist when we ran into challenges. I'm extremely proud of how the entire project came together and the finished product we provided them with. I know it will serve them well."