Timeless, Sustainable, & Distinctive
Zinc Roof & Cladding for Transit Facility in Edmonton, Alberta
by Heather West, president, Heather West Public Relations
Creating a welcoming, accessible, and enduring facility for the metropolitan riders, the new Belvedere Transit Centre in Edmonton, Alberta, features RHEINZINK® prePATINA® graphite-gray material on both the roof and exterior wall cladding systems. On an average weekday, nearly 400,000 people use the Edmonton Transit Service's public buses and light rail transit (LRT). "Transit centers are a critical part of the fabric that connects Edmontonians to their city and to each other," said Eddie Robar, branch manager of Edmonton Transit Service.
Encouraging more riders through the Belvedere Transit Centre, DIALOG, Edmonton, designed a safe, comfortable place for people to wait for their buses, and to transfer to and from the neighboring LRT station. Taking a cue from the LRT station's roofline, the improved transit center features stair-stepped heights on the 3,660 sq.ft. building's zinc roof. The interior's exposed wood-beam ceiling structure also presents a similarity to the nearby LRT building and promotes a sense of welcoming warmth.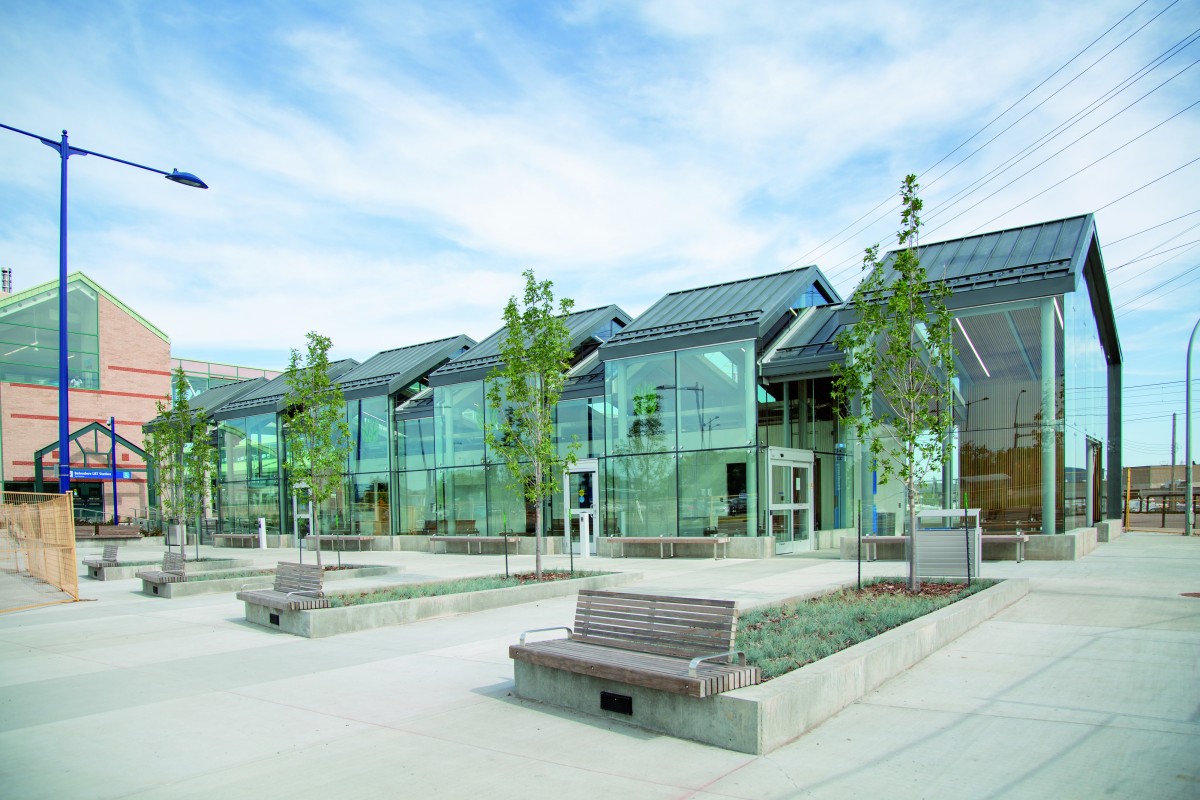 All photos courtesy of DIALOG
RHEINZINK's regional sales manager Richard Strickland agreed and added, "The longevity, sustainability, low maintenance, and distinctive look of zinc made RHEINZINK the material of choice for Belvedere's roofing and wall cladding systems. With an eye on the city's budget, the project team invested upfront on the building's design and materials to save on decades of maintenance, cleaning, and replacement costs. Ultimately, this design will save taxpayers money by more than doubling the roofing and cladding lifespan from what had been used on the previous station."
With a lifespan of more than 80 years, zinc's ability to create a protective patina through weathering contributes to RHEINZINK's self-healing, low-maintenance, corrosion-resistant performance. At the end of its useful life on the building's exterior, it remains 100% recyclable.
Strickland continued, "This natural, dependable metal combines time-tested performance with a timeless appearance that's been recognized in Europe since the 1800s. The zinc material provides an attractive, evolving patina as it ages through the decades."
RHEINZINK prePATINA products are specially processed to achieve the natural, pre-weathered patina during production. Along with prePATINA graphite-gray, RHEINZINK offers roofing and wall cladding products in prePATINA blue-gray, CLASSIC® bright rolled, and artCOLOR® in an array of colors. All of RHEINZINK's products rely on high-grade zinc with trace elements of titanium and copper. RHEINZINK products meet the ASTM standard specification B69-16 Architectural Rolled Zinc Type 1 and Type 2.
Meeting the specified requirements and design goals for Belvedere Transit Centre, Agway Metals, Brampton, Ontario, supplied RHEINZINK prePATINA 0.8mm architectural grade zinc to Flynn Canada, Edmonton, for fabrication and installation. Drawing from more than 15 years of experience working with RHEINZINK architectural grade zinc materials, Flynn's team roll-formed the standing seam roofing and the wall cladding systems.
Flynn Canada also shop-fabricated and field-installed the concealed gutter system as an integrated, adjoining component of the zinc roof and wall systems. Flynn's project manager Kerri Zacharias explained that buffed, galvanized flat stock was used with a two-component liquid membrane for waterproofing.
The resulting, capped gutters have no exposed fasteners and are essentially invisible to casual visitors. "The roof's snow guards help protect pedestrians and the building itself from sliding snow and ice, and direct the melting snow and ice to the gutters," said Strickland. "S-5!® ColorGard® snow retention was chosen for compatibility with our RHEINZINK standing seam roof. Its ability to clamp to the seams without puncturing the metal maintains the roof's concealed fastener approach for a long-term solution. S-5! also backs up its product with engineering to reduce the risks associated with sliding snow and ice. Regardless of the season, the gutters manage rainwater and deflect debris. Their reliable functionality further reduces the need for maintenance and associated labor."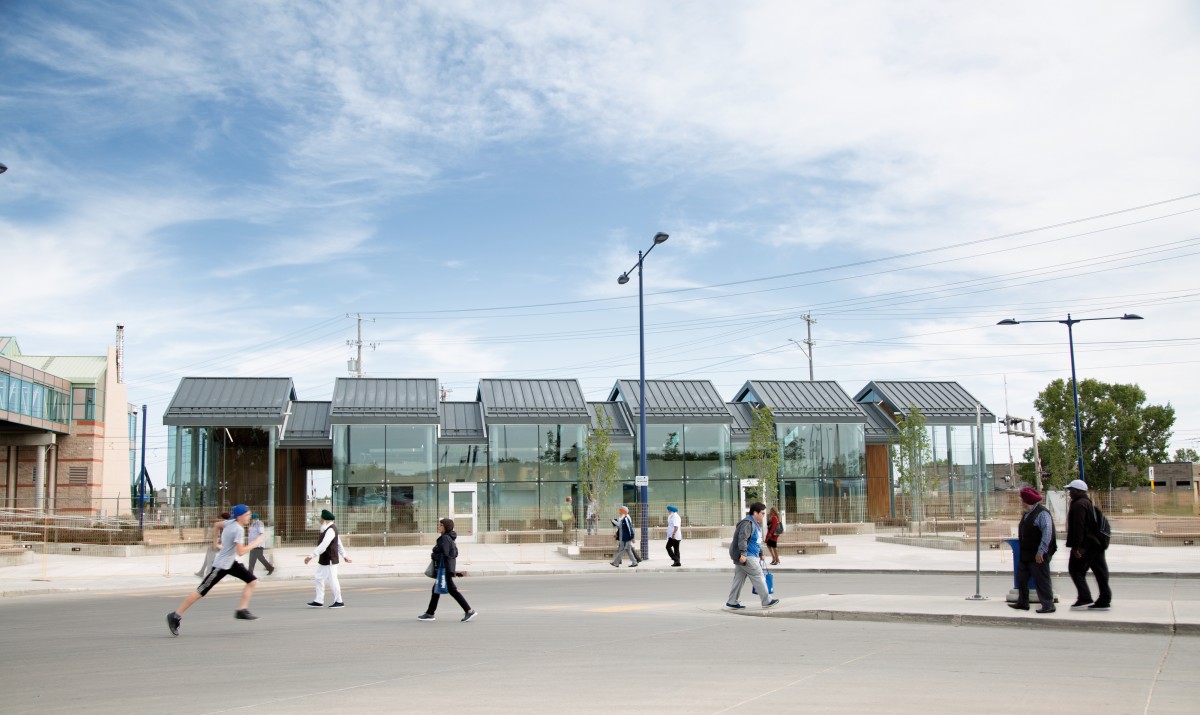 The previous Belvedere transit facility remained in service for 35 years before being replaced in October 2019. The new Belvedere Transit Centre provides multiple entry points and full-height glazing, which allows for transparency, daylight, and views, making it easier, safer, and more comfortable for commuters to watch for their buses. Other amenities and services include heated and unheated public waiting areas, a security office, operator washrooms, service rooms, and an information kiosk. This investment will help improve local public transit services to better connect Edmonton residents to jobs, schools, and services.