Solid & Resilient Cladding
Police Station Mimics Coastal Landscape in Lincoln City, Oregon
by Rick Hackett, product manager, Boral Roofing
Outgrowing its old station, the Police Department of Lincoln City, Oregon, engaged FFA Architecture and Interiors, Portland, Oregon, to design its new headquarters. With a truly unique vision, FFA drew inspiration from the rugged coastal landscape as well as the professionalism of police officers, ultimately designing a one-of-a-kind structure emulating the concept of resiliency.
"On the Oregon coast there is a lot of concern about earthquakes, and rain and wind are constant," said Ian Gelbrich, AIA, partner, FFA. "So, in addition to considering the police profession, we looked to nature for examples of what portrays resiliency, honing in on the rocks in the surf that get pounded day in and day out. The station's design structurally and visually mimics those solid rocks."
Half a mile inland from the sea, the station's site was handpicked for sitting outside of tsunami inundation zones. The roughly 18,000-sq.ft. facility, constructed by Emerick Construction Co. of Tualatin, Oregon, is far from ordinary. The station's roofing and cladding are one and the same with Boral® Roofing's Saxony 900 Slate concrete roof tile. "We were looking for a cementitious material that could be used for the full exterior," added Gelbrith. "We needed something durable to withstand the coast's relentless weather and decided on Boral's concrete roofing."
The designers specified Boral's tile in Stone Mountain blend, matching the coastal rocks. As a market leader, Boral takes great pride in color blending and quality. "Our color offerings result from extensive research into consumer and architectural trends and we continuously refine and expand our options," said Ann Iten, marketing director of Boral Roofing.
Offering superior strength and longevity, the sustainable tile is manufactured using naturally occurring geologic material and is Class A Fire rated. Concrete tile gains strength over time and lasts 3.75 times longer than asphalt shingle.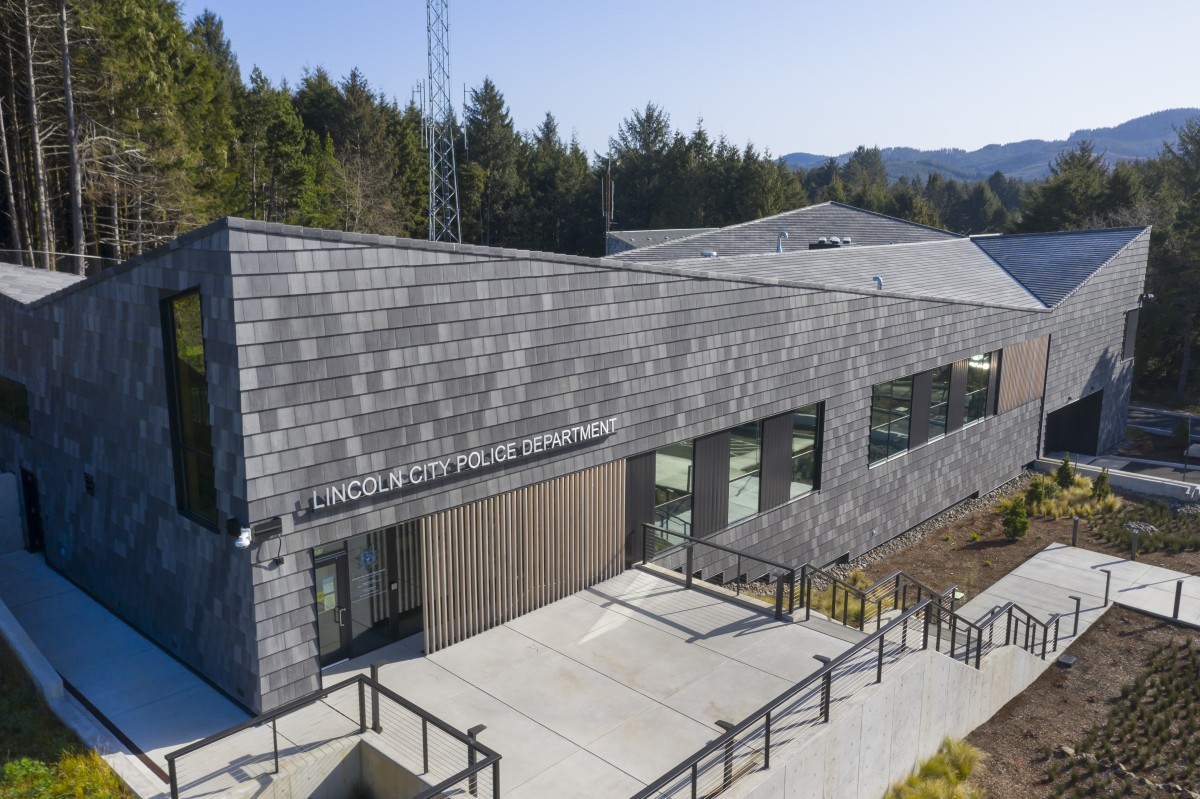 "When designing the roof, we took the typical gable form and selected two points on each façade where we wanted water to flow down into the gutter system and express off the façade," added Gelbrith. "We then lifted up each corner from that point, which added complexity but makes the roof unique."
CC&L Roofing Co. of Portland completed the roof installation. "Lincoln City is prone to high winds and, with our experience working in this climate, we knew the right way to install the tile so it would be able to survive the coast," said Dan Cornwell, president and owner, and current Western States Roofing Contractors Association member and past-president. Notably, concrete tile can withstand high-force winds when properly installed in accordance with the Tile Roofing Institute's Installation Manual for Moderate Climate Regions.
Installers applied two layers of Boral Ply 40, an all-season SBS modified fiberglass reinforced underlayment, with the material half lapped and weaved at the valleys over plywood sheathing. Next, CC&L covered the underlayment with a single layer of Boral TileSeal®, a premium self-adhered high temp underlayment with a modified asphalt core. "We know this is a different approach but if there is any issue in the future it can be repaired without removing sheathing," said Cornwell.
CC&L then installed Boral Roofing 1×3 Elevated Battens over the self-adhered membrane on the roof as well as over the structure's weather resistive wall system before finally adorning it with the tile. "We had never installed concrete tiles as wall cladding, especially on a three-story structure," added Cornwell. "But what resulted is truly a standout facility."