Homeowner Saves Big with Subtle Solar Tiles in San Antonio, Texas
by Marcus Dodson, publisher
Nestled in Texas' vast Coastal Plains region, San Antonio gets more sun than most areas of the country, with 220 sunny days on average. When local resident John Bedingfield decided to construct a new home, he wanted to incorporate a rooftop solar system that would take advantage of every ray of sunlight to bring down his energy bill. He needed a rooftop solar system, however, that would conform to the restrictive covenants of his neighborhood, integrate seamlessly with a concrete tile roof, and not stick out like a sore thumb.
After doing some research on solar systems, Bedingfield approached Don Fry, president of Fry Roofing, San Antonio, who suggested the Apollo® Tile II solar roofing system from CertainTeed®. The system features a unique, low-profile designed for integration into concrete tile roofs. Understanding the building standards of the community, Fry knew the product would provide Bedingfield with decades of reliable solar power generation while complying with the subtle aesthetics demanded by the neighborhood association.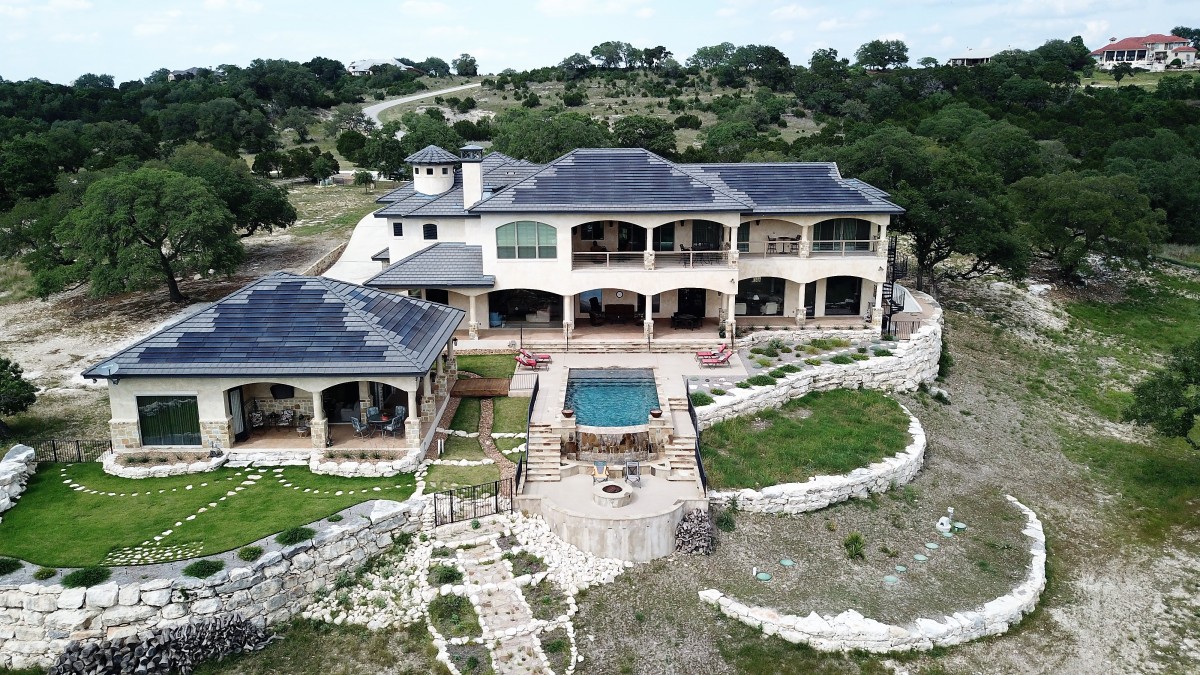 Fry, who was relatively new to Apollo II systems, said the installation went smoothly thanks to straightforward design and dedicated support from the manufacturer. "We had never installed a solar system like this before," said Fry. "It was easy to put together because it was the same as putting on a tile roof. The system was easily incorporated into the layout, so the 350 solar tiles blended uniformly with the concrete tiles, and the process went smoothly thanks to the training and support provided.
"A CertainTeed rep came out to explain how the system is installed and to work along with the contractors, but after the first day they weren't needed because it was simple and intuitive," Fry added. "This definitely added a lot of value and comfort to the homeowner."
According to Bedingfield, having the rooftop solar system in a place as hot as San Antonio has saved him thousands of dollars in energy costs. "I've been very pleased with the performance," said Bedingfield. "During temperate months my electric bill is very small, and there are times where I even have a credit on my account."
According to Fry, the Apollo Tile II solar arrays on Bedingfield's home cover 14 squares of roof space, divided among four inverters to accommodate the above-average size of the system. In its first full year of operation, the system produced more than 28,000 kilowatt-hours of energy that would have otherwise been purchased from the local utility at $0.10/kWh, amounting to more than $2,800 in savings. Over the 25-year lifetime of the system, the clean energy generated will offset 520 metric tons of CO2 emissions, the equivalent of planting 13,500 trees or not driving 1.28 million miles.
Fry said the install went so well that people barely notice that the home is discreetly generating solar power. "Both the builder and the electrical company were surprised to learn that the home has solar," said Fry. "They can tell there is something different about those sections of the roof, but the integration is seamless enough that the tiles aren't immediately recognizable as solar."