Modern, Luxury Hotel Gets Watertight Roof System in Waikoloa, Hawai'i
by Marcus Dodson, publisher
The Hilton Waikoloa Village®, located along the Kohala Coast on the Big Island of Hawai'i, recently completed reroofing and repairs for several of the buildings on property. Resort ownership took proactive measures to prevent leaks from occurring, which included hiring a consulting firm for roof evaluations. Two of the roofs inspected were at the end of their life cycle and required attention. Commercial Roofing, Waipahu, Hawaii, was contracted to perform work to keep the building's roof watertight.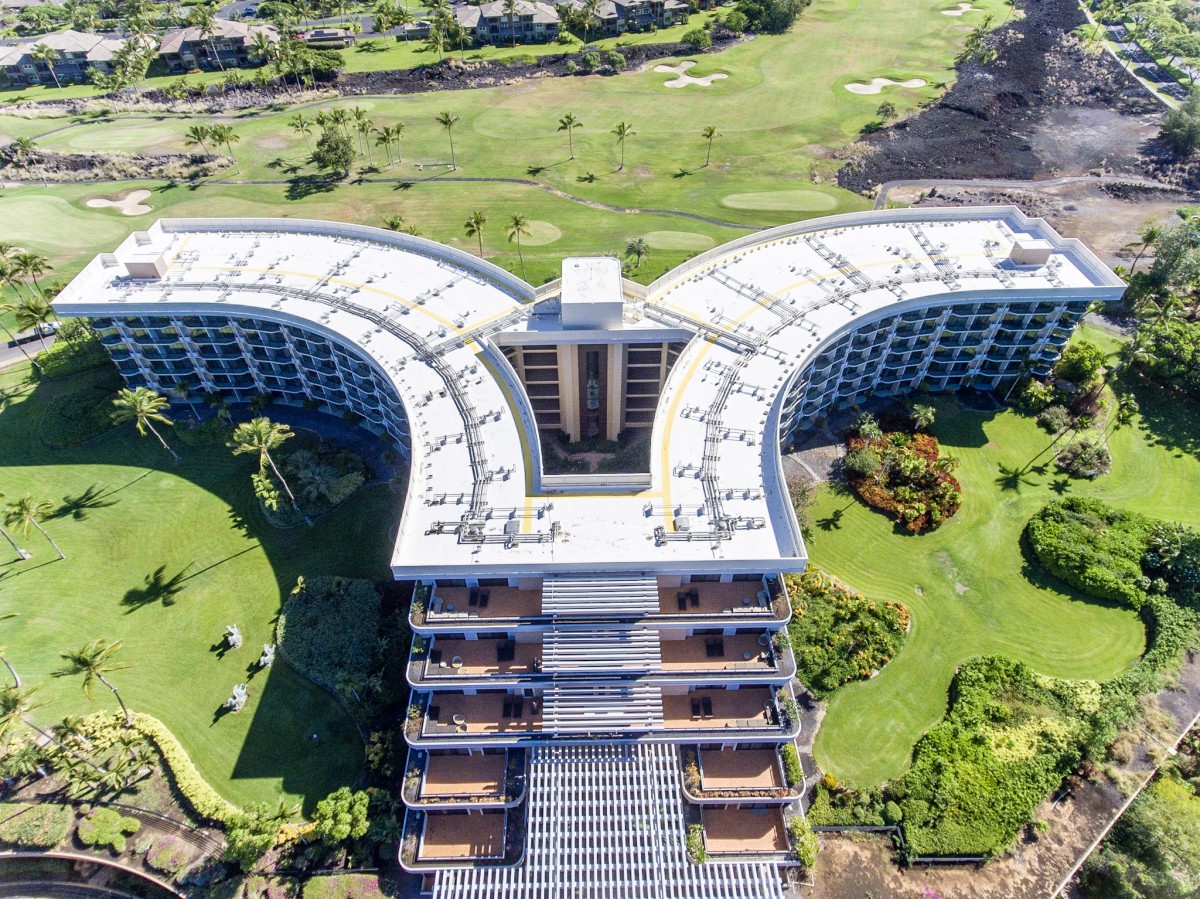 Commercial Roofing was started in 1993 by Guy Akasaki, president, CEO, and member of the Western States Roofing Contractors Association, and what started as a three-man crew has grown to an over 90-person organization today. The company's culture both on and off the roof revolves around delivering quality, safety, and customer satisfaction. Commercial Roofing predominantly takes on commercial roofing projects that cover areas such as industrial, retail, hospitality, education, healthcare, government, utility, military, and more.
"We are a unified group of professionals that utilize our knowledge and training to be on the forefront of innovative construction technology," expressed Akasaki. The reroof project at the Hilton Waikoloa Village was a massive undertaking, requiring a team of experienced and proficient roofing contractors to complete the job swiftly, safely, and on budget.
The Palace Tower at the Hilton Waikoloa Village, which houses the resort's most modern rooms, had a built-up roof with gravel aggregate on top. The building has a height of six stories, with 8' parapet walls, making the removal of the gravel aggregate a considerable challenge. A Tremco® flood coat product was installed over the existing roof to create a smooth surface. Because a majority of the roof was still in useable condition, wet insulation areas were repaired, and a Tremco Alphaguard™ fluid-applied roof system was installed over the existing roof. The savings from not having to do a complete roof replacement was huge. As an added green benefit, it minimized materials going to the landfill.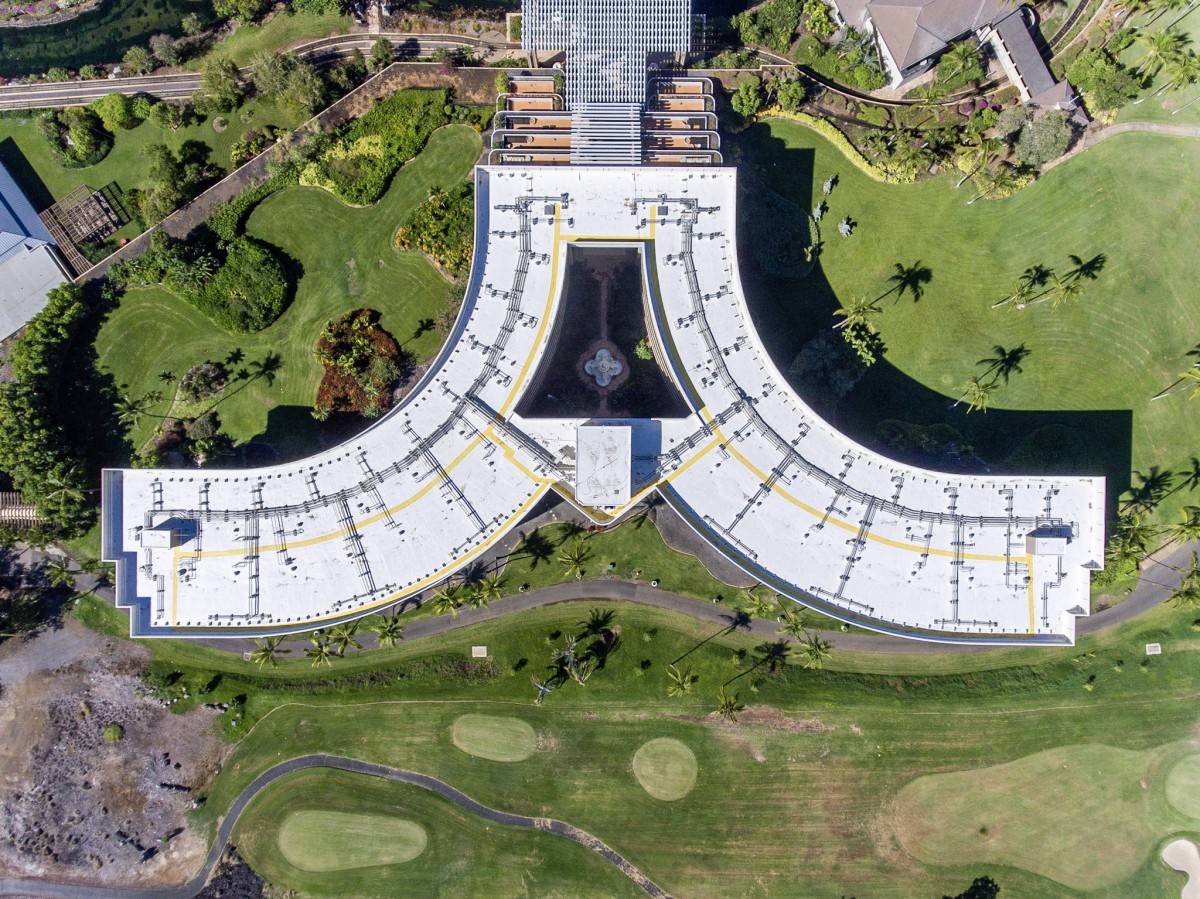 The roof of the resort's laundry room roof was a complete tear-off, and Commercial Roofing installed a Siplast® two-ply 20/30 SBS modified bitumen system. A Siplast Parapro system was also utilized to waterproof certain areas. Laundry room services had to operate 24 hours a day, thus a schedule was developed to allow laundry services to keep up with hotel demand. By proactively addressing possible leaks, resort ownership was able to avoid a potential loss in revenues due to leaks into guest rooms or hotel amenities. The warranties include labor and material, giving the management peace of mind for the next 20 years.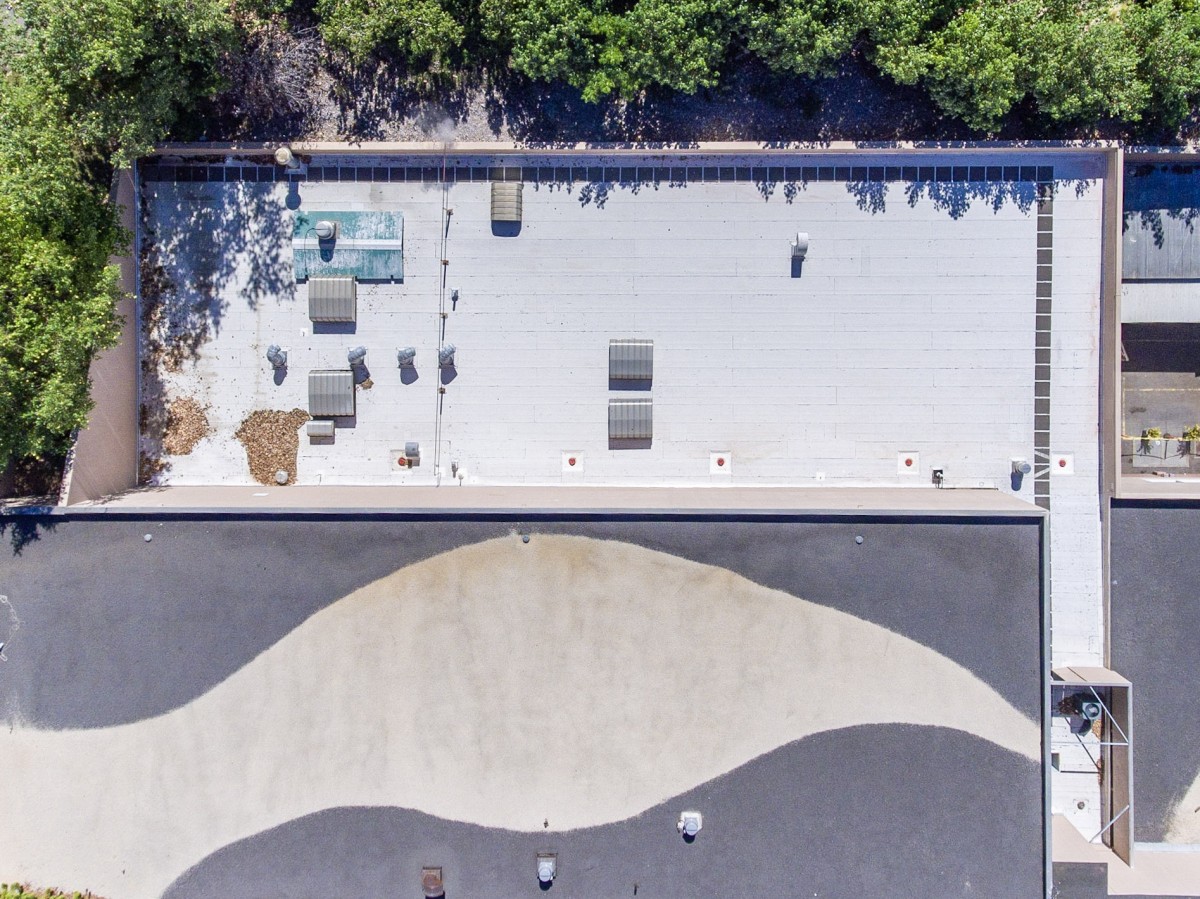 Commercial Roofing completed yet another amazing reroof job, ensuring that the guests at the Hilton Waikoloa Village have nothing to worry about except catching the sunset.