Symmetrical Standing Seam Roof for Private School in Addison, Texas
by Ken Gieseke, vice president of marketing, McElroy Metal
After a decade of throwing money at ongoing problems, Greenhill School in Addison, Texas, finally decided it was time to deal with leaky roof issues on its gymnasium and natatorium. The solution came from McElroy Metal's 238T symmetrical standing seam roofing system, installed by Supreme Roofing of Dallas, Texas.
Greenhill School is an independent school in the greater Dallas area, serving more than 1,300 students from pre-kindergarten through high school. Founded in 1950, the campus consists of 15 buildings, including a full athletic complex and state-of-the-art performing arts center.
"The school was getting a new gym floor, so it was decided the best thing to do was repair those areas and eliminate those problems that might end up damaging that new floor," said Todd Gilmore, sheet metal manager at Supreme. "There were two roof leaking issues on campus and we've been helping out the client for many years with both of them." Gilmore said the gym, with its 25-year-old 7/8" T-panel roof, was always overwhelmed with rain and the clearstory windows would get flooded out.
On the barrel roof of the gym, the existing roof system was left in place. Supreme flute-filled the original panels with a 1-1/4" ISO to help bring the system to an R-25 to meet building code. That was covered with 18,300 sq.ft. of 238T curved symmetrical standing seam panels in acrylic-coated Galvalume®. Not having to tear off the gym roof protected the new gym floor from any inclement weather during construction.
The natatorium featured a 20' x 60' skylight, and dealt with issues caused by a dead valley above the skylight, leading to constant leaks into the pool. When tearing off the 25-year-old T-panel on the natatorium, the Supreme Roofing crew discovered there were significant deck areas that had rotted because of the leaks.
"There were also a lot of safety concerns on this one, no way to flag it off, and guys were tied off consistently to structural steel," Gilmore said. "We had the large skylight in the middle of the natatorium to work around which presented its own set of problems." The natatorium roof ended up being a complete tear-off.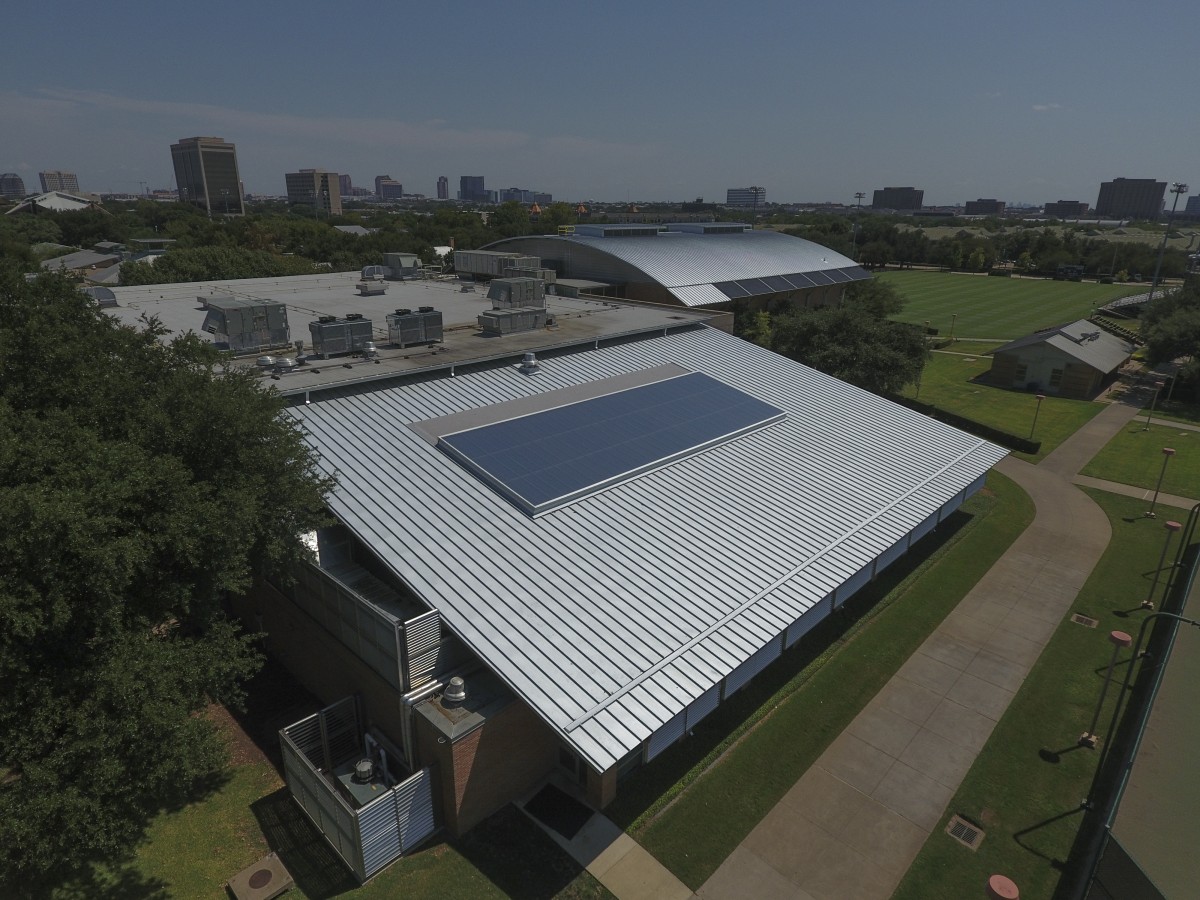 "On the natatorium roof, we removed the existing panel and installed a 1-1/4" ISO," Gilmore explained. "We then installed an 18-wide 238T panel, a new skylight, and the single-ply system. We introduced a new, 8"-high skylight and we raised that curb up to 15". We put a five-square gray single-ply TPO roof with a cricket behind the skylight, instead of trying to create a cricket out of metal."
The natatorium roof was approximately 7,000 sq.ft., also in acrylic-coated Galvalume. Supreme Roofing also installed 3,500 sq.ft. of the 238T on a canopy adjacent to the gym. The 18" Galvalume Plus 238T panels were formed and curved 118º onsite. The 238T symmetrical standing seam system is setting a new standard for performance with ease of installation, outstanding wind uplift and strength characteristics, individual panel replacement capability, and jobsite roll forming for long length panels.
"The school has a 20-year warranty with this," Gilmore said. "Those battles they've been fighting the last ten years that I've been helping them with will no longer exist."