Tool Review: Drill & Impact Driver Kit
Compact Brushless Cordless Performance Tools from DEWALT
by Ali Turner, editorial & multimedia manager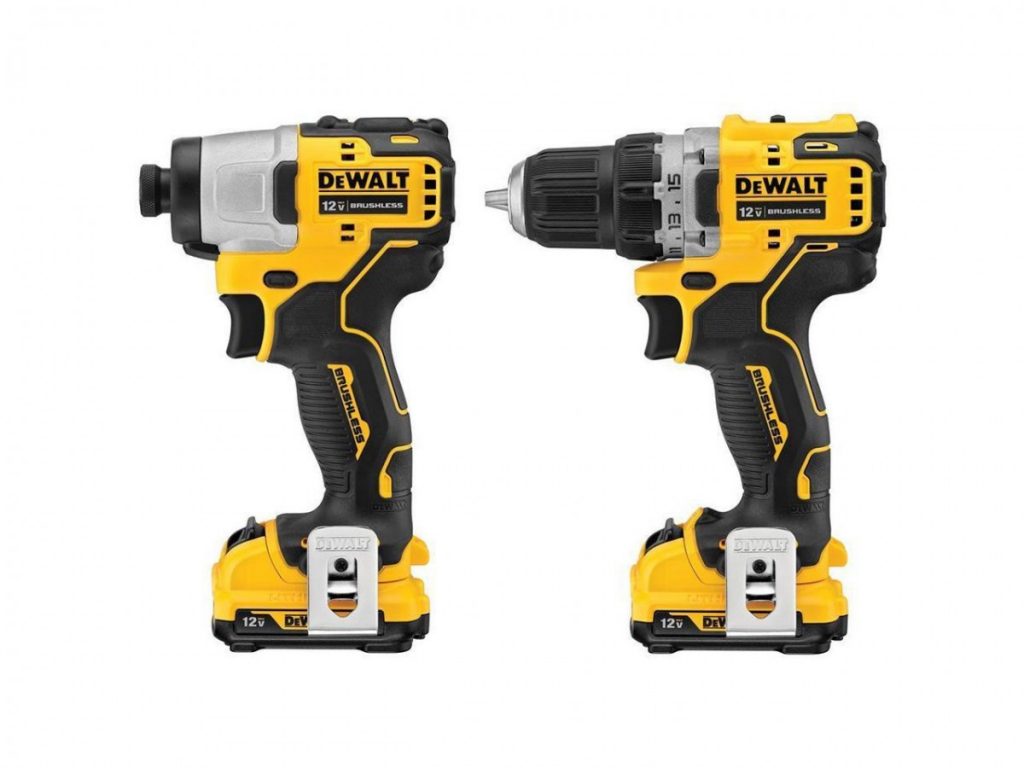 Cordless power tools, while at one time considered a novelty, have now become standard. That being said, it takes a truly innovative product to stand out amongst the plethora of cordless jobsite tools. DEWALT® was one of the earliest adopters of cordless tool technology, and the company continues to raise the bar with its line of cordless jobsite tools. One of the more recent additions to the 12V MAX line is the XTREME Brushless Cordless Drill and Impact Driver Kit.
This two-tool kit is part of the new DEWALT XTREME Sub-Compact Series™, a line of 12V MAX products that are designed to meet the needs of a wide range of applications and jobsites. These powerful tools have a shorter design to allow them to fit into tight spaces, as well as a lightweight and compact profile for maximum portability. The brushless motor provides enhanced performance and extends the overall life of the tool.
The 3/8" drill driver is ideal for a variety of drilling applications, particularly precision drilling applications. The cordless drill driver is less than 6" from front to back, making it an excellent choice for tight spaces where drilling is needed. The brushless motor allows for maximum runtime and dependable durability. The drill driver has a high-speed transmission with two speed settings and 15 clutch settings. Compared to earlier models of DEWALT drill drivers, the new XTREME 12V MAX Brushless Drill Driver has more power while also being shorter. The 3/8" ratcheting chuck accommodates a wide variety of bits, and there are three LED lights that illuminate the work surface.
The brushless impact driver is ideal for many fastening applications and comes with Precision Drive™ technology. As with other DEWALT tools, Precision Drive mode helps to protect the fastener and material surface, as well as provide control during applications that require a high level of precision. It does this by pausing the tool for one second before impacting.
The tool is just over 5" from front to back and comes with an impressive 1,450 in-lbs. of torque. In fact, the new XTREME 12V MAX Brushless Impact Driver has 52% more torque than previous DEWALT impact driver and battery combos. The impact driver has three mode settings, including the Precision Drive feature, for increased accuracy.
Our testing team tried out the DEWALT XTREME 12V MAX Brushless Impact Driver on a few pieces of composite decking. Even at the tightest corners of our deck space, the impact driver handled the application perfectly. The Precision Drive technology adjusted the speed of the torque, meaning our team didn't overdrive or strip the fastener. The compact size and lightweight design definitely made for easier handling and portability, without sacrificing power.
The entire kit comes packed with a 12V MAX Brushless Drill Driver, 12V MAX Brushless Impact Driver, two 12V MAX batteries, a 20V MAX Charger, one belt clip, and one kit bag. As with any cordless tool, the battery pack is an incredibly important piece of the puzzle. Thankfully, DEWALT has you covered with its legendary 12V MAX 3.0Ah Lithium Ion Battery, which includes a fuel gauge LED charge indicator that makes it incredibly easy to check the status of your battery before beginning a job.
DEWALT has expanded on its legacy with the new XTREME Sub-Compact Series 12V MAX Brushless Cordless Drill and Impact Driver Kit. The tools are compact, but still perform tough applications in confined or hard-to-reach spaces. For the roofing professional that travels from jobsite to jobsite, these tools are able to be moved easily and conveniently from location to location. Cordless tools also allow for quicker breakdown of a jobsite at the end of a workday and keep a work area clear of tripping hazards. If your current tool kit is telling you it's time to update or upgrade, this is a great pair of tools to add to your collection.