A Classic Update to a Mid-Century Modern Beauty in Long Beach, California
by Ethan Young, content writer, Isaiah Industries, Inc.
An aging wood shake roof on Faith Orthodox Presbyterian Church in Long Beach, California, needed to go. The congregation wanted a tasteful, fire and weather-resistant, and long-lasting replacement. The old roof was partly original and worse for wear, but a permanent solution would keep the sanctuary protected for decades.
Investing in a new roof for their sanctuary was a big leap for Faith Orthodox Presbyterian Church. The congregation realized they needed a replacement roof when sunlight started coming through their old roof. It had been years since their last roof was installed, and time had not been kind to it. The old cedar shake was cracking, breaking, and even falling off in some places, leaving room for potential leaks. The dated roof design served the church well through the years, but something newer and safer was quickly becoming necessary.
The sanctuary where Faith currently holds service was designed and built from 1960-61 by modernist architect Carl Maston, who specialized in mid-century modern design. He designed many residential and commercial buildings in the Los Angeles, California, metro area, and much of his work still stands today. Faith dedicated this sanctuary on September 17, 1961, with an increased seating capacity of 400 for its growing congregation. The sanctuary is a striking building, designed as one open space, with a curved roof and sloped sides supported inside by massive wooden support beams.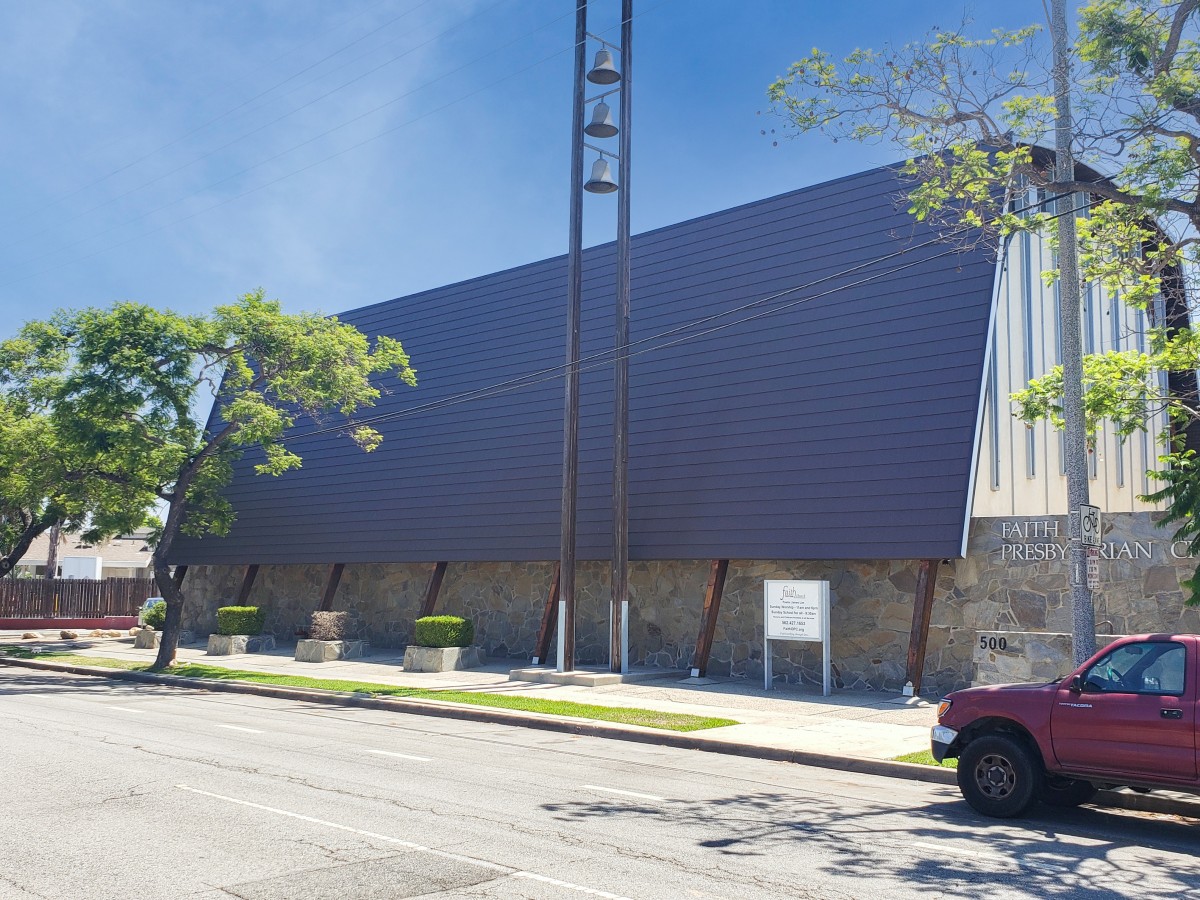 Faith got a uniquely beautiful roof that will last for years to come, thanks to the shake gray Oxford Shingle from Classic® Metal Roofing Systems. This permanent roofing solution looks great; keeps energy costs low; and protects from fire, wind, and weather. California is prone to fire with its dry climate, so keeping the sanctuary safe from blowing embers was a priority addressed with this replacement.
The contractor for this project, Dustyn Howard of Howard and Sons, Inc., of Corona, California, faced several challenges while working on this roof. The sanctuary roof isn't a standard roof shape, but a flat roof on top with two 60º-angled sides. This made walking on the roof to install the metal shingles impossible. The two sides of the roof were in different conditions, too, so tear-down would require two different approaches. The north side of the roof was likely original, according to church elder Skip MacLean, but the south side of the roof had been replaced before. A two-step solution was devised, which included extension ladders for the bottom half and man-lifts for the top half of the roof.
Howard and Sons, Inc., started the installation process by removing the old cedar shakes. After removing the old roof, they installed plywood over the stacked 2" x 4" decking to provide a strong foundation for the new roof. They laid polyiso insulation on the new decking and then installed the new metal roof. "Working with Isaiah Industries and Howard and Sons was very smooth and professional," said MacLean.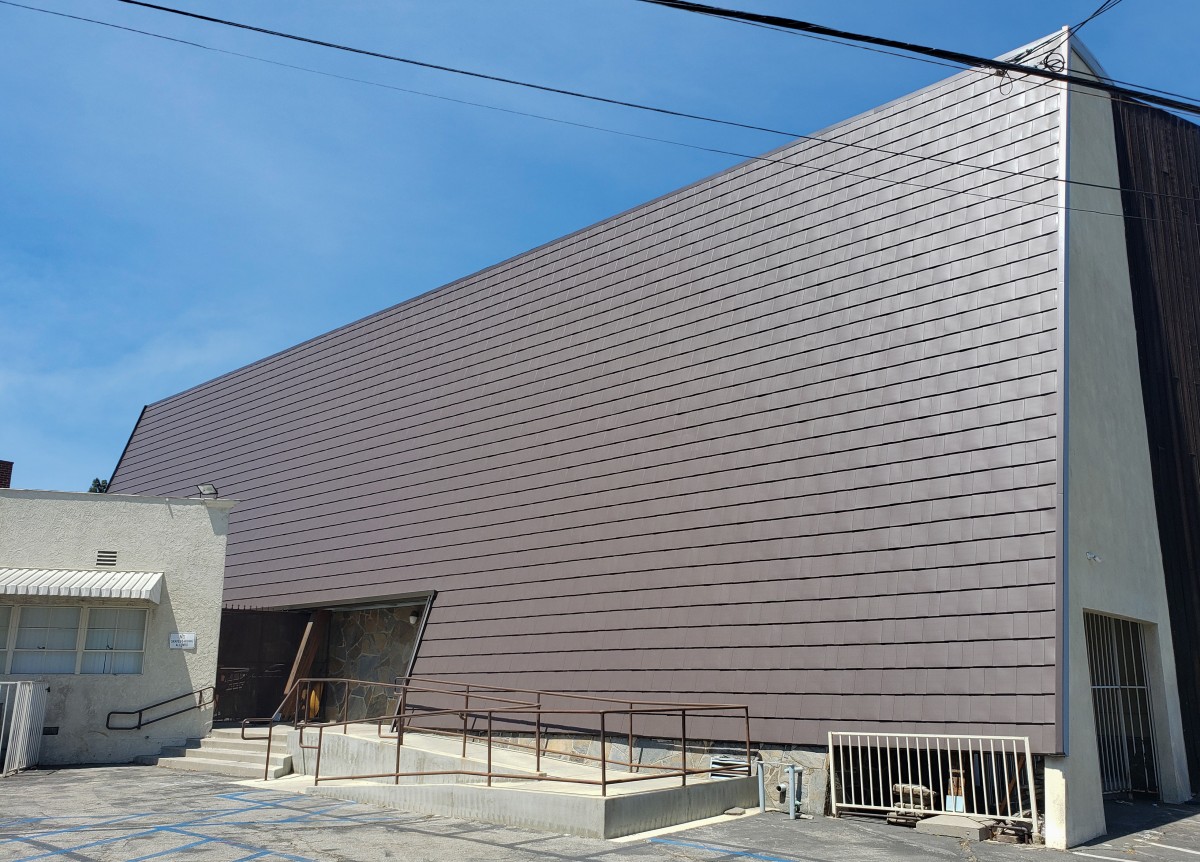 The members at Faith saw an investment in a quality metal roof as a way to reduce their operating costs and expand their ministry. They went from being worried about a weather-beaten, wood shake roof worn down by years of harsh California sun to enjoying the beauty, comfort, and energy savings of a Classic Metal roof. The congregation is confident in the permanent roofing solution that they, along with their families and generations to come, can appreciate. Their investment is further protected by a long-term warranty that includes: the coating will not chip due to hail and will not leak due to hail; a 120 mph wind warranty; completely non-pro-rated; 30-year fade and chalk resistance warranty available only with PVDF coatings; and if a warranted failure occurs, it covers both materials and labor for repair or replacement.
Faith has further added to the beauty of its 1960s mid-century modern church. Replacing the old wooden shake with new metal shingles retains the building's style while providing a look that won't fade over time. Even better, Faith can truly say it is using an environmentally friendly roofing solution. Classic Metal Roofing is designed to reduce all three forms of heat transfer, including radiant, conductive, and convective, to achieve a roof system of maximum energy efficiency.
The members of Faith can now continue their ministry, confident in the strength and safety of their new roof. Their new Classic Metal roof eliminated maintenance costs and reduced energy costs, allowing church funds to be distributed within the community at home and abroad. Faith can continue to serve the community for another 75 years.