Hybrid Underlayment Keeps Crews Safe & Condos Dry in Beaverton, Oregon
by Ali Turner, editorial & multimedia manager
South Cooper Mountain is the new sustainable and livable urban community in Beaverton, Oregon. The neighborhood was master-planned as a way to address the long-term needs of the area, including offering a variety of housing types for a range of community inhabitants. Aylwin Construction, Hillsboro, Oregon, was contracted to install the roofs on a set of new of apartment buildings in South Cooper Mountain.
Aylwin Construction didn't hesitate when it came time to choose the best products for the job, specifically in regards to the underlayment. The team immediately turned to Safeguard 30® Hybrid Underlayment, an innovative product that combines the proven technology behind asphalt-based underlayments with a high-performance, nonwoven polyester reinforcement. The durability of Safeguard 30 Hybrid Underlayment allows it to hold fasteners better and provide better tear strength and puncture resistance than many other products on the market.
Photos courtesy of Brad Schmautz, Pono Building Consultants
Aylwin Construction, a family-owned business that focuses on roofing, gutter, and exterior construction, installs between 8,000 and 10,000 squares of pitched roofing per year. As an expert in the field, Aylwin Construction relies on only the best roofing products available, and when it comes to underlayment, Safeguard 30 is the only choice. In fact, Aylwin exclusively uses Safeguard 30 on its projects, knowing that the hybrid underlayment will consistently provide the reliability and durability needed for all types of roofing installations.
In addition to its reliability as a roofing underlayment, Safeguard 30 helps to make a jobsite safer. Five squares of Safeguard 30 Hybrid Underlayment are lighter than two squares of a traditional felt, making movement on the roof easier and safer. It's also incredibly strong and safe to walk on when it's wet, which is particularly important in the Pacific Northwest.
"One of the main reasons we chose Safeguard 30 for this project was for the safety of our crews," said Rufus Aylwin, owner, Aylwin Construction. "On cold, icy mornings, roofing contractors cannot see the ice on traditional white or grey underlayments, which leads to a very dangerous environment, even with proper safety gear." With Safeguard 30, ice shows up on the black hybrid underlayment, and it also provides excellent traction in slippery conditions.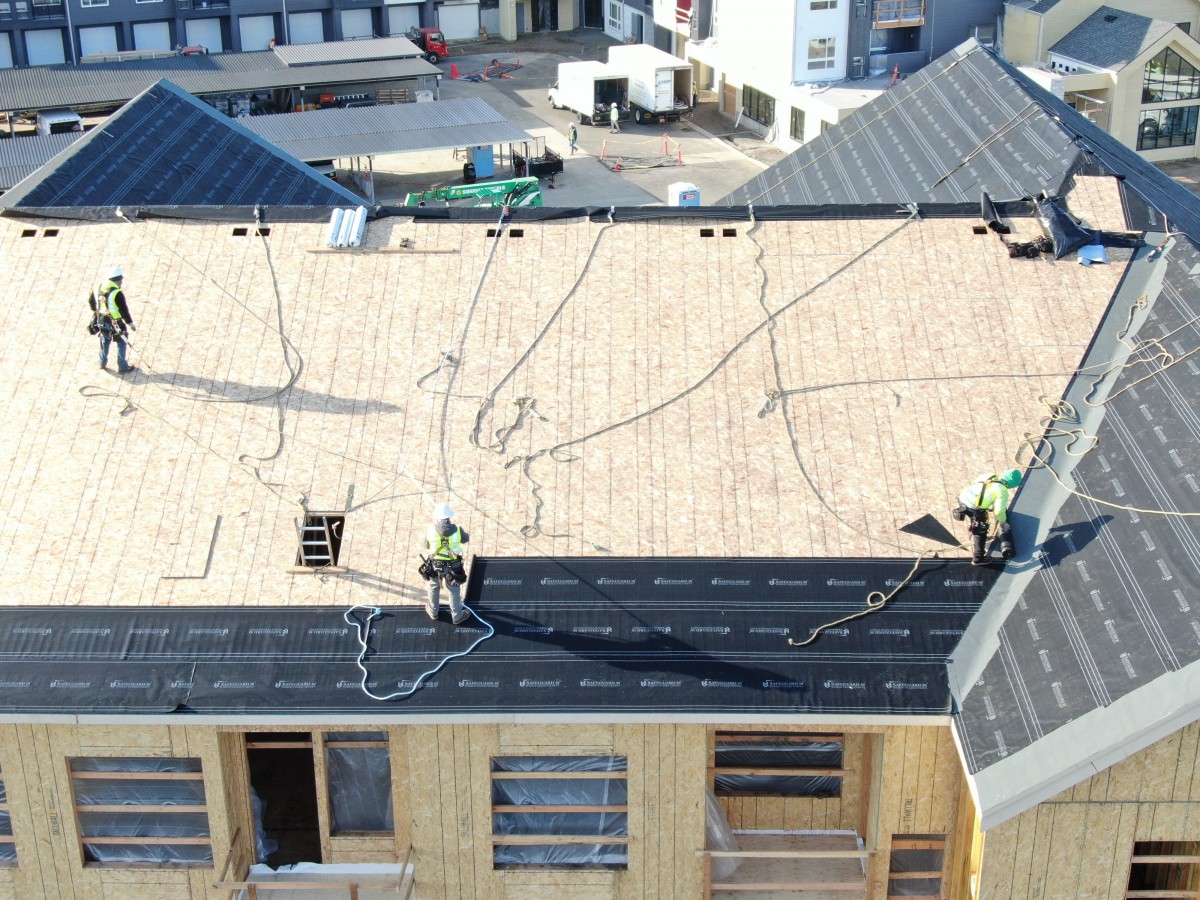 Roofing projects in the winter, with cold temperatures, very strong winds, and nightly rainstorms, require an underlayment that will not blow off. Safeguard 30 is heavy at 50 lbs. per roll, but when you lay it down, you have a substantial, thick, and heavy underlayment with a cloth, tar, and fiberglass mat. It doesn't tear, its nonwoven composition is very slip resistant, and it's easy for a crew to handle. That means that the amount of squares that a roofing team can knock out in a day makes up for the extra cost of investing in a quality underlayment.
"By using caps on the leading edges, Safeguard 30 has been 100% what we needed to prevent blow off," said Raul Bonilla, project manager, Aylwin Construction. "Safeguard 30 Hybrid Underlayment helps to keep the crews safe from slipping on the ice and it is hands-down the easiest product to work on over extended work days."
South Cooper Mountain is one of the largest master-planned developments being built in Oregon. A large project such as this must rely on a heavy-duty, reliable product like Safeguard 30 Hybrid Underlayment to keep it safe, secure, and dry.