Pandemic Creates Challenges & Opportunities for Flashings Manufacturer
by Rob Drew, RD Marketing
In early March of 2020, the senior leadership team at FlashCo met to discuss its annual strategic plan to be kicked off the following month. The plan included a year of celebration for FlashCo, a flashings and accessories manufacturer, as the company planned to commemorate its 20th year in business. FlashCo® is a leading manufacturer of TPO and PVC accessories. Single-ply flashings now account for the majority of sales and comprise a range of product groups including boots, vents, drains, and coated metal. Two weeks before preparations could be put into motion, the roofing industry, the United States, and the world ground to a halt.
The COVID-19 pandemic put big plans on hold while the potential impact of the global crisis was assessed. From lockdowns to partial openings, each state and the industry had to grapple with the impacts of the virus. FlashCo's grand 2020 plans saw many twists and turns over the year. Few could have foreseen that the pandemic would create opportunities, as FlashCo ended the year undertaking plant expansions and adding new digital quoting tools for contractors.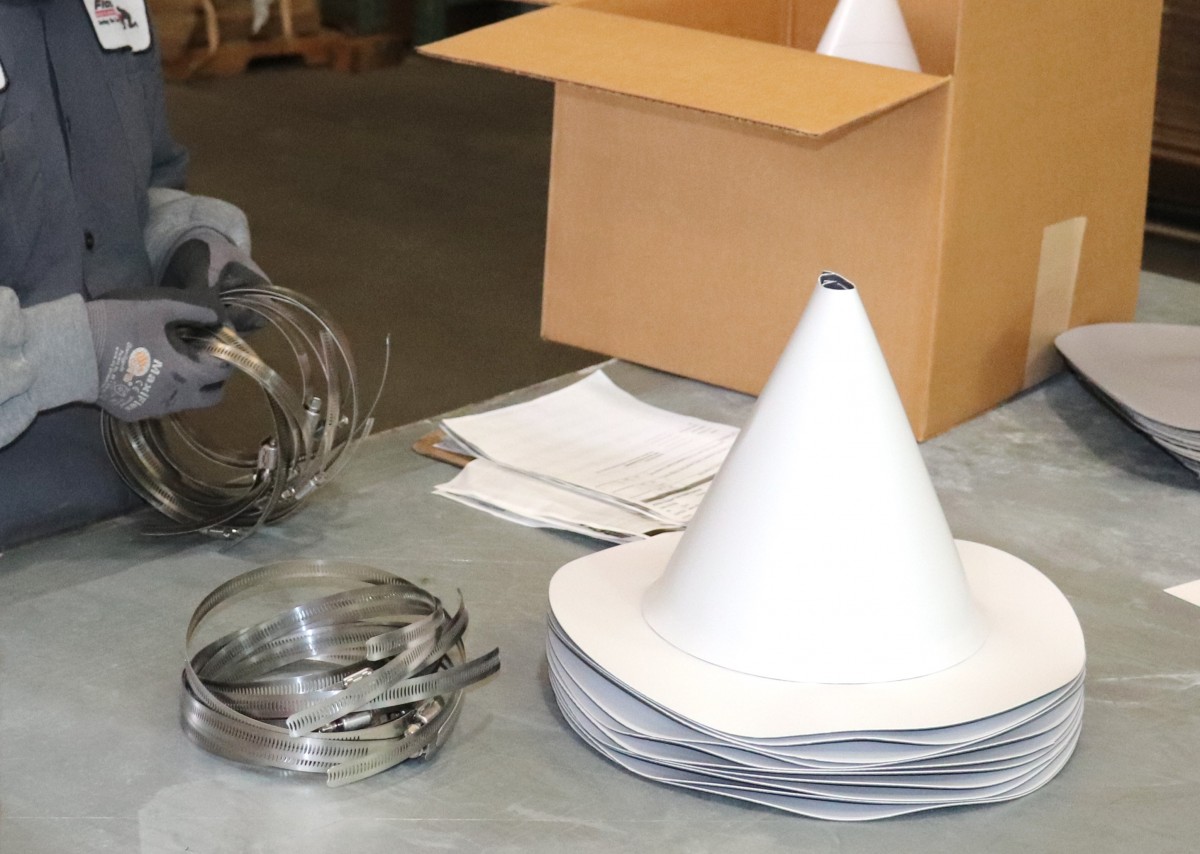 "We started in 2000 manufacturing lead boots in a small shop in Sebastopol, California, serving the San Francisco Bay Area market," said Greg Morrow, FlashCo founder and current president. "Since then, we have steadily grown to five plants spread throughout the country producing millions of parts a year. We've had our challenges, such as the financial crisis of 2008, but that propelled FlashCo into the single-ply market diversifying our product lines. Nobody planned for 2020 to have a pandemic crisis, so we had to figure out how to adapt, then ultimately find ways to thrive."
As the initial impacts of the pandemic and measures to curb its spread became known, FlashCo focused on safety first. With its five manufacturing plants, FlashCo reconfigured work areas to give workers safe spaces to operate, as well as instituted mask wearing and social distancing. Where appropriate, employees were encouraged to work remotely.
As the full impact of the shutdown started to show itself, FlashCo's sales dramatically dropped in March. Morrow said, "To make it through the toughest times, we immediately deferred executive salaries and cut back on operational costs. We weren't sure how long the slowdown would last, so we made contingency plans that we felt would help us manage through the end of the year."
The industry's typical spring and summer boom was slow to takeoff in 2020. However, as industry lobbying for roofing as an essential business and better understanding of the virus and the risks of transmission outdoors became better known, states started to open up and the roofing industry began to regain its footing.
By late summer, FlashCo was seeing the impacts of deferred projects as the industry rapidly transitioned from shutdown to catching up on lost time. "Our business was down 9% in our first fiscal quarter," said Bill Bartell, FlashCo sales director. "Looking back, the industry certainly felt the impacts of the uncertainty around the virus and the wide range of approaches each state was taking. Yet, out of the depths of the first fiscal quarter we saw a 14% growth in sales in the second quarter as July, August, and September were very strong."
FlashCo's COVID-19 procedures and precautions developed in March proved to be effective, as no major outbreaks have occurred at any of the five plant locations. "During the slowdown we took it as an opportunity to get better," Morrow explained. "At a time when we are typically extremely busy, we had a chance to evaluate all of our operations and business practices. The company was founded on saving the contractor time, and we have used this as our guiding principle throughout our history. Even when business was down, we saw the potential opportunities in front of us."
FlashCo built up raw materials and inventories during the slow months, and this proved important as the industry came back to life. It quickly became apparent that existing manufacturing capacity would need to be expanded. In 2016, FlashCo had moved its Southwestern plant from Phoenix, Arizona, to Los Angeles, California, settling in Downey, California. "We focus on speed," said Bartell. "It's important for us to make and deliver our products swiftly, so having a plant in the Los Angeles area made the most sense so that we can quickly and efficiently service the contractors in that area."
The move has paid off, as FlashCo is expanding its Los Angeles plant to a new building five miles away in nearby South Gate, California. The South Gate facility will triple FlashCo's manufacturing footprint and speaks to the growth and health of the industry in Southern California. FlashCo is seeing growth in other markets, too. A new FlashCo plant is under construction in North Salt Lake, Utah, and another site has been chosen in the Dallas-Fort Worth, Texas, area.
"We've had a warehouse in Utah, and having a plant there just makes a lot of sense for us. The plant will allow us to support the Utah market, surrounding area, and also pickup additional demand. The Texas market is really booming in coated sheet metal and sheet lead, and as we've seen from Los Angeles, delivering products quickly makes a huge difference for the local contractors," said Morrow. The Utah plant is expected to be completed by the end of the first quarter, and the Texas plant should follow this summer.
The pandemic caused business disruptions, many of which are still happening today. "Not being able to see customers face to face has been a major adjustment," explained Bartell. "We like getting out and talking directly with customers, but each state and our customers have limits on how much we're able to do, and it's been that way since last March. We've had to devise different ways to work effectively."
Unsurprisingly, FlashCo has seen a surge in the use of online tools. With customers more relegated to offices or homes, using online tools to request quotes or place orders has seen a big uptick. "Our online quote form saw a 50% increase in 2020," said Morrow. "We took this opportunity to embark on a new web portal that will allow contractors to place quotes that feed directly into our SAP system. It's going to be a huge time saver for contractors and we expect it to cut down on a lot of the back and forth getting the right accessories. We know accessories are the last part of the job, so making the process faster and easier is always our goal. We've got a series of online tools in the works, starting with the contractor portal that will really help."
The year 2020 will be remembered for many things, but for FlashCo, a planned celebration was replaced by disaster, only to be redeemed by expansion opportunities and new online tools. Morrow summarized, "Sometimes good things can come from unfortunate situations and we're really glad to be entering our 21st year in business. Year 20 wasn't what we expected, but we tried to make the most of it and position ourselves to have 2021 be our best year yet."