PermaCity & its Partners Keep Cranking Out the Megawatts in Glendora, California
by Michael Russo, contributing editor
From Western Roofing Sep/Oct '16
PermaCity, Los Angeles, California, has a dream of a business plan. The full service solar and roofing energy design and installation company has a strategy that might only succeed in the West, at least for now. It's all about building trust with leading solar contractors, racking suppliers, electricians, finance companies, and roofing manufacturers. PermaCity's solar business model is helping the company move ahead of competitors locally, while its roof solutions are gaining more adherents than ever before. With more than 150 projects under its belt, PermaCity's solar roofing systems are currently generating an average of 70 MW worldwide.
The project originated with Electric Service and Supply Company (ESSCO) of Pasadena, California. A member of the Los Angeles Chapter of the National Electrical Contractors Association (NECA), ESSCO is a family business run by Tyler and Sean Lazarian, under the direction of second-generation electrical contractor and president Stanley Lazarian.
The company's latest project is an example of what can be done when a group of roofing, solar, electrical, and financing experts collaborate. St. Lucy's High School in Glendora, California wanted a solar roof. However, its built-up roof (BUR) was nearing the end of its lifecycle. With facilities maintenance a priority at the school, it was beneficial that the 241 square project could be completed at no up-front cost to the building owner.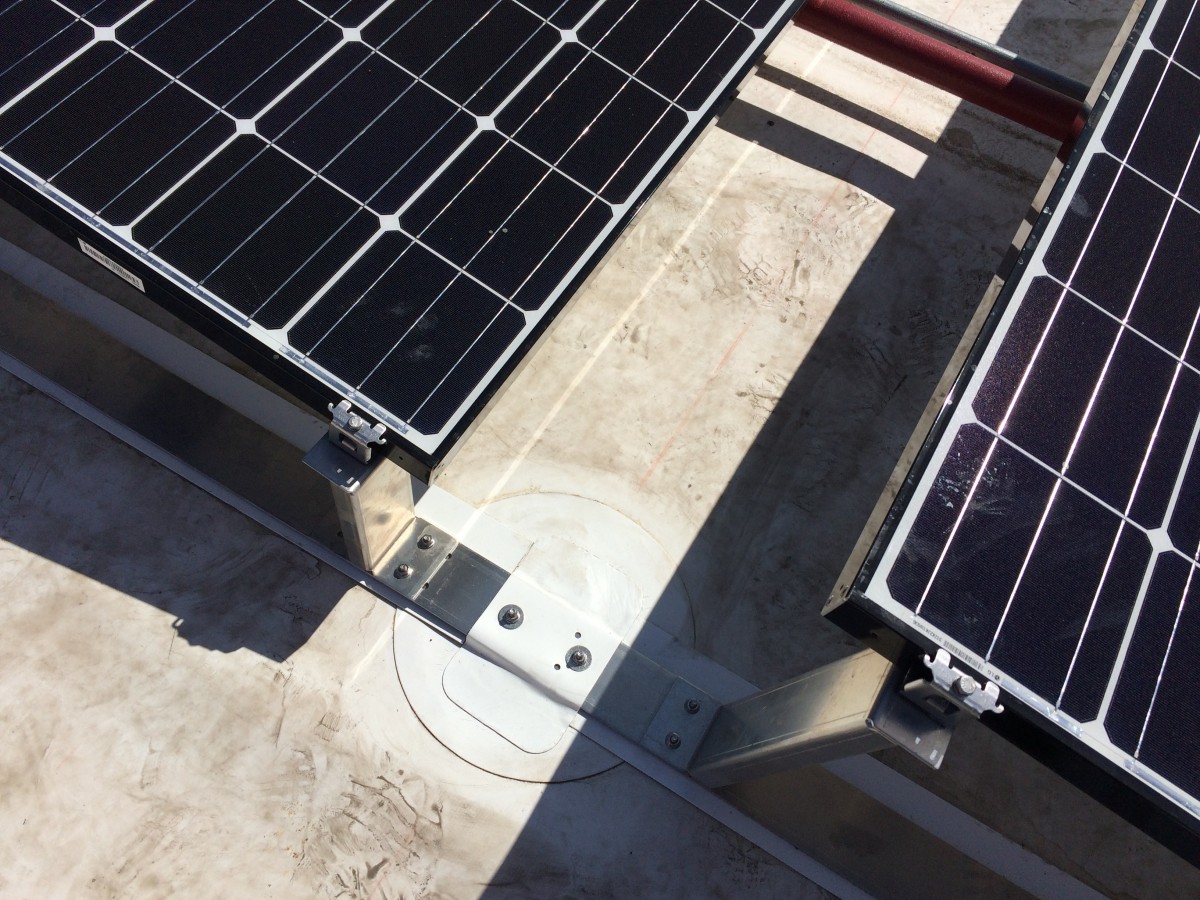 In Los Angeles, California, solar roofing has a five to eight year return on investment, explains PermaCity CEO Jonathan Port. This school project also features a 20 year NDL roof warranty. Based on a 25 year power purchase agreement, the project is expected to pay for itself and return a significant savings to the school.
One must keep in mind this project is located in the Los Angeles, California area, not Kansas. Soaring energy costs combined with sometimes staggering peak demand premiums, solar-friendly utilities, and state and local requirements create the perfect environment for practical solar applications. The trick is figuring out the energy costs per month of the building and then financing the job appropriately through a solar power purchase agreement, solar leasing, and/or a loan. The result is usually little or no out of pocket costs by offsetting the payment through future energy savings.
ReNewAll, Pasadena, California, a commercial solar finance company, was a real hero on this project. Without the company's financing acumen, it is unlikely the St. Lucy's School project could have been realized. ReNewAll specializes in assisting developers and building owners in financing projects that are cash flow positive from day one. Since July 1, 2015, ReNewAll has originated more than $35 million in project term sheets for contractors in Southern California. "ReNewAll's various financing mechanisms allow contractors to deliver solutions to property owners for little to no initial investment," says president Joe Berney.
For the St. Lucy's School, ESSCO reached out to PermaCity for its innovative roofing solutions, including the SolarStrap non-ballasted, non-penetrating roof system. This technology features a design detail in the roofing industry that carries code approvals for installation in earthquake zones. It is also International Code Council and Underwriters Laboratories approved.
"SolarStrap allows the roofing contractor to step into solar and manage the installation in a quicker and easier fashion," says Port. "Solar has typically been antagonistic to roofing, but this system has been designed to be compatible with modern roofing membranes, particularly TPO, and actually makes the roof stronger from a structural perspective."
GAF approached PermaCity several years ago to access its technologies, and the relationship has been mutually beneficial ever since, says Port.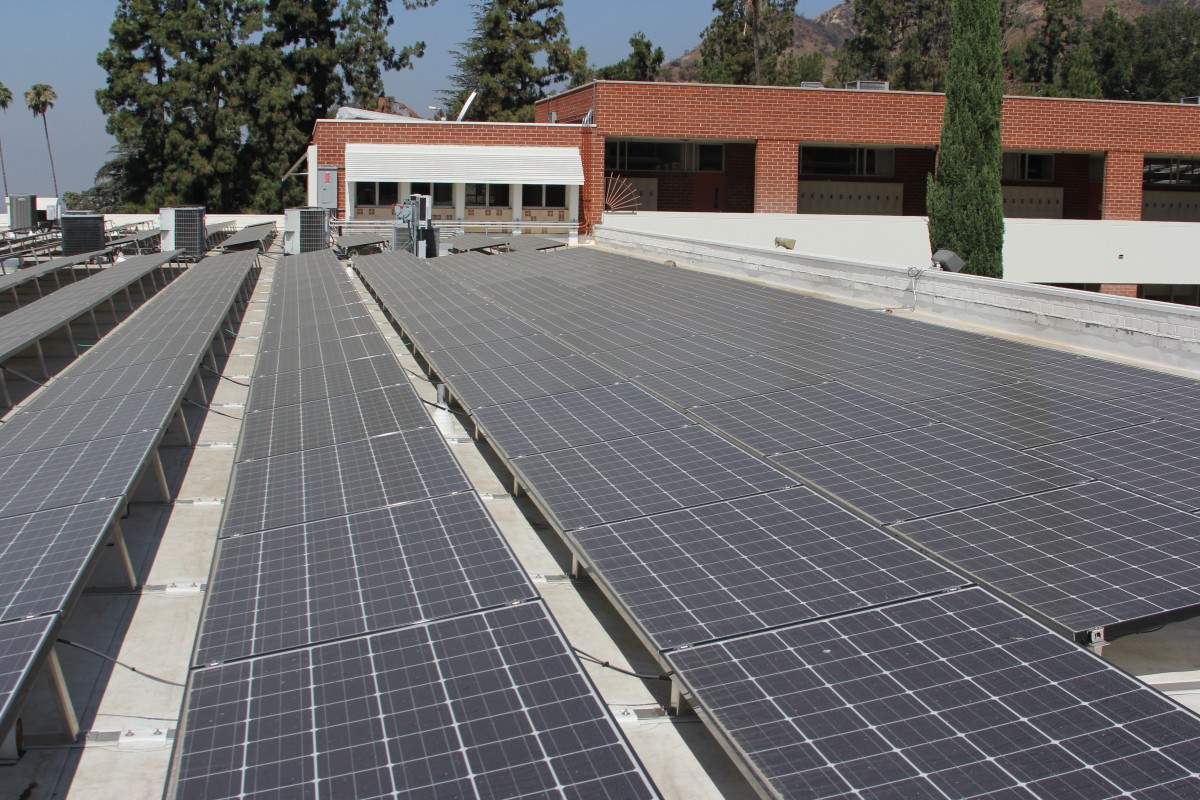 On this project, electrical contractor ESSCO received additional assistance from the Los Angeles Chapter of NECA and installation was done by ESSCO employees, including all members of the International Brotherhood of Electrical Workers Local Union 11. One caveat is that PermaCity's solar installations have all been generated from the private sector. In the public sector, low bidding strategies would likely conflict with the level of quality PermaCity and its partners desire to provide to their clients. SolarStrap combined with TPO roofing is changing that problem by lowering the overall costs for solar and roofing.
In addition to the payback, St. Lucy's School was inclined to use solar because the Archdiocese of Los Angeles, the country's largest, mandates the technology for its schools. The roofing project itself was fairly straightforward. A roofing crew removed the existing BUR, prepared the concrete deck, and adhered GAF's 60 mil EverGuard Extreme® fleece-back membrane, 115 mil thickness, with water-based adhesive.
After installation of the field membrane, existing stone cap flashings were removed and the roof membrane adhered 12″ up the 18″ high parapet walls using a standard termination bar, caulking, and counter flashing detail. The roofing crew then installed the attachment points for the solar racking, while ESSCO handled the racking, electrical, and panel installation. "We can also install the racking and glass (solar panels)," says Port. "This speaks volumes to a solar contractor or electrician on these jobs."
But it is PermaCity's SolarStrap that holds these solar projects together from an engineering perspective. Deceptively simple in concept, engineering, and layout, it is one of PermaCity's shining stars created by CEO Port, whose vision as a sustainable designer and planner go far beyond solar roofing alone. In Port's design, each corner of every PV solar rack has an attachment point reinforced with mechanical fasteners and a target patch of TPO membrane heat welded over the top. Once the leg or bracket is laid over the top of the attachment point, another TPO patch is heat welded over the top.
Port's system provides a minimum of 60 pounds per sq.in. of pullout strength at each attachment point yielding very high safety factors while easily accommodating thermal cycles, high wind, and earthquakes. The non-penetrating detail helps the system hold in winds of up to 150 mph and features a long list of certifications.
However, the general roofing installation requires the expertise of a professional roofing contractor and membrane manufacturer. According to GAF's partners, the company understands how solar projects work and knows the requirements for successfully completing these jobs. "GAF is a solar advocate that has made a huge commitment in financing," Port says. "Instead of one or two tech guys, GAF has a solar team of high level executives helping us develop these projects, whether GAF is financing the project or not."
St. Lucy's School is an example of how a partnership between contractors, electricians, finance companies, and roofing manufacturers can expedite a successful project within the community. Before long, St. Lucy's School will enjoy the lower energy costs and return on investment that accompanies a transition to sustainable energy.