Equipment Notes: Close Down Procedures
Making Sure Your Jobsite is Safe at the End of the Day
by Gary Zimmerman, territory sales manager, Roofmaster Products Company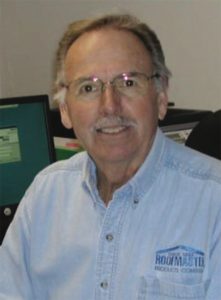 Regardless of application, all roofing jobsites require a close down procedure. There is crossover between each application, but each type has steps that are material and/or application specific. When using hot asphalt, it is imperative to clean out and check all equipment and tools that came into contact with the hot asphalt.
Hot mops are a source of combustion, frequently after crews have left the jobsite. This is true regardless of the material of the mop. Do not believe the myth that fiberglass mops don't catch on fire. Mops should be wrung out or the asphalt squeezed out of the yarns or fiberglass. Cotton mops should be removed from the roof and put in a metal bucket; empty mastic containers are the perfect option. The mop and bucket should be put in a safe location to avoid coming into contact with flammables. It is always best to remove the mop from the roof at the end of the day.
Feltlayers are another potential hazard at the end of the day. The most obvious step is draining the tank of its contents. After draining the tank, the valve should be left open, the lid should be opened, and the feltlayer should be tipped over 90º. Another important step is to remove any debris on the valve area while wearing protective clothing. The feltlayer should be left tipped overnight. Leaving the feltlayer tipped overnight provides two benefits: water will not collect and the odds are less that the feltlayer will be picked up by wind.
The last area for a hot application close down is the kettle, the workhorse of the hot industry. As such, it is very important to make sure kettles are properly maintained overnight to ensure maximum productivity. The first step is to turn off the heat source to the kettle. Next is to close the fuel valves, including the pump motor. Once the fuel valves have been closed, remove the asphalt splash; this is fuel for a kettle fire. Opening the lid will help to cool down a kettle, as well as adding kegs to cool the asphalt. Under no circumstances should the kettle be left unattended while it is cooling down. The kettle must be well below the flashpoint of the asphalt. Lastly, use a skimmer to remove trash and visible coke build up, and lock the lid to provide overnight security.
While hot asphalt may be one of the most trusted and durable roof applications, it also has the potential to be the most dangerous. Never treat the close down procedure of a hot asphalt job as an afterthought.