Massive Multifamily Complex Reroofed After Hailstorm in Denver, Colorado
by Marcus Dodson, publisher
In 2016, a joint partnership of property developers purchased The Breakers Resort apartment complex in Denver, Colorado, for a record-shattering $350 million, the largest multifamily acquisition in Denver's history. Reimagined as Tava Waters, the luxury residential complex underwent extensive refurbishments and beautification measures to freshen up the 20-year-old property. This included painting the interior and exterior of the units and buildings, adding new amenities, and revamping the community pool. Popularity amongst Denver residents skyrocketed following the residential facelift, and people flocked to the coveted apartments.
The refurbishments went smoothly overall, but the Tava Waters' roofs would prove to be a bit tricky, as Denver can be privy to some devastating weather events. A particularly nasty hailstorm in July 2019 incurred some notable hail damage to the Tava Waters roofs across its 143 buildings. When it came time to choose a contractor to repair the damaged roofs, Tava Waters' ownership already knew who they could rely on. Aspen Group of Englewood, Colorado, was familiar with the sprawling property, as they were contracted to paint the exterior of over 1,500 units after the historic acquisition and have consistently been brought back for various repairs and maintenance. Tava Waters' leadership trusted Aspen Group to know and understand the massive amount of moving parts that this community required to get the job done right.
Founded in 2012, Aspen Group has quickly risen to be known as one of the premier commercial and multifamily general contractors in Colorado. The company's niche is exterior reconstruction with a heavy emphasis on roofing. Proud of its reputation for overachieving in the service department, Aspen Group goes out of its way to deliver a superior product to its customers. Aspen Group worked closely with the insurance adjusters to establish the scope of work, and it ended up being the largest hail claim that any of the contractor's vendors or clients has ever been a part of.
From the beginning, Aspen Group and Tava Waters' ownership agreed that a complete GAF roofing system would be the best option for this massive project. As a GAF Master Elite® Contractor, Aspen Group is a member of a prestigious factory certification program that provides ongoing training to roofing contractors and assures customers that their roofs will be completed with the utmost expertise.
The project called for an incredible 11,000 squares, including shingles, hip and ridge caps, starter strip shingles, self-adhering underlayment, and vents. GAF's Timberline® HDZ™ Shingles were used on the roofs and provide stylish beauty alongside unmatched protection and durability. By using GAF's proprietary color blending and enhanced shadow effect, the architecturally stylish shingles emulate a genuine wood-shake look. Timberline HDZ Shingles use GAF's innovative LayerLock™ Technology and Dura Grip™ Advanced Sealant, which provides resilience, strength, and exceptional wind-uplift performance. Aspen Group also installed GAF Pro-Start® Eave/Rake Starter Strips, which are made with a high-quality, properly positioned adhesive applied at the factory to help prevent shingle blow-offs at the eave and rake areas of the roof. GAF Seal-A-Ridge® ridge cap shingles were also used, which help protect Tava Waters' residents against leaks at the high-stress areas of the roof, the hips and ridges, while also complementing the overall look of the surrounding Timberline HDZ Shingles.
GAF's WeatherWatch®, a mineral-surfaced leak barrier, was installed on the vulnerable areas of the roof. It self-seals around fasteners and helps protect against wind-driven rain and ice dam infiltration. Finally, GAF Master Flow vents were installed to help remove excess heat and moisture from the attic, which helps protect the roof system against premature deterioration. The Tava Waters roof system is protected by GAF's Silver Pledge™ Limited Warranty, one of the best in the industry, including a limited WindProven™ Warranty with no max wind speed limitation.
The project was slated to begin in March 2020, but the COVID-19 pandemic put a wrench in the plans and the reroof was put on hold. When Aspen Group was able to get up on the roofs in July 2020, they were tasked with completing the repairs under the original timeline, and they are set to be fully completed in November this year. It was a hefty task, but clear communication, unparalleled professionalism, and high-quality products have made the project go smoothly. Averaging 1,000 squares per week, Aspen Group is ahead of schedule to complete the reroof on time. This repair schedule also includes over 100,000 linear feet of gutter replacement.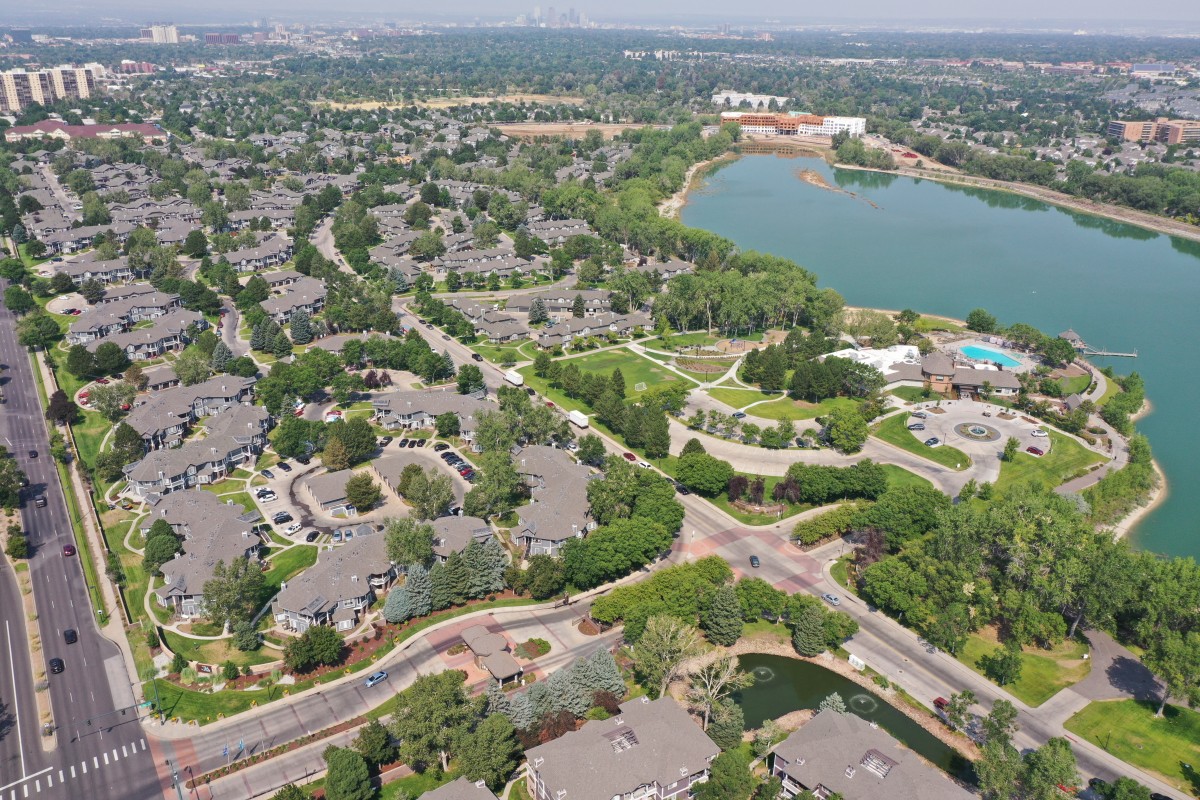 "With so much uncertainty about our world going on at that time, we weren't sure how the project was going to unfold," said Scott Ryan, a partner at Aspen Group. "Thankfully, with impeccable communication, our incredibly skilled crew, and top-of-the-line GAF products, we have been able to stay on track to meet our project completion deadline and get the job done right."
Not only was this roof repair project a challenge for Aspen Group because of the sheer size of the Tava Waters community, but scheduling issues and uncertainty regarding the global pandemic made the process particularly tedious. However, by relying on the tenets of professionalism that Aspen Group is founded upon, as well as high-quality, reliable GAF roof components, the large-scale exterior project will be completed as planned.