Equipment Notes: Moving Forward
COVID-19 Safety is Here to Stay
by Dan Dallenbach, territory sales manager, Roofmaster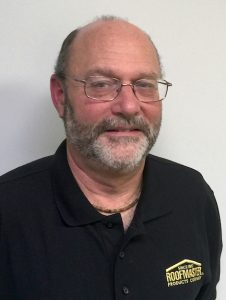 (Editor's Note: Dan Dallenbach has more than 25 years of sales and marketing experience in the roofing industry, both in manufacturing and distribution. He has spent the last several of those years with Roofmaster® Products Company.)
Since the COVID-19 pandemic began in March, it seems that most of us in the construction and roofing industries have been inundated with information from many sources about the virus, proper mitigation efforts, and CDC/OSHA containment protocols. In an effort to consolidate this information into a concise format, we are providing the following summary. COVID-19 looks like it will be with us for a while, so here is what you need to know.
OSHA has launched a new webpage at www.osha.gov/SLTC/covid-19/construction.html that is dedicated to coronavirus-related guidance for construction employers and workers. The guidance on the webpage includes actions to reduce the risk of exposure to the virus. OSHA said employers of workers engaged in construction should remain alert to changing outbreak conditions as they relate to the community spread of the virus and testing availability. The OSHA administration advises construction employers implement infection prevention measures in accordance to the changing conditions in their localities.
OSHA's new webpage introduces guidance, rather than new standards or regulations, and creates no new legal obligations for construction employers. The resources included are advisory in nature and designed to assist employers in providing the safest and healthiest workplace possible. The page includes information regarding the use of physical barriers to separate workers from individuals experiencing signs or symptoms consistent with the coronavirus, and the staggering of work schedules to reduce the number of employees on a jobsite at any given time. The resource also includes information on limiting in-person meetings and keeping them short when absolutely necessary. Screening calls when scheduling indoor construction work to assess potential exposures before entry, and ensuring good air flow in shared spaces and confined environments for construction activities is also addressed.
In addition to its construction resource website, OSHA recently adopted two revised policies for enforcing requirements and standards with respect to the coronavirus. The administration announced it is increasing in person inspections and issued new enforcement guidance related to such inspections. OSHA also revised its previous enforcement policy for recording cases of coronavirus. The virus is a recordable illness and employers are responsible for recording cases if the case is work-related and involves one or more general recording criteria, according to OSHA.
OSHA developed COVID-19 planning and workplace preparation guidance based on traditional infection prevention and industrial hygiene practices. It focuses on the need for employers to implement engineering, administrative, and work practice controls and personal protective equipment (PPE), as well as considerations for doing so. There are several PDFs available on the OSHA website, including Guidance on Preparing Workplaces for COVID-19 and Protecting Workers During A Pandemic. The National Association of Home Builders has developed a website with information on COVID-19 as it relates to the construction industry, and it can be accessed at www.nahb.org.
There are several ways to help prevent COVID-19 at work, including: frequently wash your hands with soap and water for at least 20 seconds, or use an alcohol-based hand rub with at least 60% alcohol; cover your mouth and nose with a tissue when you cough or sneeze, or use the inside of your arm or elbow; avoid touching your eyes, nose, or mouth with unwashed/non-sanitized hands; avoid close contact with people who are sick; employees who have COVID-19 symptoms should notify their supervisor and stay home; clean and disinfect frequently touched objects and surfaces daily; avoid using other employees' work spaces and equipment; arrange for any portable jobsite toilets to be cleaned by the leasing company at least twice per week and disinfected on the inside; any trash collected from the jobsite must be changed frequently by someone wearing gloves; and gloves and eye protection should be worn at all times while onsite and PPE should not be shared with others.