Architectural Versatility
Stone-Coated Steel Roofing Retrofit in Pleasanton, California
by Pete Croft, brand manager, Boral Steel
A stunning residence sits amidst legacy oak trees in Pleasanton, a picturesque city in Northern California. Custom-built on an idyllic horse ranch, which also features indoor corrals and horse barns, the private abode is set in one of the Bay Area's most prestigious regions.
Showcasing Spanish architecture and design details, the residence evokes the classic hacienda style. A generous circular driveway adorns the home's frontage, offering a luxurious, resort-like entry experience. A central portico adjacent to the front entrance features beautiful roofing tiles, just like those adorning the home.
Maintaining a residence of this caliber is a robust endeavor that the former owners committed to seriously. In addition to regularly scheduled ground landscaping, periodic exterior window washing, cleaning of gutters, and removal of leaves and debris from the roof have all been a part of upkeep. Unfortunately, some of the upkeep was completed by inexperienced tradespeople who were unfamiliar with best practices in roof maintenance, and over time, excessive foot traffic led to damage of the existing roof. The damage subsequently led to roof leaks, which numerous repairs failed to resolve.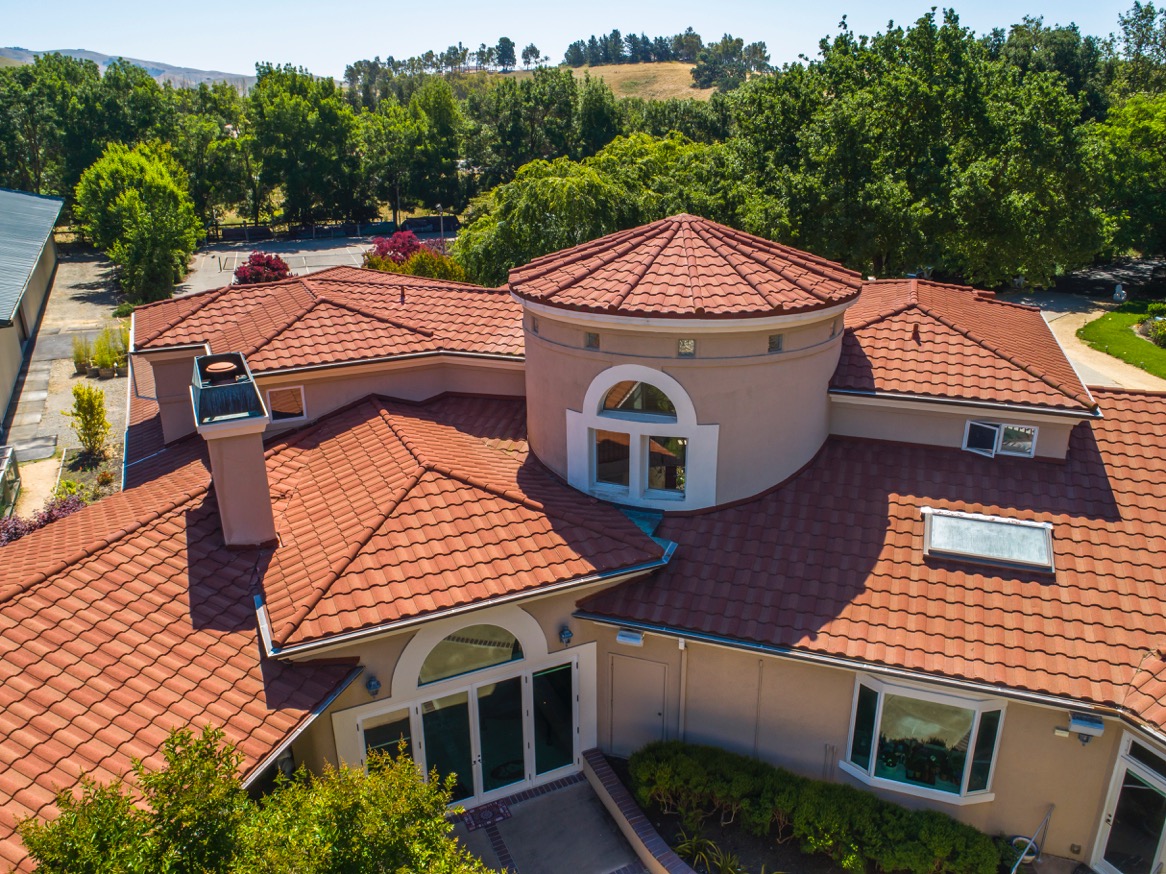 Bay Valley Contractors, Inc., a family-owned and operated contractor in Concord, California, which specializes in roofing and gutters, as well as the installation of photovoltaic systems, was later called in to inspect the roof's issues and recommend a fix.
"When we arrived, we reviewed the state of the roof and also took note of the home's surroundings in making our recommendations," said Ryan Diaz, co-owner of Bay Valley Contractors. "The home is located in a grassy wooded area that is known for periodic high-force winds as well as seasonal fire danger."
Noting the complexity of the roof damage, the Bay Valley team recommended a complete reroof. After reviewing the material options, the owners ultimately selected Boral Steel™, BARREL-VAULT Tile, a lightweight steel stone-coated roof system manufactured by Boral Roofing, for their new roof. The material is manufactured from Galvalume® steel and then coated with stone granules that are embedded in an acrylic polymer adhesive.
"The homeowners appreciated that stone-coated steel is durable and that it mimics the aesthetic and color of the Spanish architecture, ultimately maintaining the classic hacienda curb appeal of the home and ranch," said Dean Mouser, sales consultant with Bay Valley Contractors. "A steel roof like Boral Steel is ideal in this rural area where oak trees and rolling grassy hills are prevalent and present some risk for fire."
Bay Valley installed the Boral Steel Barrel Vault tile, in the Barcelona hue, on the home. The lightweight roofing option gives the look of a high-profile barrel tile without adding unnecessary weight. Comprising interlocking steel panels weighing in at just 1-1/2 lbs. per sq.ft., or approximately half the weight of asphalt shingle, the roof adds additional benefits, including enhancing the shear strength of the structure's envelope, as well as a tested and proven ability to withstand high-wind uplift forces, carrying a 120mph wind warranty from the manufacturer.
With a crew of four, Bay Valley Contractors completed the roof retrofit in two weeks, with zero weather challenges. Though a large project at approximately 110 squares, or 1,110 sq.ft., size wasn't the main challenge to completion.
"The biggest issue with this installation was a round turret over the home's interior staircase," noted Diaz. "Our crew had to custom roof that section with the stone-coated steel, ensuring it still looked like tile. That portion alone took the crew a week or more to finish. However, it added to the overall beauty of the roof in the end, and the result is a stunning, lasting rooftop for an incredible home."