Equipment Notes: Fall Protection
Important Elements of an Effective Plan
by Dan Dallenbach, territory sales manager, Roofmaster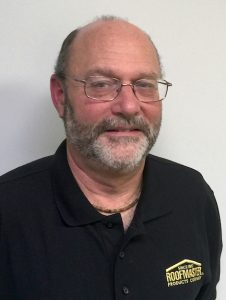 (Editor's Note: Dan Dallenbach has 25 years of sales and marketing experience in the roofing industry, both in manufacturing and distribution. He has spent the last several of those years with Roofmaster® Products Company.)
Falls from heights remain a leading cause of worker injuries and fatalities in the roofing industry. A recent OSHA report states that a worker dies on the job once every 119 minutes and construction is the leading industry with work-related fatalities. Safety compliance and OSHA standards require that the employer have a documented plan for safety training, fall protection, and fall rescue.
To help create a safer working environment, some basic elements of your plan should include performing a hazard assessment, developing fall protection and fall recovery procedures, obtaining the necessary technical equipment, using competent people for worker training and equipment inspections, and conducting ongoing employee training programs.
Since projects can be complex, there are often a lot of moving parts for protecting your team when working at heights. A well-designed, documented fall-protection plan, combined with an ongoing training program, will help establish consistency, which will in turn yield consistent and satisfactory results.
You may already have the first three elements in place. First, you're providing a safe workplace. Second, you've performed a thorough hazard assessment and developed a workable plan for fall protection and recovery. Third, you have all the necessary equipment to make it work. However, without competent people and ongoing training, there's a missing link in your chain of fall protection. A competent person is an individual designated by the employer to be responsible for the immediate supervision, implementation, and monitoring of the employer's managed fall protection program who, through training and knowledge, is capable of identifying, evaluating, and addressing existing and potential fall hazards, and who has the employer's authority to take prompt corrective action with regard to such hazards.
Consider the competent person as your primary and key manager for fall protection. They know the standards, equipment, potential hazards, and the overall fall protection program. The qualified person, by contrast, mainly deals with engineering and technical issues that arise within a fall protection plan that the competent person is unable to handle.
With this in mind, it's important to use competent people for safety training and equipment inspections. A competent trainer knows and understands the various applicable standards, but should communicate the hazards and explain how workers can protect themselves. Since most workplaces have a multilingual workforce, make sure your team can hear and learn the training in a language they understand.
Inspections should also be carried out on a frequent and regular basis. Those responsible for inspections must be trained to recognize damaged equipment and the proper corrective action. This includes removing the suspect equipment from service and sending it for repair, while also securing replacement equipment before starting or resuming work. In addition, workers should personally inspect their equipment before and after every use and during their shift, such as immediately following rest breaks and before returning to work. While regular inspections by a competent person are an important step, it is always advisable to have a second set of eyes making inspections as well. Like a good roofing system, redundancy in inspections and regular training will facilitate both an effective and successful safety program.
While it's important for everyone to have an understanding of the standards, what employees really need is training on specific hazards they may encounter and how to protect themselves from accidents and injury. This means not only fall hazards on the jobsite, but the use of fall protection systems and safety equipment such as the following: scaffolding, ladders, and portable guardrails; designated hazard areas on roofs and other heights; safety nets, rope decent systems, and ladder safety systems; and personal fall protection and fall arrest equipment.
Keep in mind that your employees need to know more than just how to self-inspect for wear and tear. For example, your team members must know how to properly wear and adjust a full-body harness and self-retractable lifeline. Make sure you cover all the bases when developing your fall protection plan to include everything from identifying hazards to training your employees that work at heights. You want to make sure they are protected at all times, with or without a fall event.