Equipment Notes: Plan Ahead
Does Your Commercial Job Require an Access Ladder?
by Jeffrey R. Meinhart, director of sales & marketing, Roofmaster Products Company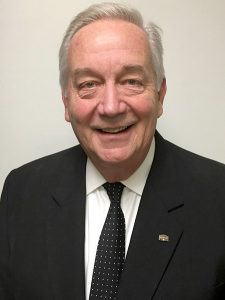 (Editor's Note: Jeffrey R. Meinhart has been with Roofmaster® in his current position for the past 18 years. Previously, he held senior sales and marketing management positions in the pharmaceutical and consumer products distribution industries. Meinhart can be reached at jrm@roofmaster.com.)
Before quoting or beginning a roofing job, take a close look at the drawings to see if there is an access ladder that connects to the roof deck. If the building calls for an access ladder, you will need to plan accordingly. Outside access ladders, typically made from aluminum or painted steel, are a specialty, made-to-order item that are not stock items on a roofing yard.
There is a whole area of OSHA regulations for design criteria depending on the ladder length, method of access from the bottom and top, etc. The various manufacturers are familiar with these regulations and will incorporate them into the design they will have to submit to you for your approval before they can begin construction. There are also several design styles, including boarding rails, boarding rails and cage, locking security hatch, security door only, and much more. You'll have to review this with your customer to determine their needs for the building and security requirements before you can have one built.
When getting a quote for an access ladder you'll need to know: total height from ground to the top of the roof's edge; whether the ladder sits on the ground or needs to be above ground, as well as how many inches/feet off of the ground; will the project require boarding rails or not; and the type of roof edge, such as parapet, flat, etc., from the access ladder.
Plan on at least 7-14 days from design request to final construction. The manufacturer has to design the ladder per OSHA specs, then send you a drawing for your approval. You should allow time to review the design with your customer so you get a sign-off on the design, too. There may be an additional 2-5 days to allow for shipping to the job location if you are not local to the manufacturer.
Inside ladders are usually a lot simpler to deal with because the ladder is protected from vandals under the normal building security. Stock lengths are maintained and when ordered are merely cut to length. Again, you'll need to know the total height from ground to roof hatch access. You can usually obtain these ladders within a few days. If it's an exceptionally long ladder, a safety cage may be required. Again, allow for plenty of time if it's a very long ladder for custom construction.
Outside access ladders can run from a few hundred dollars to several thousands of dollars, depending on options. Plan on getting prices and the construction process started early to alleviate most of the stress.