Tool Review: Cordless 8-Tool Kit
Compact & Lightweight Kit Delivers Power & Precision
by Ali Turner, editorial & multimedia manager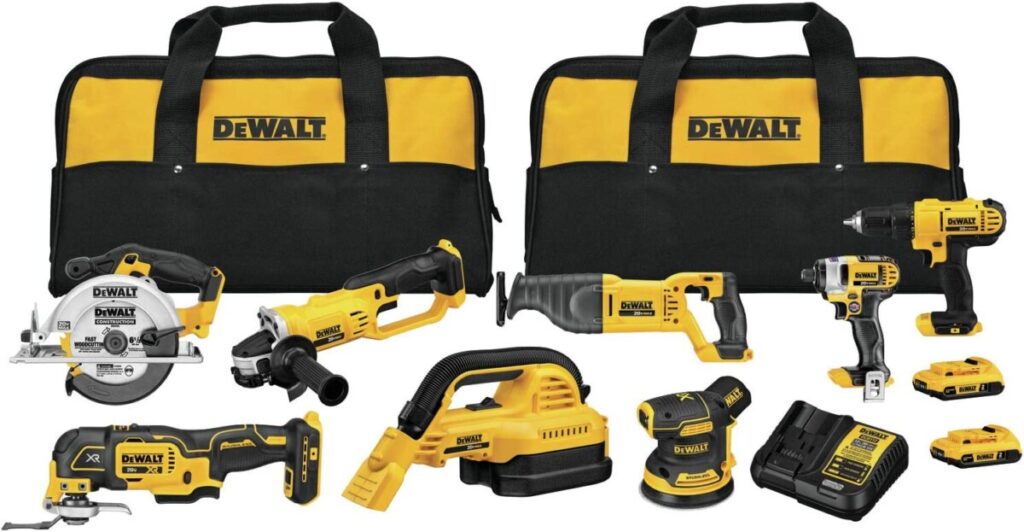 DEWALT® has introduced a new 20V MAX Cordless 8-Tool Combo Kit (DCK883D2) that includes some of the most impressive products on the market for a contractor. The new Cordless 8-Tool Combo Kit includes a 1/2" Drill/Driver, Reciprocating Saw, 6-1/2" Circular Saw, Brushless Oscillating Multi-Tool, 1/4" Impact Driver, 5" Random Orbit Sander, 4-1/2" Grinder, Wet/Dry Vacuum, two 20V MAX 2.0Ah batteries, charger, and two kit bags.
The 1/2" Cordless Drill/Driver has a high-speed transmission with two speeds, 0-450 and 1,500 rpm, for a range of fastening and drilling applications. It is lightweight and compact, making it a perfect tool for working in tight spaces for long periods of time. The 1/4" Cordless Impact Driver allows for one-handed loading and provides visibility without shadows thanks to three LED lights with 20-second delay after trigger release. Its 5.55" front-to-back compact design allows users to fit into tight areas.
The Cordless Reciprocating Saw has a keyless blade clamp that allows for quick blade changes. The Cordless Circular Saw with a 6-1/2" carbide blade can cut 2x4s at a 45º angle in a single pass, and it is a dynamic option for a multitude of applications. The Random Orbit Sander has a variable-speed dial with speed control from 8,000 to 12,000 OPM for a variety of applications. The Grinder is equipped with an 8,000-rpm motor for multiple grinding and cutting applications and the Oscillating Multi-Tool with a three-speed selector allows users to choose their speed setting based on application. The Wet/Dry Vacuum comes with a HEPA wet/dry filter that traps up to 99.97% of dust at 0.3 microns. Additional accessories, including the two kit bags and charger, come together to create an impressive combo kit for contractors.
The DEWALT 20V MAX 2.0Ah battery is one of the best in the business, and our team found that we were able to rely on the powerful battery longer than other brands that we've tested. This allowed our team to focus on the project at hand, rather than repeatedly checking the remaining life on the battery pack. DEWALT's 20V 2.0Ah MAX battery and chargers have revolutionized cordless tools since their introduction. While compact in form, they offer incredible strength and ergonomic benefits for extended power tool use.
This is one of the largest and most inclusive combo kits our team has ever seen, and it's clear by looking at it that the possibilities for its use are endless. The fact that the combo kit is cordless without sacrificing power makes it one of the best additions to your tool bag. Our team took the tools to task throughout our onsite testing location, including sanding 2x4s, driving large quantities of screws and bolts, and cutting down metals, and we were hard-pressed to find an application that wouldn't benefit from DEWALT's Cordless 8-Tool Combo Kit. We believe it makes for an invaluable addition to any contractor's collection. DEWALT has covered all the basic needs of a contractor on a jobsite with easy-to-use tools that have the necessary power and cordless convenience.
DEWALT's power tools come with a three-year limited warranty, one-year free service contract, and a 90-day money-back satisfaction guarantee. This cordless kit is a rugged, hard-working package that is an excellent option for contractors. If you're looking to upgrade or add-on to your toolbox in the New Year, the DEWALT 20V MAX Cordless 8-Tool Combo Kit is one of the most well-rounded, well-known, and reliable options on the market.