Tool Review: Nibbler & Shear Kits
Makita Adds to Impressive 18V Line-Up With Two New Tools
by Ali Turner, editorial & multimedia manager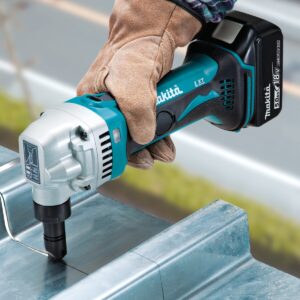 When it comes to cutting sheet metal, two of your most popular tool options are going to be a nibbler and shear. Both have their own distinct capabilities, and different applications can require one over the other. For sheet metal that is corrugated or cutting applications that require tight curves, a nibbler is going to be your best bet. A nibbler cuts by punching out small semicircular chips of metal as it is guided through the work piece. For applications that require precise, clean slicing and straighter cuts, shears would be a better option. Double-cut shears use two separate cutters, which remove a thin strip of material as the tool moves forward. Additionally, shears have greater cut capacity, meaning that they can be more advantageous on heavy-duty cutting tasks rather than nibblers. Now that we have a simple understanding of the two tools, allow us to introduce you to two of the top options on the market right now.
Makita® has released its 18V LXT® Lithium-Ion Cordless 16 Gauge Nibbler Kit (XNJ01T). The Makita-built motor deliver 1,900 SPM and it is ideal for cutting roofing sheet metal at thicknesses up to 16 gauge. It includes a built-in thickness gauge for added convenience. The die holder rotates 360º to meet the demands of cutting in any direction and a convenient chip disposal is below cutting material to minimize damage to the cutting surface.
The cutting radius of the nibbler is 1-3/4" for the inner edge and 2" for the outer edge. An anti-restart protection prevents motor start-up when the battery is inserted with the switched locked on. A rubberized soft grip ensures improved comfort, and a lock-on sliding switch guarantees continuous operation. The Makita Nibbler Kit comes with the 16 gauge nibbler, two 18V LXT lithium-in 5.0Ah batteries, rapid charger, and a tool bag. The batteries boast an impressive 45-minute charge time, allowing users to get the job quickly. A battery capacity warning system turns solid red and automatically stops the motor to notify the user that the battery needs to be replaced.
Makita has also released an innovative 18V LXT Lithium-Ion Brushless Cordless 14 Gauge Straight Shear Kit (XSJ03T). This tool cuts up to 14 gauge mild steel, 16 gauge stainless steel, and can easily cut through spiral duct seams. The Makita BL™ brushless motor is designed to allow tools to run cooler and more efficiently for a longer life. The tool-free shear head rotates 360º, meaning contractors can get into various cutting positions more comfortably, which also lessens fatigue. Additionally, an ergonomic D-handle grip with in-line motor design is optimized to provide increased handling comfort.
Designed specifically for trades such as HVAC, drywall, metal manufacturing, and roofing, the brushless motor allows for a high degree of power efficiency, reaching a speed of 3,000 SPM. A high-performance double-cut blade minimizes material distortion and the cutting head is constructed with precision-machined milled steel, which increases the tool's overall durability. The steel blades are replaceable and have a maximum cut capacity of up to 14 gauge material thickness. The trigger can be locked in the on position for continuous use, while the lock-off position requires two actions to start the tool.
Both tools rely on Makita's flagship LXT Lithium-Ion technology, which allows customers to experience new levels of convenience, efficiency, and productivity. Makita's Star Protection Computer Control™ is a communication technology that allows its LXT line of tools and batteries to exchange data in real time and monitor conditions during use to protect against overloading, over-discharging, and overheating. Created nearly 20 years ago, the full Makita LXT tool line-up boasts an impressive repertoire. Now, roofing professionals can add the new 18V LXT Lithium-Ion Cordless 16 Gauge Nibbler Kit and 18V LXT Lithium-Ion Brushless Cordless 14 Gauge Straight Shear Kit to their tool box.