Revitalizing an Iconic Landmark in Las Vegas, Nevada
by Marcus Dodson, publisher
Circus Circus Hotel and Casino is the largest permanent circus in the world and even includes an indoor amusement park, making it one of the most well-known Las Vegas, Nevada, landmarks since its opening in 1968. In order to maintain its symbolic status on the strip, Circus Circus wanted to give its exterior a fresh new look. The roof, shaped as a circus tent, provided a technical challenge that required extensive planning for safety, design, and structure. After years in the blazing desert sun, the roof and its iconic pink and white colors faded over the years, requiring a solution that would not only repair its steep and unique roof, but also revitalize the vibrant colors of the signature tent.
All photos courtesy of GAF
         Commercial Roofers, a women-owned, MBE/WBE-certified commercial roofing contractor in the Las Vegas valley and a Western States Roofing Contractors Association member, stepped in to revamp the tent roof. Combining their expertise and familiarity with the iconic structure, Commercial Roofers utilized GAF's coating products to create custom colors to match the original vivid hues such as Exuberant Pink and revitalize Circus Circus' exterior tent roof. This could not have been done without the support from GAF, who not only provided the high-quality, durable, premium products for the project, but also provided superior technical support and customer service to ensure the installation went smoothly.
The 43,500-sq.ft. roof consisted of 41,300 sq.ft. on the tent proper and 2,200 sq.ft. on the flat, which presented technical challenges due to its steep 12:12 pitch in a 90º angle at the top. The coatings were installed with guards on each side of the border to avoid overspray into other parts. Given the steep incline of the roof, the workers had to rappel down with a rig, pump, hose, and spray system set in place.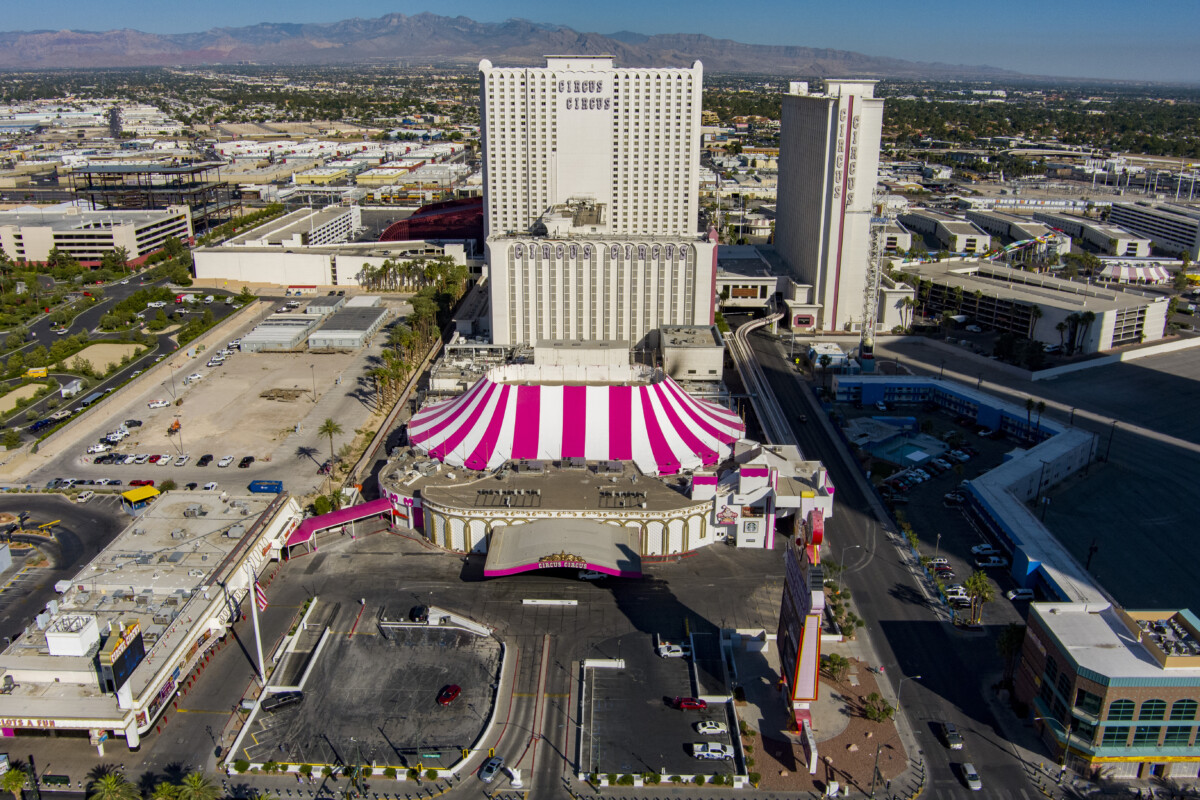 Prior to applying the coatings, Commercial Roofers had to prep, patch, and repair as they got down to the substrate due to the wear and tear of the tent. Afterwards, they scraped off all of the decaying paint and existing systems until they got to the suitable substrate and then applied in order: GAF BarrierGuard®, GAF UniBase Primer, GAF High-Tensile Acrylic Top Coat, and finally, the GAF Kymax Coatings in Exuberant Pink and white to match Circus Circus' signature colors. These products ensured a long-lasting, fade-resistant, robust coating that will withstand extreme Las Vegas heat, wind, and weather conditions, all scenarios that Circus Circus' roof must endure in their location.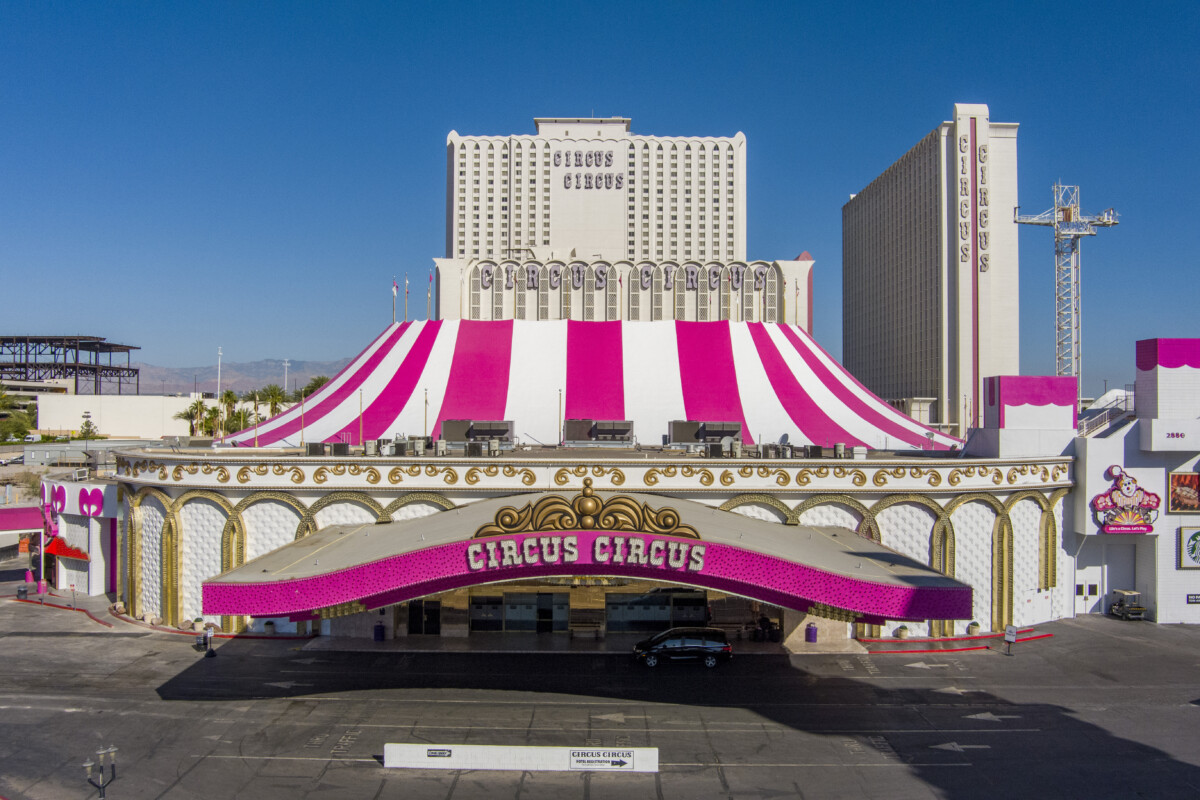 "We were working against major wind and rain issues and working around normal hours to ensure there was no disruption to their business," noted Matt Lott, project manager at Commercial Roofers. "Thankfully, our crew was already accustomed to the technically challenging slope of the roof and were trained in the endurance required to withstand the steep slope due to experience on prior projects. We still had to take multiple breaks to ensure all workers were safe and followed our safety plans in place to ensure we could apply the coatings without risk.
"We used GAF's products because we've used them on other projects and they still look great, so we can ensure the high performance of their products to our clients. GAF provided us amazing support through not only their robust, high-quality products, but also their technical support to get the custom coloring that we needed."