INDEVCO North America has introduced its unique, patent-pending Barricade® Thermo-Brace® Guard product, a structural continuous sheathing for building envelope corners that unitizes walls and insulates corners for higher energy efficiency, while eliminating the need for corner flashing. This continuous corner guard solution can be applied with Barricade Thermo-Brace lightweight structural sheathing or with Barricade Thermo-Brace SIB R3 or R5 reversible structural insulated sheathing, both of which are produced in Doswell, Virginia.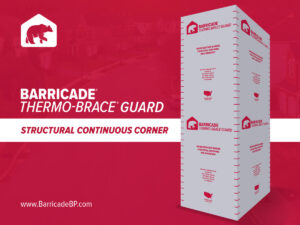 The continuous corner sheathing application has the same strength as the Thermo-Brace structural sheathing, which is rated higher than OSB bracing requirements identified by the International Building Code®. Because the product is unique in the market, INDEVCO North America is working with third-party engineering to evaluate whether even higher values of structural and seismic properties will be obtained. INDEVCO North America intends to bring the ultimate energy-efficient building envelope portfolio to its customers to help in the transition to a net-zero carbon footprint housing sector.
INDEVCO has operated for over 40 years in the United States market, as Interstate Resources, Inc., through 2017 and presently as INDEVCO North America. Headquartered north of Richmond, Virginia, the protective materials manufacturing group produces Barricade and Perma R® Building Products in Georgia, Mississippi, Tennessee, and Virginia. The distinct brands, serving different channels, end markets, and geographical territories, offer one of the most comprehensive building envelope product portfolios available in the United States.
INDEVCO North America plants also manufacture paper and plastic Packaging Solutions in South Carolina, Texas, and Virginia and manages recycling operations for reprocessed and biomass materials that create a circular economy. Member manufacturing plants serve a growing list of industries, including building and construction, beverage, chemical and petrochemical, food, industrial salt and minerals, lawn and garden, packaging converting, pet food, and transport.