Complex Reroof Relies on Watertight Underlayment in West Linn, Oregon
by Ali Turner, editorial & multimedia manager
Renaissance Villas in West Linn, Oregon, is an upscale HOA neighborhood of 25 units throughout 12 buildings, with homes varying in size and style. The multifamily residential property required a reroof in early 2022 because the roofs were failing prematurely due to inadequate attic ventilation. Furthermore, the community's residents were experiencing leaks stemming from improper installation practices in the original construction.
Woodstock Construction, a full-service building exterior contractor out of Milwaukie, Oregon, was enlisted to help save the community's multiple roofs. The team, led by Josh Robertson, president, offers repairs, replacements, cleaning, and maintenance services for all components of the building enclosure, including roofing, gutters, siding, windows, doors, decks, and waterproofing. With over 15 years of experience in the construction industry, Robertson understands the intricacies of building science principles and their practical application.  For any roofing job, one of the most important pieces of the roofing system is the underlayment. In order to guarantee a secure, watertight roof, Woodstock Construction consistently relies on Safeguard 30® Hybrid Underlayment, which combines the proven technology behind asphalt-based underlayments with a high-performance, nonwoven polyester reinforcement. The durability of Safeguard 30 Hybrid Underlayment allows it to hold fasteners better and provide superior tear strength and puncture resistance than many other products on the market. Safeguard 30 unrolls evenly and flat in warm and cold weather, weighs less than felt, and provides greater coverage per roll.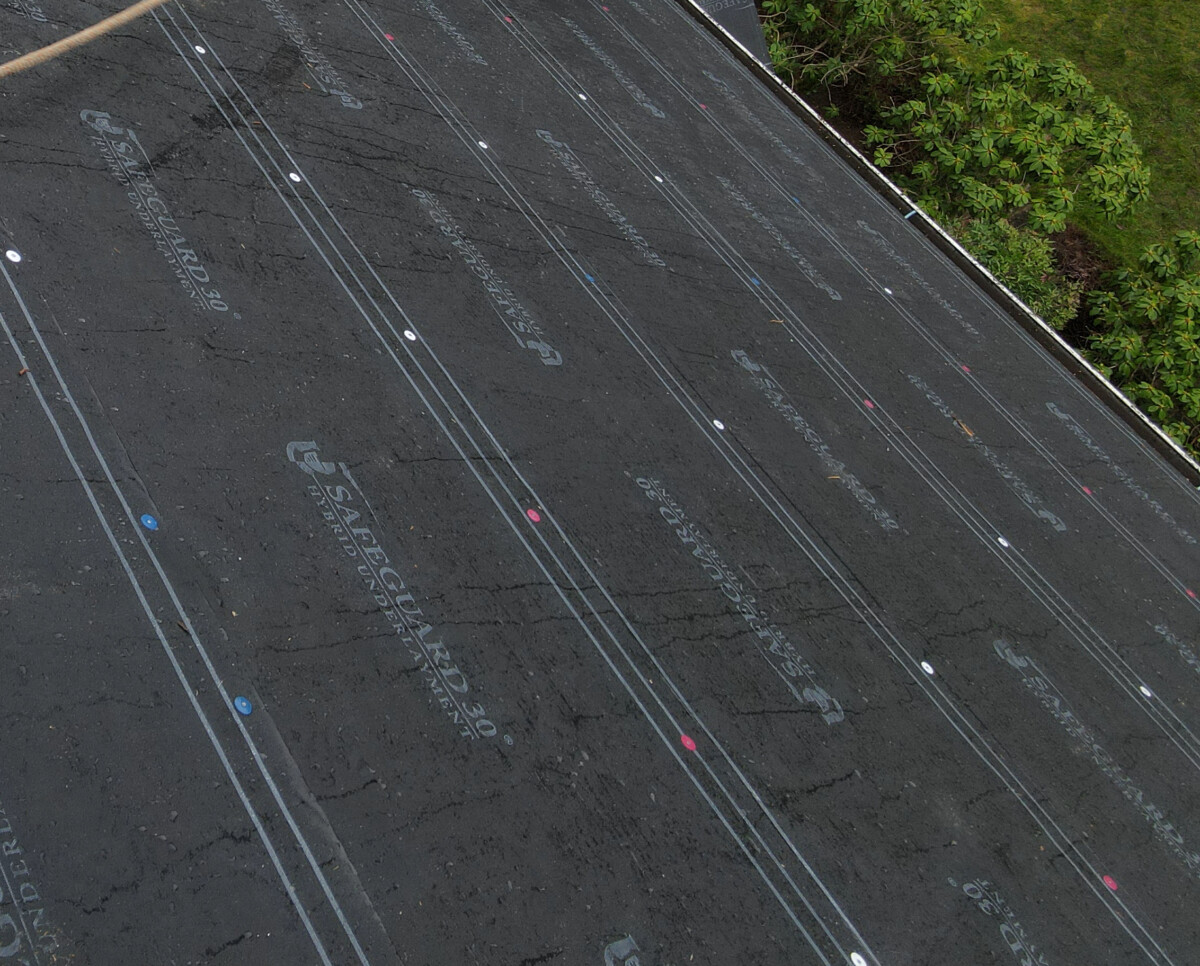 For Renaissance Villas, Woodstock Construction chose CertainTeed® Landmark® Shingles, which have a dual-layered design that emulates true wood shake and provides extra protection from the elements. CertainTeed's Flintlastic® SA three-ply membrane system was used on the low-slope crickets, and CertainTeed Mountain Ridge® high-profile hip and ridge accessory on the gable ends provided a blended and unified look to the roof.
"The project began in late spring when we were still experiencing some heavy rains from time to time," expressed Robertson. "We were able to dry the roofs in with Safeguard 30 and leave the job site with confidence that the buildings were protected whenever the rain came through."
Another important feature of Safeguard 30 is its ability to allow crews to safely walk on the roof, even when it's wet. High wind isn't an issue, either, as the lightweight profile of the product allows the underlayment to avoid being blown off.
"We worked with the client's building envelope consultant, Certa Building Solutions, who specified the scope of repair and inspected the work throughout the process," explained Robertson. The job included a full replacement of the gutter system with 6" K style gutters, 3"x4" corrugated downspouts with leaf traps, and downspout extensions at upper levels to prevent concentrated water from flowing onto the roof surfaces.
Certa and Woodstock also determined the property required targeted siding work at all roof-wall intersections. Siding was removed or cut back so the apron and step flashing could be installed and integrated with the building wrap. Afterward, a 5/4"x6" trim with a head flashing was installed so that future roof installations can be performed by removing and replacing only the trim without further siding modification.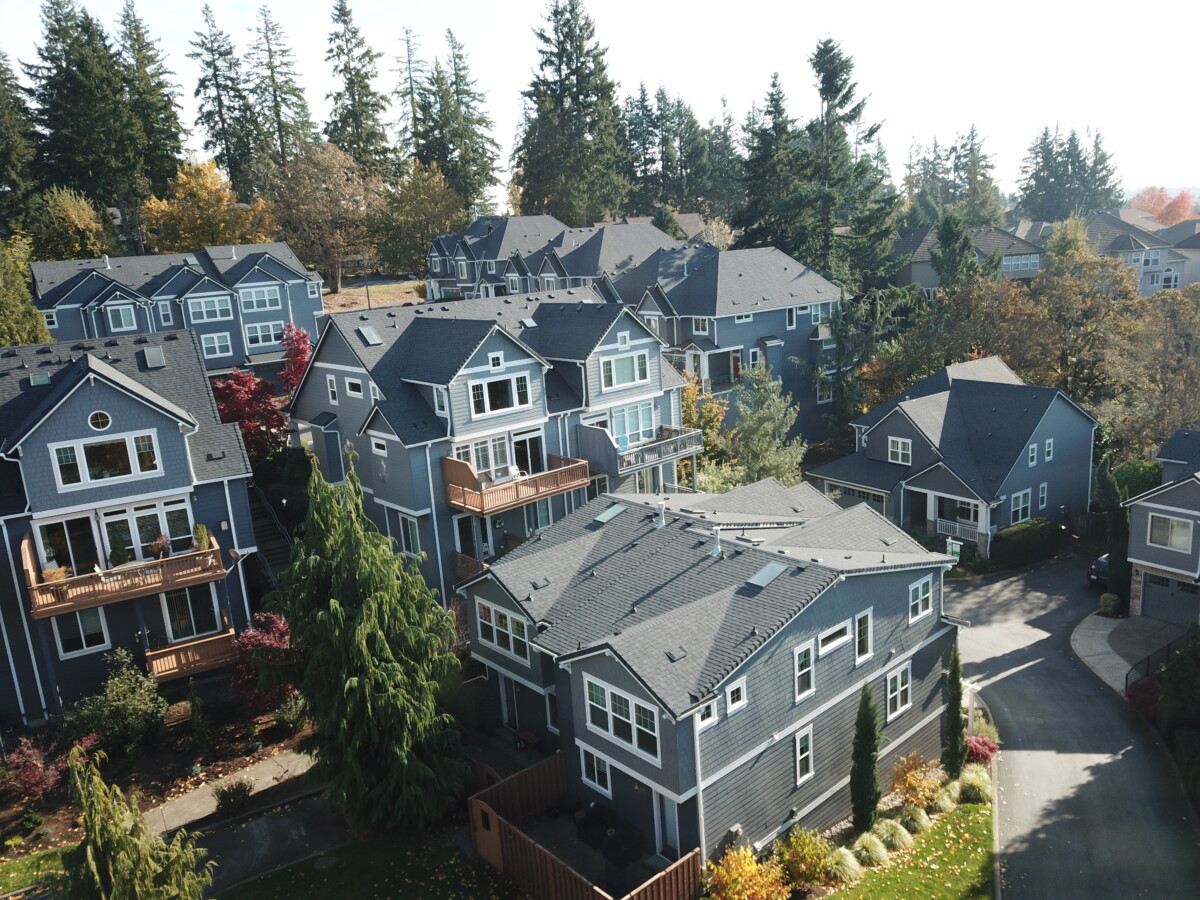 Robertson understands that there is virtually never a project that affects only one component of the building envelope. With that in mind, the team knew the reroof would extend beyond new underlayment and shingles. The attic ventilation was completely redesigned to correct the intake-to-exhaust balance and increase the overall airflow. The bathroom and dryer ducts that exhaust through the roof were repaired, replaced, shortened, or modified as needed, and were fully insulated and connected to dedicated stem vents.
Contractors such as Robertson and his team at Woodstock Construction know that they can rely on Safeguard 30 to provide a safe, watertight underlayment for their roofing projects. The high-quality hybrid underlayment from Safeguard 30 installed on The Renaissance Villas will allow residents to enjoy a dependable, secure, and dry roof for decades to come.