Monolithic Dome Roof for Gymnasium in Pecos, Texas
by Brandon Briggs, editor, Pecos Enterprise
Local residents are enjoying the years of planning and work put in to improve the well-being of the community offered at the Reeves County Recreation Center in Pecos, Texas. The Rec, as it's affectionately known, began as an idea among the county commissioners in early 2012. Though elected officials changed over the years, each court has had at least one torchbearer who refused to let the dream lose momentum.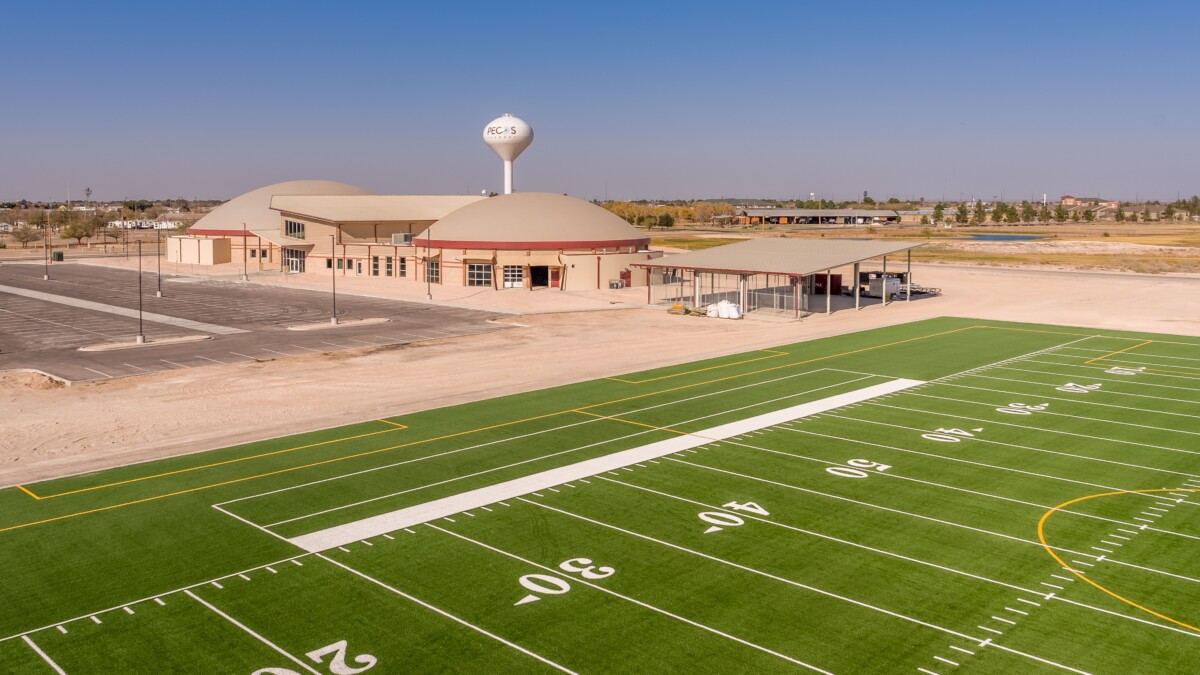 All photos courtesy of South Industries
"A lot of this came before my time as commissioner, but when I came into office, I made the project one of my top priorities because I felt our residents deserve this," said Louise Moore, former Reeves County commissioner.
Following her election, Moore began researching the most cost-effective construction options with an eye to not only providing a wellness center for the community, but also a safe shelter for citizens and travelers alike during bad weather.
"The domes fit all the criteria I had in mind," Moore said. "I was researching online when I saw the domes at the Spur, Texas, Independent School District. I spoke with the board members as to why they decided to go with this option, and the primary factors were energy efficiency and ease of maintenance."
Moore's effort was greatly supported by fellow commissioners Tony Trujillo and Paul Hinojos. The county ultimately selected South Industries to build the pillars of the facility, and in May of 2019, the first of the two domes that bookend the complex was inflated. The technique was patented by David, Barry, and Randy South in 1976. The construction of the structure requires an inflatable membrane be pressurized before crews spray the interior with first polyurethane insulation, followed by steel reinforcement, and then several layers of high-density concrete.
Designed by Michael McCoy Architects of Oklahoma City, Oklahoma, the Rec consists of a 160'-diameter monolithic dome gymnasium, a 111'-diameter dome aquatic center, and a conventionally constructed fitness center.
Reeves County's recreation center is comprised of two monolithic domes joined by a sheet metal and glass enclosure. The larger of the two domes houses two full-sized basketball courts that can be converted into four volleyball courts, depending on which is needed. This gymnasium dome also includes an indoor walking track around the circumference of the courts, as well as bleachers at either end.
Between the two domes, in the glass enclosure, are racquetball courts, a central weight room, an aerobics room, steam rooms and saunas, a cycling room, a smoothie bar, the reception area and staff offices, and a child-care center where members can drop off kids while they work out. The third and final structure, a smaller monolithic dome 2/3 the size of the first, houses an 80' lap pool, a warm-water therapy pool, and a whirlpool.
Reeves County's production manager, Andy Calobreves, said the project was the first of its kind for him in his career, but the speed of completion and the professional attitude of the South Industries crew impressed him. "Any problems we ran into were few and far between, but when we did hit a snag, they were on top of it immediately," he said.
Jonathan South, the project manager with dome contractor South Industries, said, "Pecos can feel like the end of the road for some people, but seeing a community put together a multi-use facility like this one makes it feel more like a destination. It was a great experience to work with Lee Lewis Construction of Lubbock, Texas, and the City of Pecos," South added. "What a great addition to their community and an even better investment for years to come."
Once construction was finished, Moore said the commissioners went forward with an interior design that would be something not only beneficial for our children but for their parents as well. "Healthy kids are our priority, but we need healthy parents as well," she expressed.
"When I come here, I am so excited to see the wide range of people using the facility. From youth recreation to senior wellness programs, I am very proud of all the services the center offers, and I look forward to new ones they plan to add," she said.