Pacific Northwest Weather No Issue with Reliable, Hybrid Underlayment
by Ali Turner, editorial & multimedia manager
Nestled in the valley below a string of neighboring mountains, Issaquah, Washington, lies 15 miles from Seattle and is no stranger to weather patterns that are so well-known in the Pacific Northwest. Rain and snow, in particular, are not uncommon in the city. Winters are chilly and extremely wet, while summers are often quite beautiful and warm.
One 28-year-old home in Issaquah found itself in need of a new roof in January 2022. The existing asphalt shingle roof had age-related deterioration, and the homeowner requested a replacement with new, high-end composition shingles. Cornerstone Roofing, Inc., Bothell, Washington, was the roofing contractor on this four-day reroof job.
Founded in 1996, Cornerstone Roofing provides quality workmanship and ethical business practices as originally envisioned by president James Latter. A member of the Western States Roofing Contractors Association, the company has grown from a team of five in 1996 to more than 50 today.
"We had reroofed several other homes in this neighborhood and appreciated the customer choosing Cornerstone Roofing and entrusting us with their roof replacement," expressed Latter. "The majority of our business is referral based, so going above and beyond for our customers to make sure we maintain that same, quality experience their neighbor had is very important to us. We recognize our clients have choices when it comes to choosing a roofing contractor to replace the roof on their home, so it means a lot when they choose Cornerstone Roofing to install their roof, and in turn, protect their home."
This four-day roof replacement project consisted of removing one existing roof layer of original 28-year old asphalt shingles. Next, the crew adhered CertainTeed® WinterGuard self-adhering ice and water shield waterproofing underlayment around all protrusions. Then, Cornerstone applied Safeguard 30® Hybrid Underlayment over the entire roof deck using plastic-cap nails, and installed 36 squares of CertainTeed Presidential Shake Luxury asphalt shingles in the color country gray on the two-story home. Cornerstone also replaced four skylights during the reroofing project.
Cornerstone used Safeguard 30 for this project, as the innovative product combines the proven technology behind asphalt-based underlayments with a high-performance, nonwoven polyester reinforcement. The durability of Safeguard 30 Hybrid Underlayment allows it to hold fasteners better and provides better tear strength and puncture resistance than many other products on the market.
In addition to its reliability as a roofing underlayment, Safeguard 30 helps to make a jobsite safer, a crucial element for cold, slippery conditions that often accompany winter installations. Five squares of Safeguard 30 Hybrid Underlayment are lighter than two squares of a traditional felt, making movement on the roof easier and safer. It's also incredibly strong and safe to walk on when it's wet, which is particularly important in the Pacific Northwest.
Weather was a factor, as is usually the case in January, since the crew has shorter days to complete reroofing tasks and cold temperatures and rain make navigating the wintertime schedule challenging. When roofing in the winter, unpredictable weather can often put an unexpected halt to the day. When this happens, crews require an underlayment that will not blow off. Safeguard 30 doesn't tear and its nonwoven composition is very slip resistant, making it easy for a crew to handle.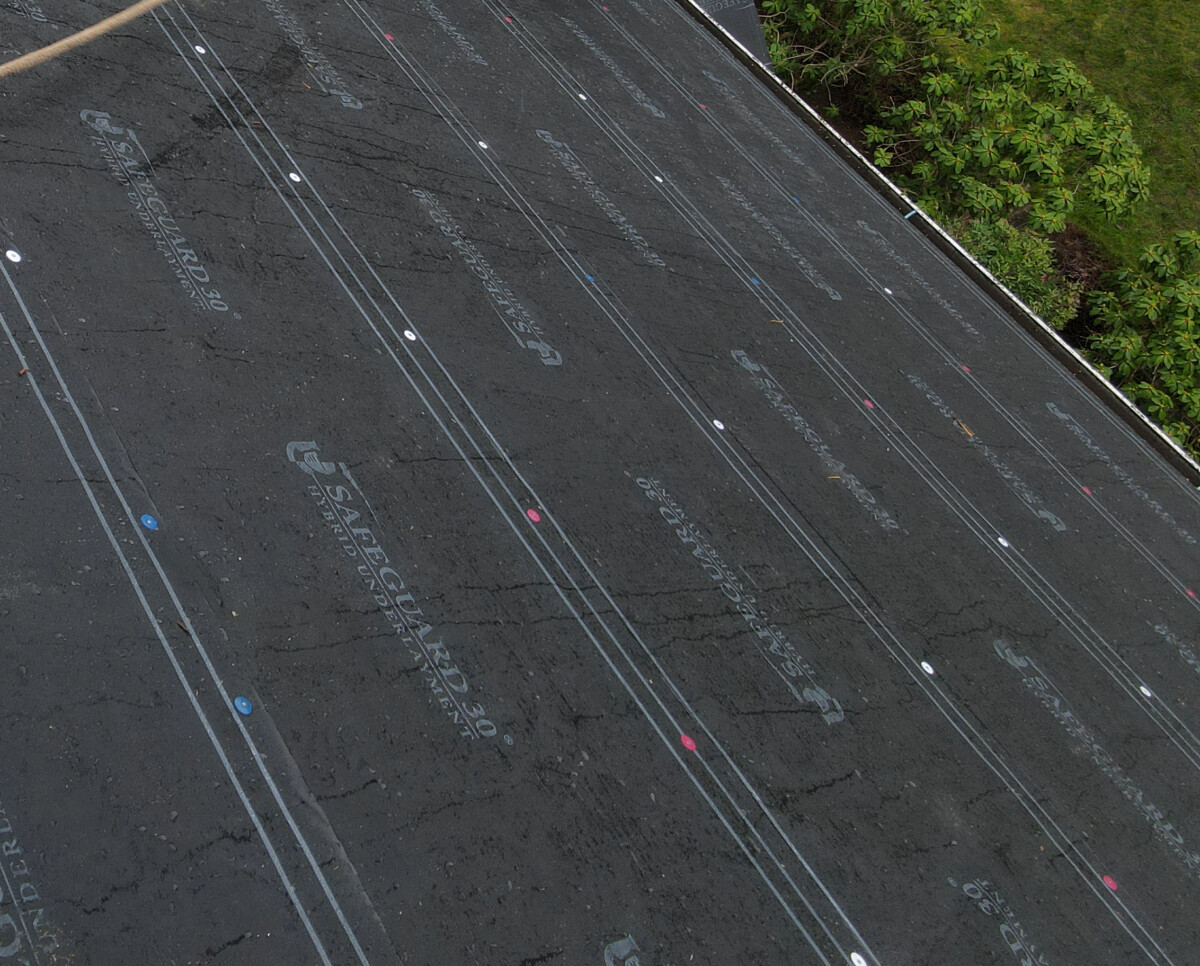 "Of the more than 750 reroofing projects we completed last year, keeping our roofing crews safe is paramount to our company. Safeguard 30 Hybrid Underlayment significantly complements our culture and company's principles: Quality Workmanship You Can Trust. We maintain eight full-time roofing crews, working year-round in all weather conditions. Keeping our customers' homes dry, and the safety of our roofing crews are of the utmost importance to us," said Latter.