Lorin Industries, Inc., a global industry leader in the innovation and production of coil anodized aluminum, highlights its anodized aluminum metals collection, ideal for exterior and interior architectural finishes. Lorin's series of Copper, Gold, and Bronze anodized aluminum finishes bring the color, reflection of metals with the increased strength to weight ratio of anodized aluminum. Lorin's metals collections also feature customizable shades for each metals series as well as an AnoZinc® series of zinc shades of anodized aluminum.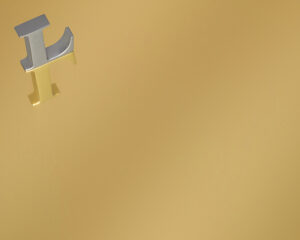 Lorin's Anodized Copper Collection of finishes for exterior applications are available from medium to dark to Copper Penny, applied to mill finish, short line brush, long line brush, OSB (one-side-bright), or stucco embossed. For interior applications, choose from OSB, short line brush, or long line brush finishes. With Medium and Dark Antique Copper meeting Architectural Class I and Copper Penny meeting Architectural Class II designations, the Lorin Anodized Copper Collection provides the perfect complement to a variety of applications, including ceiling tiles, paneling, exterior wall cladding, backsplashes, column covers, decorative trim, and more.
The Gold series of finishes from Lorin comes in 5 shades ranging from the bright Champagne Gold Satin Finish to the GoldMatt® Dark. GoldMatt products from Lorin are designed specifically for general use for both interior and exterior applications. GoldMatt has an exterior standard #1 anodize film thickness that makes it quite versatile for numerous applications while providing the designer with a lower cost alternative to other metals like brass. The gold color is also UV stable and will hold up well under direct sunlight exposure.
Lorin's Bronze ColorIn® series features 8 finishes that span from Extra Light Bronze ColorIn to LA Extra Dark Bronze ColorIn.  Dark Bronze Matt ColorIn qualifies as an Architectural Class I finish and has been developed for exterior applications where UV fade resistance is critical to the designer. The combination of an Architectural Class I film thickness with the inorganic coloring chemistry provides exceptional corrosion resistance and will maintain color consistency under harsh weathering conditions.
Lorin Industries, Inc. has provided coil anodized aluminum to markets worldwide for over 60 years.  Our history of global leadership in anodized aluminum finishing for architectural markets began with bringing the process to market in 1953, and continues today with industry leading innovation.  Lorin has worked with some of the world's foremost architects, designers, and fabricators to create new and exciting building designs that last throughout generations.
Whether used for exterior wall cladding systems, roofing systems, sunscreens, interior panels, or decorative interior applications, the possibilities for coil anodized aluminum are infinite. The natural beauty of Lorin's anodized aluminum finishes brings newly constructed and renovated buildings to life, while providing a strong durable surface that will never chip, flake, or peel. Additionally, Lorin's coil anodized aluminum products have been used for automotive, transportation, consumer appliances, and any number of other industries, with the same excellent aesthetics and durability long proven in architectural applications. At Lorin, we can help you reflect your vision with Lorin anodized aluminum.