Equipment Notes: Roof Top Penetrations
Recommendations for a Safe Roof
by Gary Zimmerman, Arizona territory sales manager, Roofmaster Products Company
(Editor's Note: Gary Zimmerman has been with Roofmaster® for over 24 years, and previously he was the territory sales manager for Northern Los Angeles, California. He is a former roofing contractor, Pasadena Fire Captain, and United States Marine, and has extensive experience and knowledge in all aspects of roofing and solving unique contractor issues.)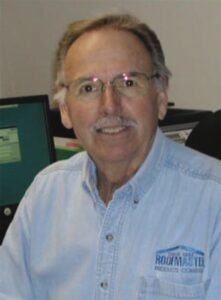 Roof Hatches, or shuttles, can be found on most commercial buildings, apartments, and condominium complexes. These all fall under OSHA 1910.23(a)(5) and require a guardrail with a self-closing gate.
This all sounds simple enough, but on most tilt-up commercial buildings, these hatches are generally located next to the parapet wall, and the hatch lid opens to the wall. If you have 4-5" between the wall and the hatch, an adjustable hatch guardrail with gate can be used. It is also recommended that a grab bar be installed on the hatch to help facilitate the exit to the side if the hatch. If that is not the case, a ballasted guardrail can be installed around the hatch with a gate and on the parapet. If it is not 42", an appropriate height guardrail needs to be installed.
To find the dimensions of your roof hatch, get the inside dimensions of the hatch and that will help tell what size guardrail you need. As always, there are exceptions. Bilco® manufactures a thermal broken hatch, and the outside is larger than a standard hatch.
Contractors must remember a few helpful hints if you need to replace or add a hatch to a roof. A standard minimum-sized hatch is 24"x24" and can be purchased in galvanized, aluminum, and stainless steel. Galvanized is the most common and most reasonable in cost. Standard sizes are 24"x24", 30"x30", 30"x36", 36"x36", and 48"x48". If you need stair hatches, 30"x54", 36"x60", 30"x96", and 36"x96" are all common sizes. Of course, if your hatch isn't this size, they can be custom made. A special-order size of say 33"x33" hatch will cost significantly more than a 36"x36" hatch with a lead time of four to six weeks.
Skylights on a roof deck are a common appearance but are a severe hazard. While they may look safe, a fall or lean onto one often leads to a fatality or serious injury situation. The answer to this is as simple as installing approved screens attached to the frames of the skylight. In California, the screens are required to meet a test of 400 lbs. to comply with Cal-OSHA Sec. 3212.
As a contractor, this is a great upsell to the building owner if they are made aware of their liability. If they wish not to comply, simply furnish your own protection. Documenting this in your contract can protect your company against a future claim in the event of a future incident or accident on the building and the owner attempts to deflect knowledge and plead ignorance to the danger. A ballast-mounted guardrail is also a very common approach. Kits are also available that fit various sizes and are cut to size by the contractor installer.