Tropical® Roofing Products, Inc., has announced the launch of its newest roofing repair and restoration solution, Rx Roof Repair. Intended to be used as a direct-bond, permanent patch and repair product, Rx Roof Repair delivers an almost immediate watertight fix in just one step. The no-mix, ready-to-use silicone fibered mastic provides the highest tensile strength available in the market and is UV stable.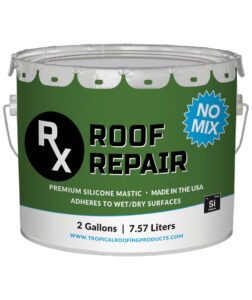 Roofing contractors often face damaged roofs that need an immediate fix that can be remedied regardless of weather conditions. Rx Roof Repair is just what the doctor ordered for the roofing professional as the product requires no mixing and delivers direct-bond adhesion that performs even on wet substrates once any standing water is removed. RX Roof Repair will be dry to the touch within six hours and fully cures within 24 hours.
Tropical Roofing Products, a national manufacturer of roof restoration products, through its bold leadership, innovation, and its comprehensive product offering, is transforming the roofing industry. With three production facilities located across the United States, Tropical Roofing Products is comprised of a team dedicated to delivering quality roof coatings for fluid-applied roofing systems. Exclusively available through wholesale distribution partnerships throughout the country, Tropical Roofing Products proudly manufactures silicone roof coatings, elastomeric roof coatings, asphalt roof coatings, mastics and cements, acrylic roof coatings, and polyurethane spray foams. The team at Tropical Roofing Products is committed to providing supportive solutions to its customers, vendors, and community. The company is actively involved in industry-related initiatives to continue the advancement of the roofing industry and is aligned with many charitable organizations within its local communities.
www.tropicalroofingproducts.com