DECKED has introduced Traction Mat by SeaDek® to combat the aggravation of cargo or gear sliding around in your truck bed. DECKED partnered with SeaDek to bring its renowned, marine-grade, self-adhesive, closed-cell ethylene-vinyl acetate foam padding to the DECKED truck bed Drawer System.
DECKED's patented Drawer System helps your truck bed work harder and store smarter. The Drawer System's top deck is great for what it's designed to do, which is hold up to 2,000 lbs. of gear on top of the in-bed drawer storage. But, when it comes to offering a slip-resistant surface, the recycled high-density polyethylene plastic deck can leave something to be desired in inclement weather. The new DECKED Traction Mat by SeaDek solves this problem, while adding some color and unique style to the Drawer System's top deck.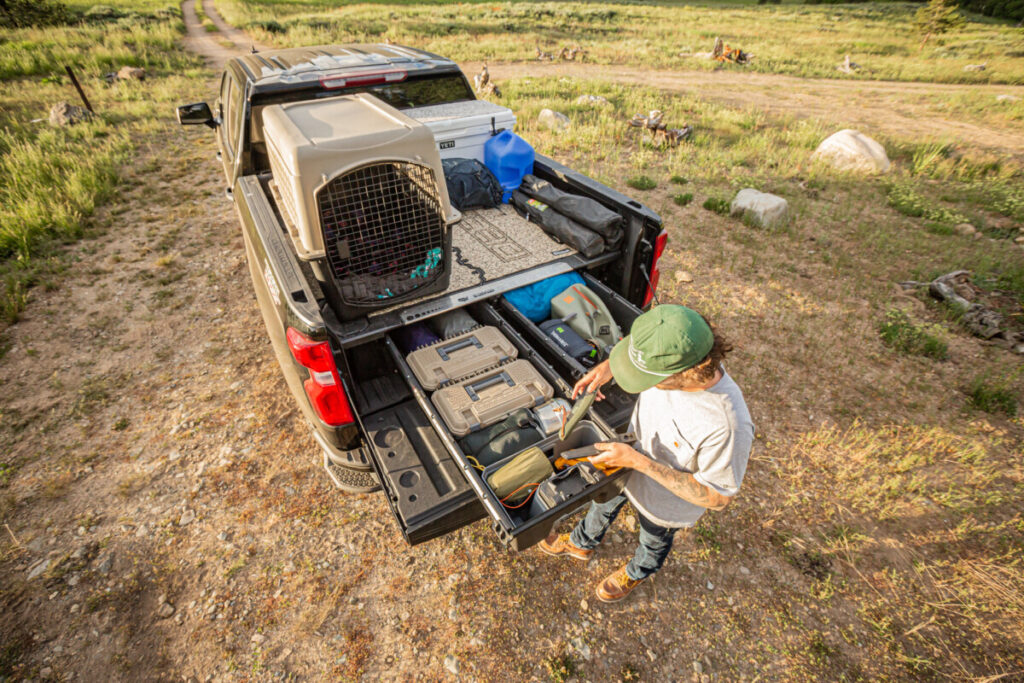 DECKED partnered with SeaDek to add traction and all-weather grip to its Drawer System because of SeaDek's expertise in marine flooring, which spans nearly four decades. SeaDek is renowned in the boating industry for creating the original marine non-slip flooring solution.
The DECKED SeaDek Traction Mat is router-cut to match the topography and geometry of the DECKED Drawer System for uninhibited access to stored gear, and does not interfere with Drawer System removal or reinstallation. What's more, removal leaves no residue or fragments should one decide it isn't their cup of tea. Installation is super easy. The 6mm-thick Traction Mat comes with an adhesive back, which performs like a giant sticker. Users simply start at the tailgate end of the bed, remove the first few inches of the protective film covering the adhesive surface, align it and stick it to the deck panel, then slowly begin peeling the backing off and pressing the mat to the panel as they go.
DECKED Drawer System highlights include: designed for the outdoorsman, contractor, weekend warrior, enthusiast, or anyone that uses their truck for more than transportation; DECKED drawers organize and secure your essentials out of the elements while maintaining use of the bed; each full-length side-by-side drawer can hold up to 200 lbs. of gear; lockable drawers provide added security and protection behind closed tailgate; flat-top deck covers just above wheel wells and boasts a 2,000-lbs. payload; capacity is perfect for loading up heavy objects like ATVs or motorcycles, or for use as a sleeping platform; weatherproof seals keep gear and tools dry; and is built for full-size and mid-size trucks and cargo vans.
Based in Ketchum, Idaho, with production facilities and manufacturing in Defiance, Ohio, and St. George, Utah, DECKED designs, engineers, and manufactures storage and organization products for pickup trucks and cargo vans. Since 2014, DECKED has been passionately dedicated to making working and recreating out of trucks and vans more efficient, safe, and convenient.