EarthCam®, a provider of live camera technology, content, and services, has announced its partnership with Raken® to make high-resolution live streaming video available within Raken's construction management platform. More than 39,000 contractors use Raken worldwide to streamline project management and communication. This new collaboration provides live video data from EarthCam cameras for 24/7 insight on construction projects for safety, security, and progress reporting.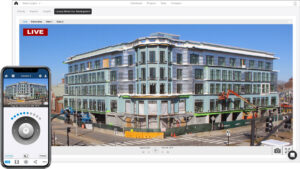 In addition to featuring live-streaming video, users can quickly switch between historical timelines, highly detailed gigapixel panoramas, and continuous security recordings without leaving the Raken platform. The EarthCam-infused Raken experience extends the capabilities for sharing jobsite camera content, 360° site tours, and AI-edited time-lapse videos. The integration is now available free of charge for EarthCam enterprise clients.
EarthCam's Control Center has long been the software of choice among industry leaders for smart project documentation, promotion, safety, and security. EarthCam provides camera rentals, professional installation, and reality capture services to make construction project management more efficient with powerful visual data.
Raken streamlines field operations and provides jobsite data in real time. Built for the field, its mobile and web apps are easy to use, so field crews document progress and keep the office updated with no extra effort or training required. Increase communication and project visibility with daily reports, time cards, production tracking, toolbox talks, safety and quality checklists, and more.