When it comes to enhancing your home's exterior, aim high. The look of your roof can make or break your property's curb appeal. That's the message of BP Building Products of Canada (BP Canada) in announcing roofing directions for 2023 and beyond.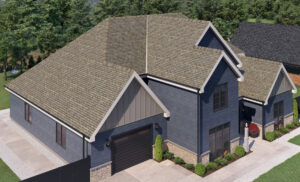 Topping the list of on-trend roofing colors is gray, but not the standard one we're used to. Think complex, nuanced gray-beige, or greige, infused with a mix of nature-inspired tones instead. Although black is currently the top-selling shingle color at BP Canada, gray shingle sales have increased in popularity over the last year, especially in Western Canada.
In response to changing market preferences, BP Canada has launched a unique multi-toned pale gray shingle called morning mist. Part of the brand's Mystique Collection, morning mist is the first shingle color of its kind, consisting of a mix of gray, white, and brown, and providing consumers with an alternative to traditional solid gray options currently on the market. The new offering reflects the move towards more saturated, earthy shingle tones that are less uniform than traditional, monochromatic color schemes.
Building Products of Canada Corp. has been producing quality home building and home renovation products since 1905. A building industry leader, BP Canada is a choice supplier for high-quality, value-added products and services, with a strong focus on the building envelope.