Atlas® has announced the introduction of EnergyShield® XR, the foundation for high-performance building design. The new polyiso insulation product is specifically engineered to provide continuous insulation for foundation walls and under slab use. EnergyShield XR expands upon their polyiso wall solutions to create a versatile, industry-leading portfolio for both commercial and residential applications.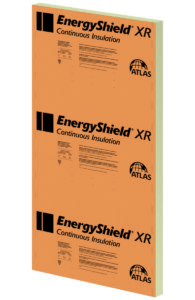 Building foundations by definition are the start for high-performance design. Optimizing thermal efficiency and mitigating potential moisture problems for below-grade walls are important to the overall building performance. EnergyShield XR is a polyiso rigid foam board comprised of a closed-cell structure with impermeable, durable facers that offer a high R-value per inch of thickness and resists moisture absorption, providing an effective material to insulate in all climates. Its capacity to serve as a vapor retarder, high compressive strength, and ease of handling makes it a high-performing solution for building foundations.
Polyiso has the highest R-value per inch when compared to other insulation products. This allows polyiso to meet or exceed R-value requirements with a thinner profile and therefore delivers more boards per truckload. With a standard compression strength at 25 psi, EnergyShield XR resists pressures from backfill and the durable facers offer added impact protection. Polyiso is compatible with the majority of mastic or solvent-based products, such as adhesives, flashings, and damp-proofing, making component selection simpler and installation quicker. Adding insulation against the foundation wall helps mitigate damage to the waterproofing membrane.
EnergyShield XR is manufactured with environmentally responsible processes, an established core formulation, and recycled content to provide a sustainable solution. It also meets UL GREENGUARD Gold, one of the industry's most stringent environmental standards and sustainable building code goals. Atlas' broad North American manufacturing footprint also helps source material closer to project locations. EnergyShield XR is easy to cut and move around the job site. Plus, it is prescored to help expedite installation even further. EnergyShield XR is backed by a limited 15-year thermal warranty.
Atlas is an innovative, customer-oriented provider of asphalt shingles, roof underlayments, rigid expanded polystyrene and polyiso insulation, geofoam, cold chain, protective packaging, lost foam, and cutting-edge coated and paper facers and underlayments for a diverse set of markets. Atlas has grown from a single asphalt shingle manufacturing facility to 36 facilities in North America with worldwide product distribution. Products from the company's four major divisions, Polyiso Roof and Wall Insulation, Shingle and Underlayment, Molded Products, and Web Technologies, are manufactured in state-of-the-art facilities and shipped from its network of manufacturing plants and distribution facilities in the United States, Canada, and Mexico.