Silicone Roof Restoration on Warehouse in San Juan, Puerto Rico
by Alex Helton, associate manager, marketing communications, Polyglass U.S.A., Inc.
When a 400,000-sq.ft. warehouse in San Juan, Puerto Rico, was in need of a new high-performing roof, Polyglass® reached out to Barrier Roofing and Solar, Fresno, California, to help with the installation. The warehouse roof restoration project called for an engineered system that could be warranted for up to 20 years and installed by the available workforce in Puerto Rico.
Barrier Roofing and Solar is a fourth-generation roofing contractor specializing in a wide range of reinforced and unreinforced liquid-applied roofing systems for commercial buildings. Barrier and Brady Kolden, business development manager at Polyglass, have built a solid business relationship, working on projects over the past 20-plus years across the lower 48 states, Alaska, Hawaii, and even Taiwan.
On this large-scale project, the team faced two significant challenges. The existing Tectum roof deck limited the team's options as to what kind of coatings could be applied. Also, there were persistent atmospheric contaminants. Even after doing a hard clean of the surface at the beginning of the project, the overnight buildup of dirt each night forced the team to re-clean and dry the surface daily. They could only clean what they could coat each day.
The Barrier team's solution to both challenges was to apply an elastomeric roof coating over the existing TPO roof from the PolyBrite® 90 Series high-solids, liquid-applied silicone products. PolyBrite 90.1 is premium-grade high-solids, moisture cure, liquid-applied silicone coating formulated for excellent weather resistance, including excessive UV exposure, and extreme temperatures. PolyBrite 90.2 is a premium-grade, high-solids, liquid-applied silicone coating formulated to cool roof specifications to resist harmful UV rays and help lower energy bills.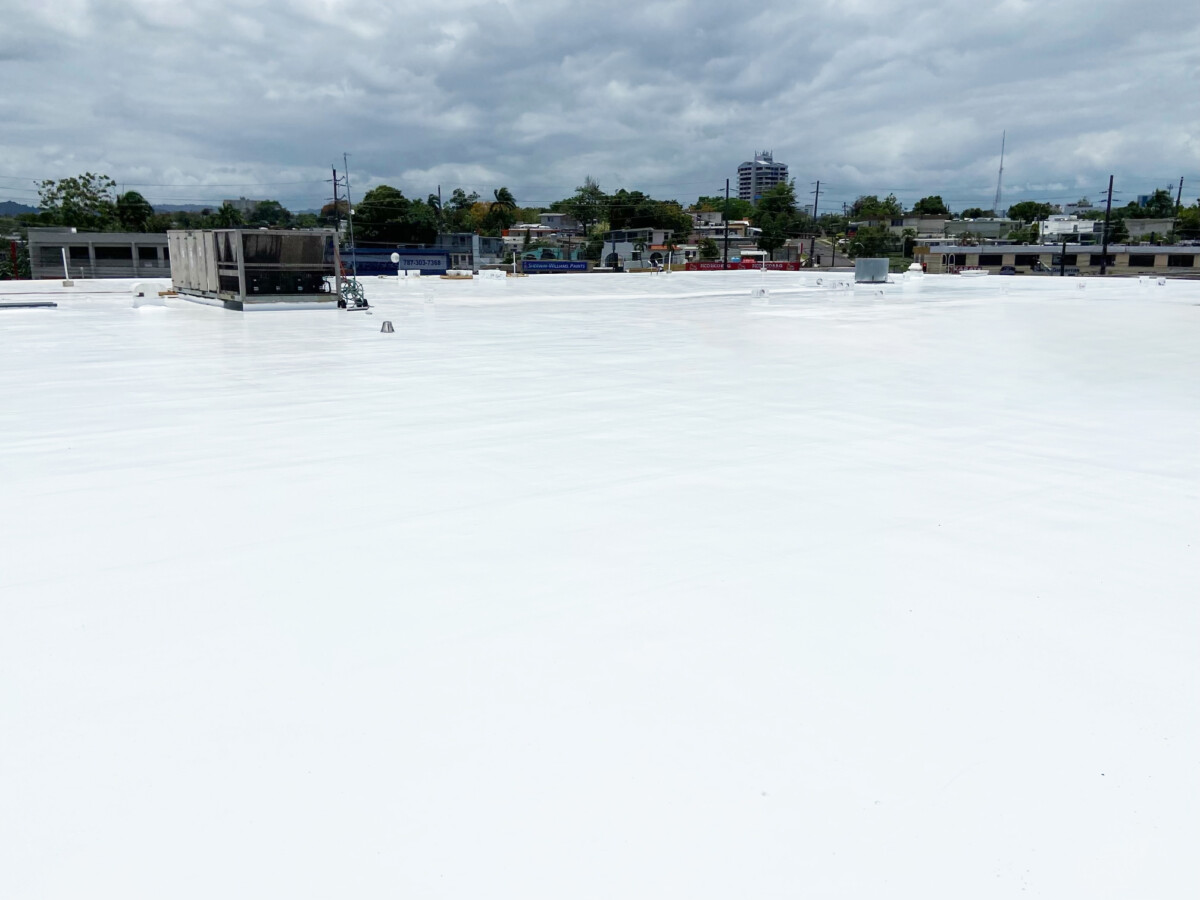 Both PolyBrite 90.1 and PolyBrite 90.2 l can be applied in one coat, curing to form a seamless waterproof membrane that resists ponding water on the surface. The coatings' cool roof UV-resistant properties are particularly suited for the heat and humidity of Puerto Rico's tropical climate. The team was able to apply the coating without the need for additional primers. After reinforcing the seams and penetrations with fabric and silicone, they applied 2.5 gallons of high-solids silicone over the roof surface.
Blair Cunnings, owner and president of Barrier, offered words of high praise for Kolden and Polyglass. "The professionalism Kolden and Polyglass offer Barrier is second to none," he shared. "They are always on point and address any concerns or project challenges in a timely manner."
The results were remarkable. At the project's start, the Barrier team counted more than 100 water leaks in the existing TPO roof. PolyBrite 90.1 and 90.2 are designed to maintain waterproofing capabilities against ponding water and prolonged rain events. In addition, they are both algae-resitant and fungal-resistant, even in high temperatures, helping to extend the roof's useful life. One month after project completion, Fiona, a category five hurricane, hit Puerto Rico. Although the island felt its worst flooding since Hurricane Maria in 2017, the new roof held superbly, with no reported leakage.