Rancho Deluxe Movie Ranch
Old Fashioned Barn Gets Authentic 1890s Look with Fire Safe Tile Roof
by Ann Iten, director of marketing, Boral Roofing
Nestled in the Placerita Canyon of California lies a true gem, the 200-acre Rancho Deluxe Movie Ranch. North of Los Angeles and Hollywood, what's filmed here has been broadcast on TV and in movies all over the world. Those who have seen Westworld, Homeland, NCIS, America's Next Top Model, or Iron Man 3 have likely seen a glimpse of the popular filming location.
The premier movie ranch offers a wide variety of natural exteriors and fully functional interior sets. In addition to feature films and television series, the site is also used regularly to film reality shows, photo shoots, and commercials. Near the main entrance sits one of the ranch's newest additions, a 10,000-sq.ft. 1890s-style barn.
Photos courtesy of Boral Roofing, a Westlake Company.
         "I was trying to accomplish a couple of things in building the barn here," said Steve Arklin, owner of Rancho Deluxe Movie Ranch. "One was to build some offices so we could work onsite at the ranch without having to run across town. While doing that, I figured why not build another filming venue as well?"
Arklin brought in Graziano Roofing, Santa Clarita, California, owned and run by Arklin's good friend Joe Graziano Sr., to install the barn's roof. For the roof, Graziano recommended CedarLite 600, a Class A fire rated concrete tile modeled after traditional heavy hand-split cedar shakes. The roof tile is manufactured by Boral® Roofing, a Westlake Company.
"It's a very tall, steep building, and in the 1800s a barn like this would have had a wood shingle or shake roof on it," explained Graziano. "We can't use those products today because of fires, which are especially prevalent in this area. I like Boral's concrete tile because its fire safe, durable, and authentic looking. It's very textured and the coloring is unique."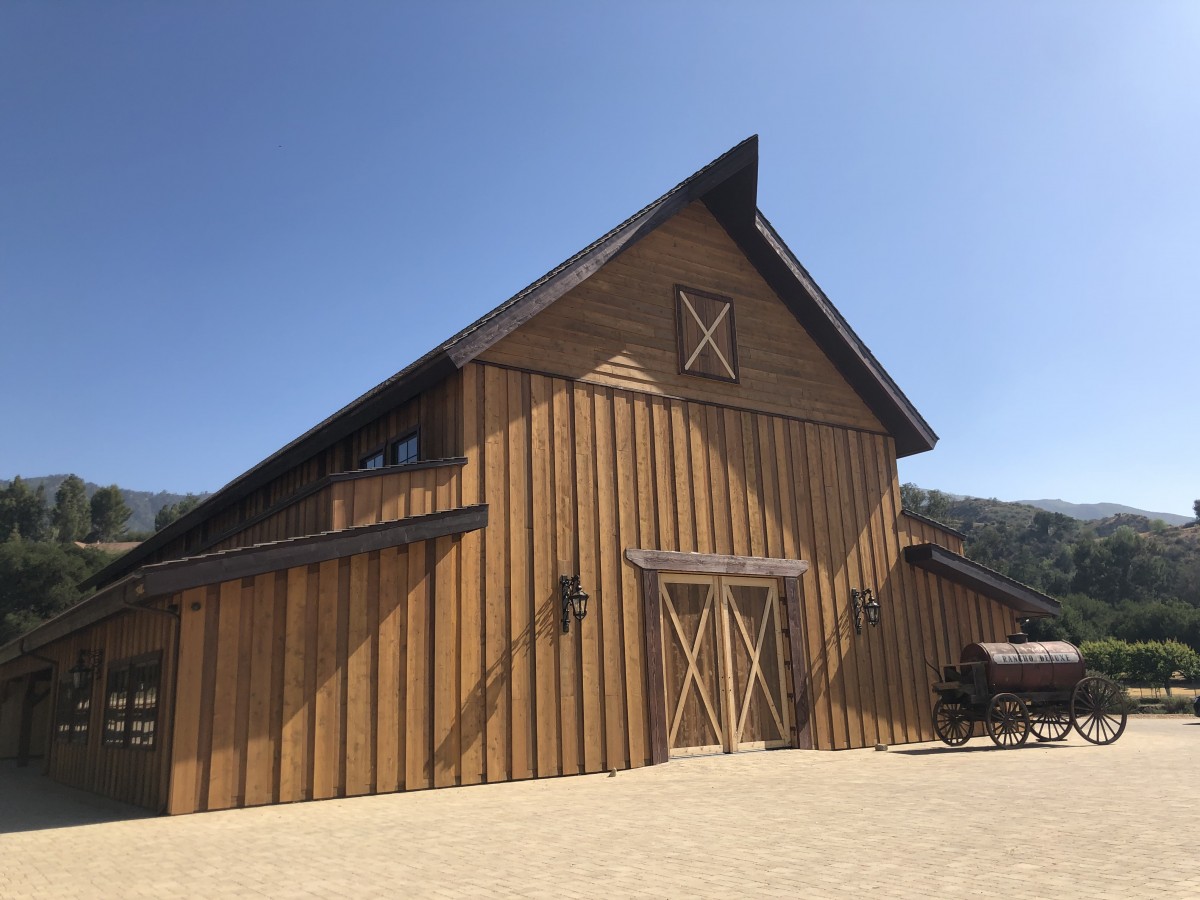 Graziano has been installing Boral Roofing products for decades. In fact, at the recommendation of the roofing manufacturer, Graziano Roofing opened a second location in Texas in 1988 to meet surging demand there for residential roofing tile. Today the company continues to operate out of both locations.
Installation of the barn roof proved challenging because of the structure's size and the pitch of the roof, but ultimately it was nothing the team at Graziano Roofing couldn't handle. Boral's CedarLite tile was installed as a vented system, raised off Boral's Elevated Batten System® with Boral's Eave Riser, which also prevents birds, vermin, and embers from entering the system. The Boral Ply 40 SBS modified fiberglass reinforced underlayment base sheet was also utilized. Because the tiles are not installed in direct contact with the underlayment, heat transfer is limited, and the life of the underlayment is extended.
"The vented system ultimately makes it a cool roof application that meets California's Title 24 requirements, something you can now achieve without using specific tile colors," said Graziano, who also explains how his team complied with OSHA rules during installation. "Everyone was harnessed and tied off, and we had to use high lifts and high-reach machines to get the materials up there."
Now complete, the barn is an active filming site. To outfit the interior and make it as authentic as the exterior, Arklin and his son Ryan traveled throughout numerous states looking for an antique western-style oak Brunswick bar to place inside. They ended up finding, restoring, and installing a beauty they discovered in an antique store in Georgia, rounding out the full authentic barn experience.