Everest Systems LLC has officially launched a new, high-performance and field-applied topcoat under the Fluorostar™ brand name for restoring and protecting multiple types of roofing surfaces with long lasting color. Fluorostar is a water-based and ultra-thin film roof coating formulated with Kynar Aquatec®, a polyvinylidene fluoride (PVDF) polymer resin produced by Arkema Inc. Fluorostar topcoat is ideal for use on commercial, municipal, or industrial applications over spray foam, TPO, PVC, EPDM, metal, masonry, and asphaltic products such as BUR and modified bitumen.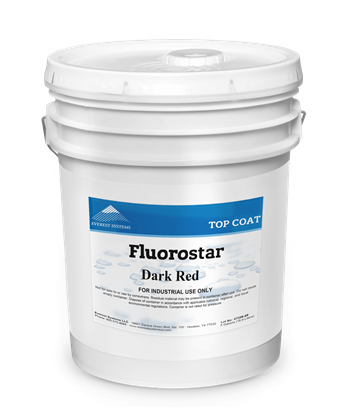 Fluorostar has several features that lengthen the life of a roof including its superior resistance to fading from ultraviolet radiation and minimizing the absorption of solar energy. The product resists dirt, biological growth, chalking, degradation, and maintains its color for 20 years. It also has excellent elongation, flexibility, and permeability. When used in conjunction with an Everest acrylic EverCoat system, Fluorostar offers exceptional durability, abrasion resistance, and waterproofing properties.
With Kynar Aquatec resin, the coating has a unique formulation of ingredients that give Fluorostar its performance. Infrared (IR) reflective complex inorganic-colored pigments (CICPs) are one example. IR reflective CICPs are a durable exterior pigmentation grade that has excellent chemical stability, UV opacity, resists heat, and reflects infrared energy. When formulated properly with PVDF, the resin further protects the characteristics of the CICPs. The result is a coating with a long-term cooling effect and exceptional weatherability. With the coating's physical properties, long life cycle, and impact on solar energy absorption, Fluorostar can help reduce greenhouse gas emissions, obtain green building certifications, make the roofing membrane last longer, and lower energy consumption.
Populated cities and a high volume of building occupants can make roof renovations challenging. Mobilizing equipment and keeping disruption minimal is key. Fluorostar is a sustainable and cost-efficient solution. It reduces the need for recoats by as much as four times on average, resulting in less labor, less disturbance to occupants, and less investment to the building owner over time. Fluorostar is also low odor and dries quickly, making it an ideal choice for the applicator and building occupants. Architects, specifiers, and contractors alike are instrumental in helping building owners protect their asset for decades to come with Fluorostar.
Founded in 2013, Everest Systems LLC has rapidly grown to be an industry leader in the manufacture of innovative roof coatings and sealants for commercial, municipal, and industrial applications. Everest's philosophy is technology and customer-centric, providing unique chemistries that produce a successful project for the specifier, architect, contractor, and building owner alike.