Makita® U.S.A., Inc., a manufacturer of high-quality professional tools, outdoor power equipment, and accessories, is introducing the new 40V max XGT® 8.0Ah Battery, giving contractors higher output power for high-demand applications. It is fully compatible with all products in the expanding XGT System, and is ideal for use with XGT equipment and tools taking on high-demand applications including the new 80V max XGT 14" Power Cutter.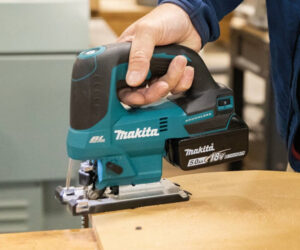 XGT gives users one system, from core handheld tools like drills and impact drivers to equipment-grade products including high-capacity saws, rotary hammers, and power cutters, all powered by 40V max XGT batteries. The new 8.0Ah Battery is a new addition to the expanding system, which will offer 100+ products in 2022.
The new 8.0Ah Battery is engineered for higher output power, and delivers up to two-times longer run time than the 40V max XGT 4.0Ah battery. For increased efficiency, it reaches a full charge in only 76 minutes or less on the XGT Rapid Optimum Charger. The smart charging system includes built-in chips that allow communication between the battery and charger to control current, voltage, and temperature. In addition, the XGT Charger has two built-in fans that circulate air through the battery and circuit board during charging. These features deliver increased charging efficiency so XGT batteries, including the 2.5Ah, 4.0Ah, 5.0Ah, and new 8.0Ah spend more time working and less time sitting on the charger.
XGT batteries, including the new 8.0Ah battery, are engineered for added durability in harsh jobsite conditions. Batteries feature an advanced impact-resistant outer case, a shock-absorbing inner liner, an enhanced cooling system engineered to maximize battery life, and rigid rails with impact-resistant construction to secure the battery to the tool during high-demand applications. The XGT battery system also features digital communication technology that communicates with the tool during use to actively monitor against overload, over-discharge, and overheating.