Western Roofing Expo 2022 Recap
Las Vegas Hosts 48th Annual WSRCA Expo
by Marcus Dodson, publisher
The Western States Roofing Contractors Association (WSRCA) hosted its 48th Annual Western Roofing Expo in Las Vegas, Nevada, September 24-26, 2022. The trade show returned to the Paris®-Las Vegas and contractors, sales reps, manufacturers, and more were excited to gather at the highly anticipated event. Once again, the industry's finest came out to the entertainment capital of the world to network, learn, and have some fun. According to the WSRCA, more than 3,600 attendees came together for the Western Roofing Expo 2022, and everyone was excited to connect face-to-face and hear from leading experts, educators, and colleagues. Popular highlights once again were the golf and sporting clays tournaments, lively-silent auction, and two days of seminars and demonstrations.
Tournaments
Before the Western Roofing Expo 2022 seminars and demonstrations began on the trade show floor, the Davis Memorial Foundation hosted its annual golf and sporting clays tournaments. On Saturday, September 24, 136 golfers attended the golf tournament, which was held at Revere Golf Club in Henderson, Nevada. Golfers traversed through the rugged desert canyons and valleys of the Las Vegas foothills and enjoyed breathtaking views of the skyline and the mountain landscapes beyond. The winners were: flight one, first place, Tino Castillo, Jorge Acosta, Neil Atterbury, and Adriana Ibarra; flight two, first place, Rick Santolaya, Jason Dark, and Jerry Bold; closest to the pin, Ron Winkle; and longest drive, Manuel Guevara.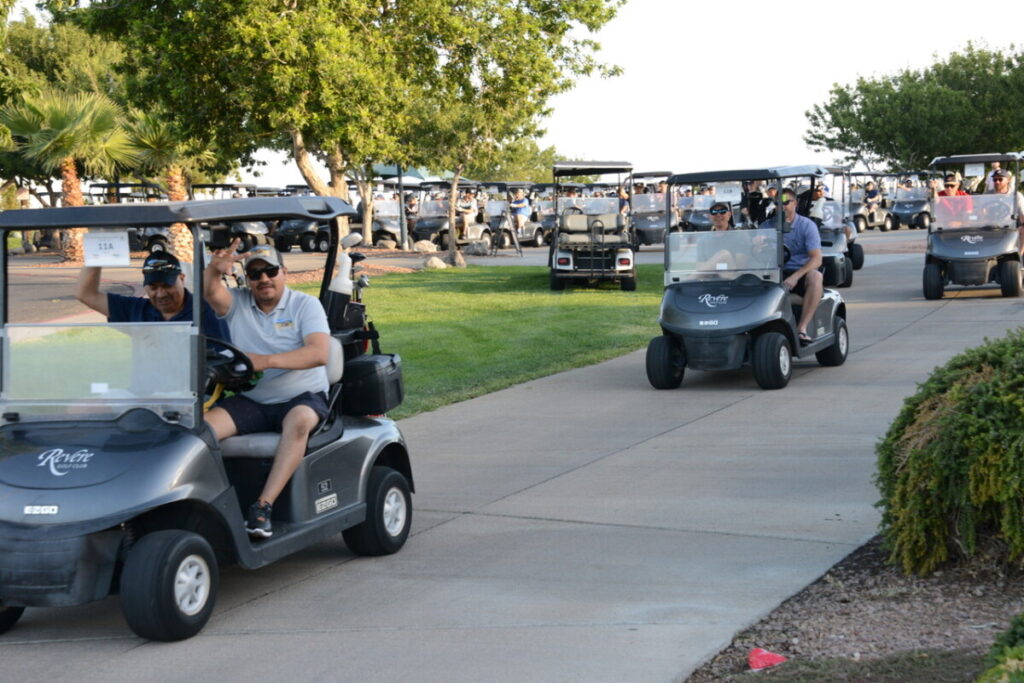 The Pro Gun Club hosted 72 shooters at the sporting clays tournament that same morning, which was once again an exhilarating start to the Western Roofing Expo 2022. The winners were: flight one, first place, Lance Burks, IB Roof Systems™; and flight two, first place, Victor Morales, H.B. Fuller.
The Roofing Games™ were held on Monday, which included the steep-slope nailing competition, sponsored by Malarkey Roofing Products®. Contestants competed in a timed event showcasing their individual asphalt-shingle nailing skills and a chance to win a cash prize. The participants were judged on accuracy, aesthetics, speed, and workmanship. The third-time winner was Nate Holland of Holland Roofing in Anchorage, Alaska, who completed the tasks in 2:09.
Scholarship & Fundraisers
Bill Baley and Greg Bloom served as the auctioneers for the western-themed welcome party and lively-silent auction on Saturday night, and their on-stage energy was a great way to kick off the Western Roofing Expo 2022. The night was a huge success full of fantastic donated items, such as hunting trips, vacations, electronics, jewelry, and roofing-related products. The lively-silent auction was sponsored by GAF. National Women in Roofing hosted a mimosa breakfast on Monday, which was a fantastic way to network with like-minded women in the roofing industry.
The Davis Memorial Foundation celebrated another astounding year of fundraising and was able to award ten $5,000 scholarships to the following deserving recipients: Alexis Hitesman, Southern Utah University; Chase Wilson Howes, Utah Valley University; Grace Lauren Rucka, University of Tennessee; Jocelyn Paez, New York University; Kyle Steen Claussen, Montana State University; Lundyn Laci Santos, Indiana Institute of Technology; Paige Gladstone, Gonzaga University; Reed Jacob Shuey, Queens University of Charlotte; Rhett Tinklenberg, South Dakota State University; and Talon Griese, South Dakota State University.
Trade Show
Attendees were invited to walk the trade show floor on Sunday and Monday. Roofing professionals moved from booth to booth as they watched demonstrations, listened to seminars, and tested out products from some of the leading industry manufacturers, distributers, and suppliers of roof-related products, materials, equipment, and services, many only available in the Western market.
Seminars
Sunday and Monday were also filled with a diverse and exciting selection of seminars. The educational programs at the Western Roofing Expo 2022 were designed by WSRCA members contractors to help members be better roofing contractors and business people. This year, the Western Roofing Expo 2022 focused on a variety of topics that covered a broad spectrum of interests including: The History of Roofing; Temporary Interior Protection Systems: Prevention of Falling Dust and Debris Caused by Reroofing; Navigating Safety: Your Untapped Profit Center; Top Five Immigration Issues in Roofing; Responding to OSHA: From Inspection to Citation; Tactical Business Succession and Estate Planning: The Successful Continuation of Your Company; WSRCA Technical Bulletins: Their Development and Application to Current Roofing and Waterproofing Issues; Perimeter Edge Metal for Low-Slope Roofs: Current and Upcoming Code Requirements and Best Practices; Develop Your Own Roofing Safety Level Program to Inspire Safe and OSHA-Compliant Job Sites; The Top Ten Employment Law Mistakes Made by Roofing Contractors and How to Correct Them; Scaling Your Business for 2022; and The Surprising Things I've Learned About Contractors by Training Their Service Departments; Walkable Roof Deck Membranes: Waterproofing Options and Considerations for Decks and Balconies; To Restore or Replace? How to Make the Call; Working Smarter, Not Harder Can Also Be Safer: Safety Supports Efficiency; The Latest Issues Involving Material Volatility; Top Five Employment Issues in Roofing; Organizational Structure That Boosts Productivity by 40%; Contractor, Consultant, Manufacturer: How to Improve Working Relationships; Wet Concrete Can Ruin a Good Roof Design: Insights to Cement Your Success; Critical Contract Provisions; Increased Profitability Through Effective Training Programs; Unlocking Service Growth; and Estimating for the Win.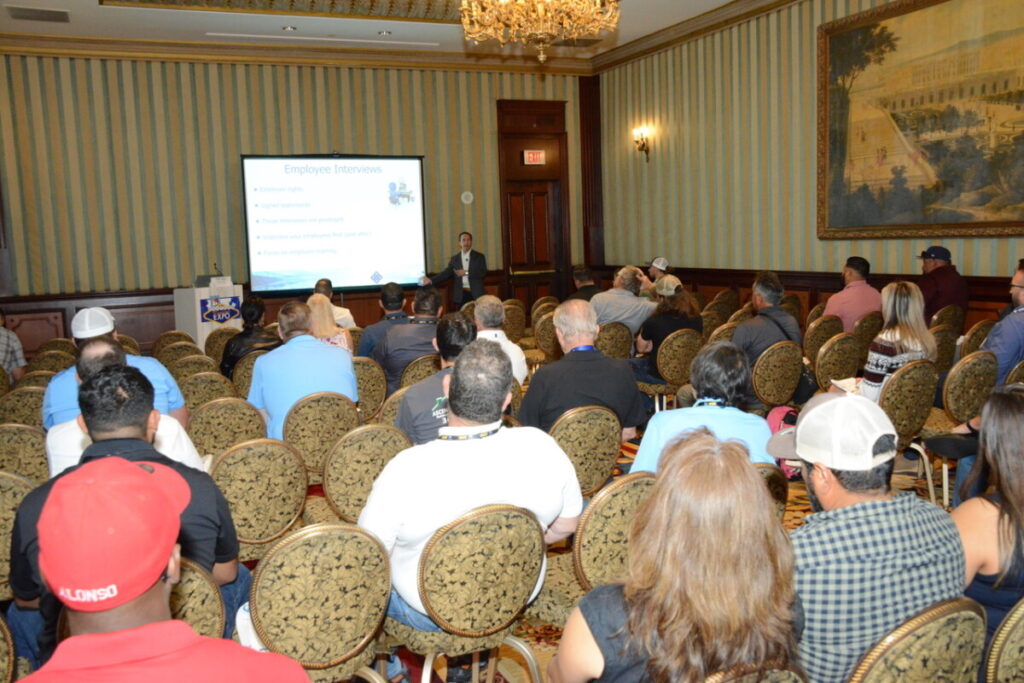 Annual Luncheons
The Legislative Luncheon was held on Sunday with keynote speakers Craig Brightup and McKay Daniels. As a Washington insider, Brightup provided his views and information on how new legislation is affecting the roofing and waterproofing industries. Daniels, the new CEO of the National Roofing Contractors Association, shared his invaluable insight into the future of the roofing industry.
Mentalist Eric Dittelman was the entertainment at Monday's luncheon. A talented entertainer who combines amazing mind reading with stand-up and improv comedy, and has appeared on numerous television programs, Dittelman amazed the audience with his mind-reading talents.
Awards
For his outstanding efforts in recruiting potential members to join the WSRCA, director Scott Riopelle of Interstate Roofing in Denver, Colorado, won the 2022 Wrangler of the Year award. A custom-made belt buckle commemorated his first win. Immediately following the luncheon entertainment, WSRCA presented its annual awards. Board Member of the Year went to Valorie Miller, Jim Brown and Sons Roofing, Glendale, Arizona, in recognition of her tireless work last year improving the WSRCA. Immediately following the Board Member of the Year presentation, WSRCA announced its Committee of the Year. For their fantastic work redesigning the weekly WSRCA Safety Toolbox Topics, Kris Hitesman, Capitol Roofing Service, Sandy, Utah, accepted this award as chairperson of the committee.
The prestigious Hall of Fame award is only given out every few years, in recognition of outstanding service to the roofing industry and the WSRCA. For his decades of tireless contributions, Keith Sanders, GAF, was recognized as the 2022 awardee.
New Officers
The newly elected officers this year are as follows: Andy Clarke; president; Mike Wakerling, senior vice president; Rob Winkle, immediate former president; Valorie Miller, vice president; Jackson Johns, vice president; Brian Butler, vice president; Kris Hitesman, vice president; and Joel Viera, secretary.
Western Roofing Expo 2023
Next year, the Western Roofing Expo Convention and Trade Show returns to the Paris-Las Vegas Hotel and Casino in Las Vegas, September 23-25, 2023. For more information, contact the WSRCA at (800) 725-0333.