Petersen continues to expand the reach of its trusted PAC-CLAD® brand by opening a manufacturing facility in Bonney Lake, Washington. The 57,000-sq.ft. facility shipped its first order in May, and will be fully operational in early 2023. The facility will be equipped to provide new and existing customers in the Northwestern United States as well as Western Canada with PAC-CLAD steel and aluminum cladding products, including standing seam roof panels, wall panel systems, plus sheet and coil.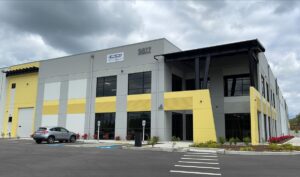 The Bonney Lake manufacturing process is overseen by Lance Valiquette, operations manager. Petersen's facility is located in existing commercial space 30 miles south of Seattle, Washington, and will serve customers in Washington; Oregon; Montana; Idaho; Utah; south to Fresno, California; plus British Columbia. The Washington location is the seventh for Petersen, joining the company's other facilities in Elk Grove Village, Illinois; Acworth, Georgia; Tyler, Texas; Annapolis Junction, Maryland; Phoenix, Arizona; and Andover, Minnesota.
Petersen, a Carlisle company, manufactures PAC-CLAD architectural metal cladding systems in multiple gauges of steel and aluminum. PAC-CLAD products include hidden and exposed-fastener wall panels, standing seam roof panels, flush and reveal-joint wall panels, vented or solid soffit panels, perforated metal, coil and flat sheet, composite panels, column covers, plus fascia and coping. All are available in a Kynar-based 70% PVDF Fluropon coating in 46 standard colors and 16 wood grain finishes that include a 30-year finish warranty. Most colors meet LEED® requirements and are rated by the Cool Roof Rating Council®. Custom colors and weathertightness warranties are offered.